MSNBC looks back on the people we lost this year.
Watch, AFTER THE JUMP…

Towleroad News #gay

It's that time of year again. Once again, DJ Earworm has stirred together the top 25 Billboard hits of the year to give us "United State of Pop 2010 (Don't Stop the Pop)." Watch and listen, AFTER THE JUMP.
The song list:
Ke$ha – Tik Tok
Lady Antebellum – Need You Now
Train – Hey, Soul Sister
Katy Perry Featuring Snoop Dogg – California Gurls
Usher Featuring will.i.am – OMG
B.O.B. Featuring Hayley Williams – Airplanes
Eminem Featuring Rihanna – Love the Way You Lie
Lady Gaga – Bad Romance
Taio Cruz – Dynamite
Taio Cruz Featuring Ludacris – Break Your Heart
B.O.B. Featuring Bruno Mars – Nothin' On You
Enrique Iglesias Featuring Pitbull – I Like It
Young Money Featuring Lloyd – Bedrock
Jason Derulo – In My Head
Rihanna – Rude Boy
Lady Gaga Featuring Beyonce – Telephone
Katy Perry – Teenage Dream
Bruno Mars – Just the Way You Are
Mike Posner – Cooler Than Me
The Black Eyed Peas – Imma Be
Jay-Z + Alicia Keys – Empire State of Mind
Usher Featuring Pitbull – DJ Got Us Fallin' In Love
Travie McCoy Featuring Bruno Mars – Billionaire
Eminem – Not Afraid
Iyaz – Replay

Towleroad News #gay
Here's DJ Earworm's hotly awaited annual mash-up of the year's biggest pop singles.

This is the calm before the storm. Watch it pile up.
Approximately 20 hours in 40 seconds. Not the most thrilling of views, but it should interest the amateur meteorologists among you. Likely shot somewhere in New Jersey.
Watch, AFTER THE JUMP…
December 2010 Blizzard Timelapse from Michael Black on Vimeo.

Towleroad News #gay
I think this is a big step for the direct action group GetEqual, whose tactics didn't receive a lot of establishment respect. The White House, while shaken by some of the protests, clearly offered the olive branch by inviting both Lt. Dan Choi and Robin McGehee to Wednesday's White House signing ceremony.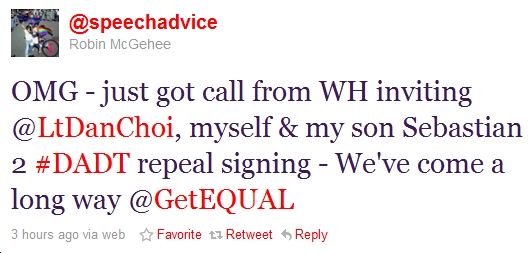 The signing will not be held at the White House. The invite list is apparently quite long — the ceremony is being held in an auditorium.
In case you're wondering, your blogmistress, despite being one of the thorns in the side of the WH at times, has also received an invitation.
That's heartening, since it also means recognition of the Netroots. Via Twitter I know that John Aravosis (certainly not a WH fan), Andy Towle, and other bloggers are invited, so perhaps the White House would like to use this opportunity to start anew. Time will tell, of course.
As far as my attendance goes, it is a life filled with an abundance of hilarious bad luck, bad timing and bad health. Usually it's a conflict with my day job when it comes to invites of this nature; this time it's the damn hysterectomy. YES the plumbing of the damned — it's removed and it's still screwing with me, lolol.
Let's put it this way – I drove a few miles today and mailed a couple of small boxes at the PO, went to one store and came home. My abdomen is now throbbing sore and definitely feels like I overdid it (like stitches pulling). Anyway, attending would be a logistical nightmare for me. I'm not physically ready for a long drive, dealing with flying/the airport or standing for long periods yet. Also, I cannot lift more than 10 lbs for quite a while, so no bag or laptop and gear for me either. Crushing fatigue can strike without warning too. Oh, and folks have to be on site by 7AM on Wednesday. LOL. The reality is (even as I hilariously, sadly bargained with Kate about how it might be possible to go) it takes months to fully recover from a hysterectomy even without complications involving my other issues (fibromyalgia, neuropathy). The smart thing is to sadly and politely decline attending the historic event.
I do hope to see, as I watch the event on the tube on Wednesday with the rest of you, that there are many members of the military attending — those who lost their jobs due to DADT, and we can, in ceremony, close this chapter and move on to full impementation of repeal.
Pam's House Blend – Front Page
Last night I attended the Village Voice 2010 Web Awards where JMG was awarded Best Political Blog! I was asked not to blog about it until after the event and I don't even know who my competitors were, but whatevs! The downtown Manhattan awards show was a hipster mosh-pit and didn't feel very gay at all, but lots of folks approached me with congrats and outed themselves as JMG readers. Very interestingly, most of them were young female hotties. Who knew?
Among the other winners were the famed Gregory Brothers (of Auto-Tuned News fame) who won Best Viral Video for their stone 2010 classic Bed Intruder, which at this writing has 46 million views on YouTube. The Gregory boys (and sister) were very fun and my loyal companion Dr. Jeff totally plotzed to pose for photos with them. I also finally met famed and openly gay Voice political columnist Steven Thrasher and Buzzfeed homo pop culture king Matt Stopera, who provides us with the detritus of gay weirdness like yesterday's John Waters/Justin Bieber photo.
Comedian Todd Barry hosted the evening with irreverence and disregard for the winners' pleasure at receiving a Village Voice plaque, a giant green foam "thumbs up," and a surprisingly heavy bag of healthy crap from event sponsor Whole Foods that I immediately re-gifted to Dr. Jeff. (The highlight of the winners' gift bag, for most, seemed to be a ginormous can of Four Loko from what was said to be the final case in all of New York City. Dr. Jeff took that too.) I'll add a slideshow to this post a bit later, right now I'm a little hammered from the open bar.
I've been driving all day to Dallas, and remembered World AIDS Day just as I was pulling out on the road, so I hadn't been able to get a more timely post up. I don't want to forget to remind everyone today. Celebrities have decided to sacrifice one day of being digitally connected or go "digitally dead" for one day.
No, Alicia Keys is not dead.

But she is going to be "digitally dead" tomorrow, Dec. 1, for World AIDS day.

Keys, along with celebs including Lady Gaga, Kim Kardashian, Ryan Seacrest, Justin Timberlake, P. Diddy, Usher, Jennifer Hudson, Khloe Kardashian, Jay Sean, Swizz Beatz, Serena Williams, The Buried Life, Elijah Wood, Janelle Monae, Kimberly Cole, David LaChapelle, Daphne Guinness and Bronson Pelletier will take a moment of silence and "end their digital lives" by signing off from all social networking platforms including Twitter and Facebook in solidarity for those in Africa and India affected by HIV/AIDS.
I think it is a really nice and unique gesture by them to add awareness.
Personally, I have lost a lot of good friends to AIDS, and I know our readers have as well. Two of my dearest friends, a loving couple, died when the cocktails were not available and I often think of them, and deeply miss the two bright lights that were extinguished in their early twenties. So many in my generation were wiped out during those years when there was no effective treatment whatsoever. Here is to all the memories I treasure of you, Tim Rondeau and David Robinson! I love and miss you both. Who would you like to remember on World AIDS Day?

AMERICAblog Gay
Information, links and data here.
Much love to all Blenders- and an open thread post for the evening.
Pam's House Blend – Front Page
NOTE FROM PAM: Now this is a nice project for our Blenders here in the coffeehouse! We gab all the time about the fundies, so I know we can help out our friends in the Philippines who are about to rake on the bible-beaters in some fun direct action. Post your ideas (and photos if you have some) in the comments.
---
Hello Everybody!
Antonio Yang III here from the Filipino Freethinkers, a community of skeptics, atheists, godless heathens, and baby eaters in the Philippines.
I was hoping to ask for advice regarding an upcoming event we are planning to support this December 4, 2010: The 2010 LGBT Pride March.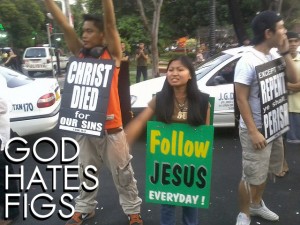 Getting into the details, our task is to serve as counter-protesters against the religious groups that normally troll these events, mostly of the Evangelical Chritsian and Catholic variety.
Their rhetoic is familiar – placards and signboards that dictate that homosexuality is a sin, that God hates sinner, and all the other usual rubbish about gays going to hell. It's nowhere near as vicious as the messages that the Wetboro Baptist Church vomits, but it's still bigoted.
I've already emailed Pam, and she's suggested that we keep our counter-protest signs peaceful and friendly. She's also suggested that I ask you guys directly if you may have suggestions for countersigns we can come up with.
I've been following how the LGBT community in the US has been handling the fundies, and I have to say you guys do good work.
We're looking for something witty and intelligent – something like the signs some of our members used when the local Catholic Church tried to justify their opposition to a Reproductive Health bill: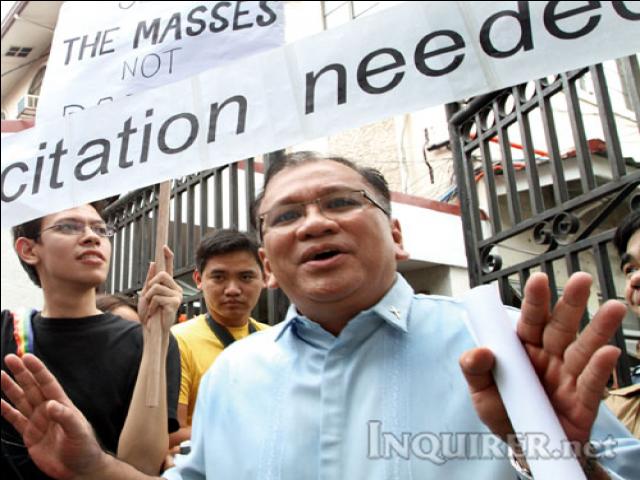 We're also busy preparing an Excommunication Party for this November 26, as a show of support for the RH Bil.
In any case, I look forward to any suggestions for signs you guys might have – Pam's already sent me a couple of links to her previous activities too. You may want to visit the 2010 LGBT Pride March's Facebook page for further details regarding the event, and the discussion thread we've set up at the FF Forums.
Note: That skinny dude in a black shirt holding the "Citation Needed sign is Ryan "Red" Tani, the Supreme Leader/Overlord of the Filipino Freethinkers.