A prominent Atlanta, Ga. pastor has been accused of forcing two members of his church into having sex with him.
Advocate.com: Daily News
The article starts off kind of tame, then boy oh boy does it pick up. Beyond weird. How the state attorney general can keep someone like this on staff…
Andrew Shirvell is an assistant attorney general who helped run Cox's last re-election campaign. But on his own time, he's the author of a blog he started last spring targeting Chris Armstrong, the openly gay president of the University of Michigan's student assembly.
With 27 postings to date, Shivell's blog is filled with language you'll never hear him use in a court room, calling Armstrong "nazi like," a recruiter for "the cult that is homosexuality," and a proponent of a "racist, anti-Christian agenda."
In other internet postings, Shirvell's language has been even stronger: calling Armstrong "Satan's representative on the Student Assembly," even posting a photograph with a swastika attached to his face.

"How under any circumstance, regardless of whether or not you agree with somebody's lifestyle, is something like that defensible," asked Jones.

"Well, he is promoting a satanic lifestyle, and he is a fierce advocate for it," said Shirvell.

"By being openly gay," asked Jones.

"No," said Shirvell. "By being somebody that's there to promote special rights for homosexuals at the cost of heterosexual students."
And get this from the AG:
Attorney General Mike Cox refused our repeated requests for an on-camera interview. Instead, issuing a two-line statement which reads, in part: "I don't agree with Mr. Shirvell's tactics, his judgment, or his word choice but nonetheless I recognize his non-work related blog is protected by our Constitution."

Then, late tonight amidst growing scrutiny, Cox issued a second statement, saying, "…Mr. Shirvell's immaturity and lack of judgment outside the office are clear."
Try "creepy." This doesn't sound like some guy simply voicing his opinions on a blog. It sounds like someone obsessed. It's creepy as hell. And really weird behavior for someone working for the state, in the attorney general's office.

AMERICAblog Gay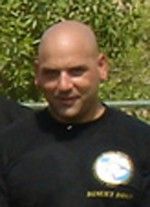 Last September we brought you the stellar reporting by Youth Radio about heinous cases of sexual harassment suffered by members of the U.S. Navy's Bahrain Military Working Dogs Division. Freedom of Information Act (FOIA) documents were released detailing the horrendous behavior of one Chief Michael Toussaint.
It was inside that Bahrain kennel in July 2005 that Petty Officer Joseph Christopher Rocha, then 19 years old, says he was being terrorized by other members of his own division. "I was hog-tied to a chair, rolled around the base, left in a dog kennel that had feces spread in it."

Rocha says that beginning six weeks into his deployment, he was singled out for abuse by his chief master-at-arms, Michael Toussaint, and others on the base, once Rocha made it clear he was not interested in prostitutes. "I was in a very small testosterone-driven unit of men," Rocha says. "I think that's what began the questioning-you know-'Why don't you want to have sex with her? Are you a faggot?'"

"Petty Officer Rocha and another junior sailor…were instructed to go into a classroom by Chief Michael Toussaint, who orchestrated the entire training. And Chief Toussaint asked them to simulate homosexual sex on a couch," Hogan says.
In an update by Youth Radio , it appears that Toussaint has been allowed to get away with this behavior with a full pension and a censure.
Since it was announced last October, the terms of Michael Toussaint's retirement have come under scrutiny that is unprecedented for an enlisted sailor. The senior chief petty officer, who from 2005 to 2006 led a Bahrain-based canine unit that was plagued by widespread documented abuse, denied much of his alleged misconduct in February during a retirement board hearing, a proceeding normally reserved for commissioned officers.

The case will soon go to the desk of an assistant secretary of the Navy, who faces a choice: to approve the unanimous recommendation of the three board members who said Toussaint deserves to retire with a senior chief's pension; or to take a harder line and reduce him to a lower pay grade, as government lawyers had sought to do during the hearing.

Deciding against the retirement board's recommendation would be rare.

"I've never yet seen one (a board recommendation) that was overturned by a higher authority," said Eugene Fidell, a professor at Yale University and President of the National Institute of Military Justice.
And in what is another case of Lucy yanking the football away from Charlie Brown, those who sought harsher treatment are left flat on the ground with zero hope of seeing justice for those harassed, or even to see the assailant receive more than a wrist slap.
But advocates for the sailors who were abused under Toussaint's leadership said Navy officials had led them to expect a harsher judgment from the board hearing, which according to Navy guidelines determines the highest rank at which a sailor or officer has served honorably.

"I was surprised," said Aaron Tax, legal director of the Servicemembers Legal Defense Network, "because we thought that the Navy believed this was someone who engaged in outrageous behavior." Tax said despite the board's recommendation, the Navy should lower Toussaint's pension to that of a first class petty officer, the rank he held before becoming chief of the Bahrain unit.
I guess anything goes with the big boys upstairs. Read more by Youth Radio here.
Pam's House Blend – Front Page
As I've Tweeted, this is beyond heinous, and the obvious question here is how was this man allowed to be anywhere near the teen after the rape? (WHIOTV.com):
Richard Stephson, 55, is in jail and facing multiple charges after what investigators describe as years of abuse. Authorities said the incident started in the mid 80s when Stephson began sexually assaulting a 14-year-old girl who was staying with him at his Springfield home. Soon, police learned that the teen was pregnant with his child.

Now, 10 years after his daughter was born, authorities said Stephson offered her money to have sex with him and molested her during family visits.
He has pleaded not guilty, but has confessed to committing the acts in an interview.
When Donal Óg Cusack, the Irish hurling goalkeeper, came out in his autobiography in October, it meant the end of his own mother attending his games, because she couldn't stand all the slurs aimed at her son. Now some 10 months after the Cork player in print went after the Kilkenny team's fans, for being the most homophobic in the league, the team is finally responding.
---
Permalink | 10 comments | Add to del.icio.us
Tagged: Donal óg Cusack, Homophobia, Ireland, Sports
U.S. Senate candidate Rodney Glassman of Arizona has been accused of homophobia for saying he did not want to sit next to a lesbian city council colleague.
Daily News