He's not paying it.
An open letter to Obama from Lt. Dan Choi, via email and Twitter:
Dear Mr. President:
Today I received a ,500 bill from your Defense Department Finance and Debt Services. Specifically, you claim payment for "the unearned portion" of my Army contract. Six months after my discharge under the Don't Ask Don't Tell policy I have tried to move forward with my life, and I was inspired by your clarion calls for our progress as one nation towards a more just society. I have served my country in combat and I have tried to live my life by the values I learned at West Point in continued service to our nation.  To move forward in my own life I have finally sought treatment for Combat Post Traumatic Stress Disorder (PTSD), Military Sexual Trauma (MST), Insomnia, and Depressive Disorder from the Veterans Affairs Department. But I still find myself on a domestic battlefield for basic dignity as an American citizen. I know I am not alone in this fight because of the desperate cries for help I get from discharged, unemployed, discriminated, and suicidal veterans. I have felt all of their same pains personally. Today I also witness the disgrace of a country that perpetually discovers methods to punish its own citizens for taking a moral stand.
By flagrantly and repeatedly violating an immoral law, I have flagrantly and repeatedly saluted the honor of America's promise. At West Point, when we recited the Cadet Prayer we reminded ourselves "always to choose the harder right over the easier wrong." It would be easy to pay the 00 bill and be swiftly done with this diseased chapter of my life, where I sinfully deceived and tolerated self-hatred under Don't Ask Don't Tell.  Many thousands have wrestled with their responsibilities and expedient solutions when confronted with issues of this magnitude. I understand you also wrestle with issues of our equality. But I choose to cease wrestling, to cease the excuses, to cease the philosophical grandstanding and ethical gymnastics of political expediency in the face of moral duty. My obligations to take a stand, knowing all the continued consequences of my violations, are clear.
I refuse to pay your claim. 
Respectfully,
Dan Choi
Former Army First Lieutenant
West Point Class of 2003

Towleroad News #gay
Update From Autumn: Video from Senate Democrats that folows a timeline: From Dan Choi giving Sen. Harry Reid his West Point class ring at Netroots Nation to keep until DADT was repealed — to video from today when the ring was returned to Lt. Choi.
---
Hard not to get emotional about this. Via Sen. Reid's Twitpic account: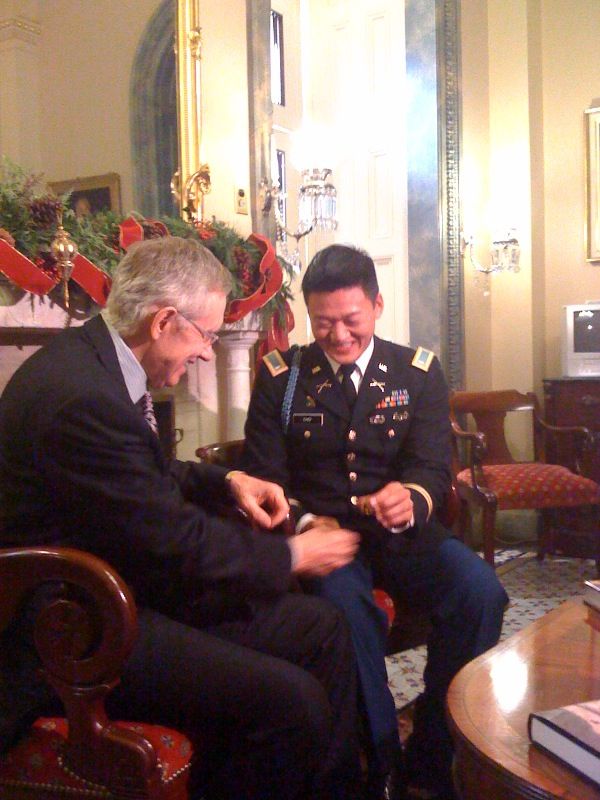 Pam's House Blend – Front Page
Also on hand for Wednesday morning's signing will be Dave Guy-Gainer, a gay veteran from Tarrant County who serves on the board for Servicemembers Legal Defense Network.
"In DC. Still wondering if all this is a dream!" Guy-Gainer said moments ago on Facebook.
"Have tickets and hotel reservation and a special invite to Wednesday's signing of the Repeal of DADT! WOW!" Guy-Gainer said earlier.
Again, the signing will be at 8:15 a.m. Central time. You can watch it live here.
I think this is a big step for the direct action group GetEqual, whose tactics didn't receive a lot of establishment respect. The White House, while shaken by some of the protests, clearly offered the olive branch by inviting both Lt. Dan Choi and Robin McGehee to Wednesday's White House signing ceremony.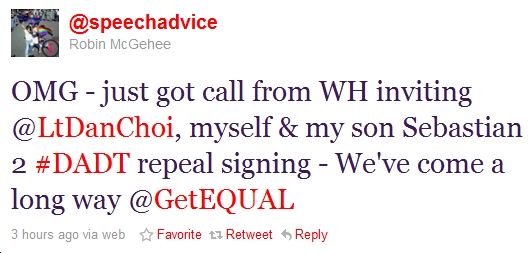 The signing will not be held at the White House. The invite list is apparently quite long — the ceremony is being held in an auditorium.
In case you're wondering, your blogmistress, despite being one of the thorns in the side of the WH at times, has also received an invitation.
That's heartening, since it also means recognition of the Netroots. Via Twitter I know that John Aravosis (certainly not a WH fan), Andy Towle, and other bloggers are invited, so perhaps the White House would like to use this opportunity to start anew. Time will tell, of course.
As far as my attendance goes, it is a life filled with an abundance of hilarious bad luck, bad timing and bad health. Usually it's a conflict with my day job when it comes to invites of this nature; this time it's the damn hysterectomy. YES the plumbing of the damned — it's removed and it's still screwing with me, lolol.
Let's put it this way – I drove a few miles today and mailed a couple of small boxes at the PO, went to one store and came home. My abdomen is now throbbing sore and definitely feels like I overdid it (like stitches pulling). Anyway, attending would be a logistical nightmare for me. I'm not physically ready for a long drive, dealing with flying/the airport or standing for long periods yet. Also, I cannot lift more than 10 lbs for quite a while, so no bag or laptop and gear for me either. Crushing fatigue can strike without warning too. Oh, and folks have to be on site by 7AM on Wednesday. LOL. The reality is (even as I hilariously, sadly bargained with Kate about how it might be possible to go) it takes months to fully recover from a hysterectomy even without complications involving my other issues (fibromyalgia, neuropathy). The smart thing is to sadly and politely decline attending the historic event.
I do hope to see, as I watch the event on the tube on Wednesday with the rest of you, that there are many members of the military attending — those who lost their jobs due to DADT, and we can, in ceremony, close this chapter and move on to full impementation of repeal.
Pam's House Blend – Front Page
(Tipped by JMG reader Sean Chapin)
I have heard many senators and congresspeople use variants of Admiral Mullen's pro-Don't Ask, Don't Tell (DADT) repeal phrase of relating to how DADT "[f]orces young men and women to lie to lie about who they are in order to defend their fellow citizens." For example, from the floor of the Senate yesterday (December 18, 2010):
Senator Carl Levin: …A policy, which in Admiral Mullen's words — memorable words — quote "Forces young men and women to lie to lie about who they are in order to defend their fellow citizens."
Young transgender servicemembers, transsexual servicemembers, and servicemembers who identify as both transgender and transsexual still will have to lie to defend their fellow citizens.
Dan Choi tweeted the following yesterday:
I learned the equality chant from Robin McGehee of GetEQUAL where that "I am somebody" line of Dan Choi's tweet. Here is the equality chant:
I am somebody!

I deserve full equality!

Right here!

Right now!

I am somebody!
Indeed, Dan Choi had much reason to state "I am somebody" yesterday…much reason to celebrate. He even received a tweet from Senator Harry Reid, about an hour prior to the final vote:
My friend, Dan Choi, is closer to being a somebody who likely will be able to resume his military career as an out, gay, U.S. Army Officer. I'm very, very happy to have participated in direct action on the White House Fence with Lt. Choi in standing up for liberty, equality, and justice. I'm incredibly happy he may be able to serve his country in military uniform again.
That said, if anyone noticed back in April and November, I never led the "I am somebody" chant from the White House fence. Repeal of DADT was not going to result in my peer transgender community members and me being closer to being somebodies, able too to serve our country in uniform without having to lie about who we are.
Many of us transgender veterans had made a conscious decision to not tie the future transgender people's open military service to the lesbian, gay, and bisexual people's open service. Allowing transgender people to serve in the military openly will require much more accommodation than allowing lesbian, gay, and bisexual people to serve in the military openly requires. We also know America isn't Great Brittan, Canada, or Australia — the more conservative American people aren't as ready and prepared for the open service of trans servicemembers as they are prepared for the open service of lesbian, gay, and bisexual servicemembers — and even most of those countries didn't tie the service of LGB servicemembers to T servicemembers.
So, many of us T veterans took the position of supporting our LGB servicemembers and veterans, and waiting.
So while passage of even this watered down version of DADT repeal is a big win for LGBT community, it's not a direct win for the T subcommunity. Passage of a fully-inclusive Employment Non-Discrimination Act (ENDA) — one that includes employment protections for sexual orientation and gender identity and expression was a higher priority for most in the T-subcommunity, but for some reason the Democratic 111th Congress seemed only to be able to pass one piece of LGBT legislation a year, and even the repeal of DADT seemed incredibly iffy right until the end.
In other words, for me, passage of DADT repeal doesn't leave me able to shout "I am somebody!" with the same sense of community achievement that Dan Choi had the pleasure to shout "I am somebody!" yesterday. I'm glad he could, I'm a little meloncholy I couldn't.
Frankly, I am still not any more of a somebody in the legal sense than I was the day before yesterday. Clearly, my transgender peers and my personal freedom, equality, and justice weren't improved with repeal of DADT. Many of we trans people are very, very happy for our LGBT community's win, but it does come with a sense of melancholy, in that the passage of DADT repeal doesn't improve life for transgender Americans.
Freedom, equality, and justice isn't about me or you, or your subcommunity of the LGBT community or mine, or about any other demographic group we may belong to. Freedom, equality, and justice is about us. If an issue is an issue for even one subcommunity of the LGBT community, it's my issue. I fought for repeal of DADT because our fight is about us, and not about me.
But that doesn't mean I don't feel a bit meloncholy because yesterday's DADT win wasn't about me or my subcommunity of the LGBT community.
For the next two years, we won't see movement on repeal of the Defense of Marriage Act (DOMA), nor will we see movement on ENDA because of the incoming Republican Congress and their "culture war."
DADT was prioritized over ENDA in this congress in all likelihood in large part because there was a clearer way forward, and our DADT repeal "lunch counters" were easier to identify, and the discrimination easier to articulate in simple terms, so the targets were easier to identify and target.
But if…but if…But if we see return of Democratic Party control of the House and Senate in 2012, will we see a higher priority put on repeal of DOMA, or a higher priority placed on the promise of ENDA? I can tell you what most in the transgender subcommunity of the LGBT community would prefer to see happen first, and that would passage of ENDA.
As the GetEQUAL e-blast pointed out regarding the passage of this DADT repeal bill (emphasis added):
Make no mistake — DADT is not yet repealed. There is still work to do. There is still a long process ahead, but we vow to keep the pressure up until the policy is fully and completely repealed. There are still people — especially our transgender sisters and brothers — who are unjustly left behind by this legislation.
I fought to see DADT legislatively repealed, and I took to the White House Fence twice over DADT; I went to jail twice over DADT. The legislative win on DADT yesterday is a win for LGBT community that I'm incredibly glad to have played a small part in, but my joy is somewhat tinged with melancholy. [T]ransgender sisters and brothers…are unjustly left behind…
Pam's House Blend – Front Page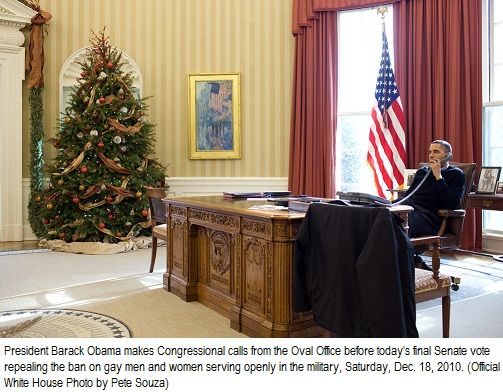 It's been a long historic day and the reactions have run the gamut from "you know it played out just as the President planned" (the brilliant 12 dimensional chess strategy meme), to "HRC claiming any responsibility for this is BS" to "it couldn't be done without "X" (as in there's a single reason for DADT's legislative repeal).
As always, I think the truth lies somewhere in the middle. I'm not sure why any one faction has to "claim" victory — that seems very Beltway, as opposed to the big picture that there was a win today, one with an incomplete asterisk next to it.
A promise to repeal the discriminatory policy of Don't Ask, Don't Tell is exactly that – repealing the impact of the policy itself. That was made quite clear — from SLDN's cautionary warning to service members not to come out yet, to HRC's victory post saying the same thing.
Here are two examples of viewing the glass of pre-victory from today. First, Brian Bond, Deputy Director of the Office of Public Engagement at the White House (a.k.a. the "LGBT liaison") has a post up: "Ending Don't Ask Don't Tell."
Today, I had one of those "once in a lifetime" moments. As I sat in the Senate Gallery with my bosses, White House Senior Advisor Valerie Jarrett, Deputy Chief of Staff Jim Messina and Director of the Office of Public Engagement Tina Tchen, I saw history being made as the US Senate voted 65 to 31 to pass the Don't Ask, Don't Tell Repeal Act of 2010. I am proud of the many leaders in Congress and all those who have worked to put an end to DADT. And I'm proud of the President for his leadership on this issue. It has been a long time getting here and it has been a struggle – but as the President has said many times, "Change isn't easy." But today we took a huge step forward to set right a wrong.

Last December about this time, I was at a small event in the Roosevelt Room. The President was just getting ready to leave for the Christmas Holiday. He walked over to me and without missing a beat, put his hand on my shoulder, and I will never forget what he said to me – unsolicited — "We are going to end Don't Ask Don't Tell. We have a little bit of work to do still, but we are going to get it done." A month later, in his first State of the Union Address, the President said, "This year, I will work with Congress and our military to finally repeal the law that denies gay Americans the right to serve the country they love because of who they are. It's the right thing to do."

Now I am sure that there will be many stories written about what happened and how we got here, but for me, the key part of the story that I will never forget is that commitment from the President. Nor will I ever forget the brave men and women who have served with distinction who also happen to be gay or lesbian. Throughout the course of this effort, I have been privileged to meet some amazing heroes who just wanted to serve their country. I will carry their stories with me for the rest of my life.
Dan Choi (who is out of the hospital and received his Blend "get well card" today), has a piece up at Huff Po — "Congress Repeals DADT" — and strikes a different tone.
No revolution towards justice ever went backwards. To all the supporters of equality and Don't Ask Don't Tell's death, I am so grateful. The road has not been easy. We have learned many important lessons about social justice, movements, supporting each other, and speaking out against discrimination.

The mission is not finished; it has only just begun. The most critical mission is supporting and encouraging closeted soldiers to finally access their full integrity, dignity, and humanity. This mission is in keeping with the first lessons learned at West Point or basic training. As the legislation signals a new chapter in our journey, we can be sure that our work has only begun. I call on all soldiers to gain the courage to come out. First come out to yourselves, then tell your trusted friends and family. Tell everyone who you trust and who deserves nothing less than truth. Stop hating yourselves as your country has signaled for so long. Furthermore, your coming out is not for you. It is for all those who come after. Military service is not about rank, pension or paycheck. Climbing the ladder is shameful without true purity of service and I applaud those who give up the superficial artifacts of career in favor of complete integrity and justice.

…President Obama, you are not off the hook. The compromise bill passed today puts the moral imperative squarely on your desk. Sign an executive order instituting a full non-discrimination policy throughout the military. If you do not, if you drag your feet and politicize this with your theoretical calculations as you have these past two years, you will be guilty of abetting those who loudly proclaim homophobia from their platforms and pulpits. Provide them no shelter or safe haven. Institute justice now.
Both points of view are personal, both stem from resolve to see equality happen, but there is no black and white to the struggle for equality, it involves many political shades of gray. For those who are so motivated by being "right" or on top politically, they don't want to see that there are many routes to success along the way, that the spectrum of ideas and tactics were responsible for today's step, not in spite of one viewpoint or another. That's pretty disappointing, but not unexpected. There are many battles ahead, perhaps people can get their heads together after popping the champagne corks this evening.
Pam's House Blend – Front Page
Dan Choi wrote to Pam Spaulding and Rex Wockner yesterday to let them know he's currently getting treatment at the Brockton MA Veterans Hospital.
The Blend's post, with the letter and some excellent commentary from other service members, is here.
Dan is a friend and I have enormous respect for him. He's been through a lot over the past year and a half — and let's not forget the time that Dan, the Arab linguist, spent on the front lines in Iraq during 2006 and 2007. He's played a key role in getting the DADT repeal effort on to the radar screen of elected officials, advocacy groups and the traditional media.
We're sending good thoughts Dan's way. He's put himself on the line for all of us — both while serving in the military and by leading the DADT protests.
It would be a really good time for Harry Reid to get that standalone DADT bill passed so he can return Dan's West Point ring to him.

AMERICAblog Gay