In this installment of Show vs. Show, we take a look at two bands both welcome at any party. It's the battle of young and not-so-young as The B-52s bring out their campy tunes and CSS turn on their Brazilian beats for Dallas audiences.
Despite a healthy discography, we might always know The B-52s for "Love Shack," but there are worse tunes on which to hang a legacy. Now a classic party anthem, the song has held up for more than 20 years.
The band's talent shouldn't be overlooked for its camp factor. When the late Ricky Wilson threw down that riff for "Rock Lobster," he made music history with a strong sound. It's easy to blow off, but over the years, has proven unforgettable. Guitarist Keith Strickland stepped in and filled those shoes with the perfect blend of musicality and whimsy.
Cindy Wilson and Kate Pierson always keep our attention with their mod outfits and high-to-heaven 'dos, but Fred Schneider symbolizes the band most with his outrageous flair.
But don't count out CSS for party 'peal. The Brazilian popsters may be the heirs apparent to The B-52s (if not LMFAO), infusing a comic touch on their songs. They don't offer as much of a punchline as The Bs do, but with tunes like "Let's Reggae All Night" and "City Grrrl," they add their own panache. Another point in their corner is opening dance band and performance artists MEN, led by lesbian JD Samson.
This should be more like Party vs. Party. All that's missing are the party favors, confetti and punch bowl.
— Rich Lopez
Artist: The B-52s
Known mostly for… being the premiere party rock band veterans, churning out hits "Rock Lobster," "Love Shack" and "Roam."
Good for the gays? As gay as it can get. Their camp factor is off the charts.  And of course, there's queer singer Fred Schneider.
What to wear? Anything but beige or gray. And lots of hairspray.
Relevance: The B-52s haven't delivered big since 1989's Cosmic Thing, but their songs are timeless fun.
Reason to be there: This is one resilient band that wholeheartedly still delivers. And how awesome is "Love Shack" going to sound live?
Reason to not: It's in Frisco.
Deets: Dr. Pepper Arena, 2601 Avenue of the Stars, Frisco. Nov. 3
at 7:30 p.m. $27–$77. Ticketmaster.com.
Artist: CSS

Known mostly for… their Brazilian dance pop. Hipsters party out to this band
that wants nothing more than to have a good time.
Good for the gays? With openers MEN, both are queer-centric with refreshing
but catchy tunes.
What to wear? Ironic T-shirts and colorful Converse Chuck Taylors.
Relevance: Their latest album, La Liberacion, strikes an unusual dance chord that's also infectious and irreverent.
Reason to be there: While CSS has a strong fan base, they are still off the gaydar. You can be the one to tell all your friends about them.
Reason to not: With this one-two punch of catchy alterna-pop, there really isn't a reason not to be there.
Deets: With MEN. House of Blues, 2200 N. Lamar St. Oct. 28
at 8 p.m. $18–$20. HouseOfBlues.com.
This article appeared in the Dallas Voice print edition October 28, 2011.
The Log Cabin Republicans will hold their National Convention in Dallas this coming weekend, and we'll have a full story in Friday's print edition. But because the convention actually begins Thursday, we figured we'd go ahead and post the full program sent out by the group earlier this week.
Perhaps the biggest surprise on the program is a scheduled appearance by gay Dallas County Sheriff Lupe Valdez, who is of course a Democrat.
Valdez, who'll be one of the featured speakers at a Saturday luncheon, contacted us this week to explain her decision to accept the invitation from Log Cabin (not that we necessarily felt it warranted an explanation). Here's what she said: 
"We have more things in common than we have differences, but it seems like in politics we constantly dwell on our differences," Valdez said. "If we continue to dwell on our differences, all we're going to do is fight. If we try to work on our common issues, we'll be able to accomplish some things."
On that note, below is the full program. For more information or to register, go here.
The Red Party Foundation Kick-Off Party at BJ's NXS on April 21 raised an estimated $4,000, according to J.T. Williams, co-founder of the organization. The money will go straight to the Red Party Foundation, which was formed earlier this year as a 501(c)(3) by Williams and Jared Pearce. Last week's fundraiser was the first of several leading up to the annual Red Party in September benefiting the Legacy Counseling Center and Founders Cottage. "I was pleasantly surprised at how well the underwear auction went," Williams said. "James Deets and John Rieger were the big bidders, both bidding $200-plus for a pair of Candid Underwear that was worn at the time by BJ's bartenders and dancers." The Red Party Foundation's website, at www.RedPartyDallas.com, is under construction by Clint Thomson of Celeratec, who is donating his services.
Photos by Chuck Dube/MarceloMedia
Photos by Chuck Dube/Dallas Voice (MarceloMedia)
PLEASE NOTE: Images will take a moment to load.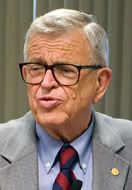 A few years ago, Chuck Colson was trying to drum up support for a federal anti-equality marriage amendment with the usual doomsday scenario:

…If we don't make the case for natural marriage-or fight attempts to shut us up or shut us down-sooner or later, we will all find our most sacred liberties sacrificed on the altar of the gay agenda.
Pam challenged Colson to examine the real threats to "natural marriage" which include divorce.

Colson, Maggie Gallagher and the like don't have anything better to do than to lob ridiculous bombs out there about the institution of marriage being destroyed by The Homosexual Agenda. They spend no time talking about rampant divorce and adultery currently putting marriage in jeopardy over and over. Where are their stiff spine supporting a ban on divorce?
Here we are two years later and guess what? Colson agrees. Sort of.
The January, 2011 issue of Christian Examiner reprinted one of Colson's recent articles, bringing it to my attention:


Closer to home, the church has to ask itself if and how we've contributed to the trends documented in the Pew study. While few churches sanction cohabitation and some of the other new family forms Pew describes, our record on divorce and re-marriage leaves a lot to be desired. Advocates of these new family forms take delight in pointing out that divorce rates are higher in the Bible Belt than they are in more liberal parts of the country. They don't hesitate to point to studies showing that Christians aren't that much better at marriage and family than their non-religious neighbors.

Fair enough, they have a point. If we're going to lead the fight to preserve traditional marriage, we need to start by creating a place where there is no question of its being "obsolete." That is, our homes and our churches.
This is a stunning admission from someone who spouts hyperbolic claptrap about gay and lesbian families like "This vote on whether we stop the gay-marriage juggernaut in California is Armageddon".
But is Colson really doing anything more here than neatly dodging a fair criticism by quietly agreeing with it and then moving on? After all, Colson is still pimping the Manhattan Declaration against marriage equality.
If we are to believe that Colson is admitting that heterosexuals are responsible for the health of the legal institution they've largely reserved for themselves, he needs to flesh out "our homes and our churches" by confessing his own complicity in the erosion of the institution and by calling on his radical-right "natural marriage" colleagues to do the same. Jesus said, "Why do you see the speck that is in your brother's eye, but do not notice the log that is in your own eye?"
You see, Chuck Colson is divorced and remarried.



Colson's first marriage, with Nancy Billings in 1953 bore three children…before ending in divorce in 1964 after some years of separation. He married Patricia Ann Hughes on April 4, 1964.
Colson is not alone in being a fly in the marriage ointment. Many leaders of the anti-equality movement have ended their own "sacred" and "forever" marriages with divorce. For example John McCain divorced his first wife Carol Shepp for Cindy after Shepp had a car accident and lost her looks; Rudy Giuliani is on his third wife. His second wife learned of his plans to divorce her when he made a public announcement; Larry Stickney has had two no-fault divorces and is on his third wife; Newt Gingrich, famous for divorcing his first wife while she was in the hospital recovering from cancer surgery, has been married three times and divorced twice. He was having an extra-marital affair even as he presided over the Clinton impeachment trials.
Colson has taken a positive baby step in admitting that heterosexuals are responsible for debasing marriage. But a wink and a nod isn't enough. He must stop scapegoating gay and lesbian families. Anything short of that and he only embarrasses himself by transparently resorting to diversionary tactics to avoid taking responsibility for his own messy human life.
Pam's House Blend – Front Page