We spoke briefly this afternoon with Mark Reed, before he had to hang up because of a conference call with producers from CNN, which is set to interview Reed and his husband, Dante Walkup, on Tuesday.
Our story last week about Reed and Walkup's Skype wedding has gone viral, getting picked up by media outlets from The Washington Post to Time magazine.
Reed said CNN's interview — itself conducted via Skype — will air at 12:20 p.m. Tuesday Dallas time.
"It's gotten wild," Reed said. "I really didn't think it would go this far. It's good because the more times you can put real faces on stories about couples who are in love, it changes hearts and minds. It's exciting."
Despite all the national attention, one media outlet that hasn't picked up the story is The Dallas Morning News, which is also refusing to publish their wedding announcement, Reed noted. (More on this later.)
Reed and Walkup attended a symposium on e-marriage this weekend at Michigan State University's School of Law, where experts are pushing for state statutes to bolster the legality of e-marriage.
"The law school's trying to find one state to introduce legislation and get it passed, and they feel like Vermont would be the best choice," Reed said, adding that openly gay Vermont State Rep. Bill Lippert was on hand for the symposium. "He came to the symposium skeptical, but once he heard our story, it really touched him and he got really excited about it."
Fort Worth City Councilman Joel Burns has said repeatedly that he was moved to deliver his Oct. 12 It Gets Better speech when he read about the death of Zach Harrington, a gay teen who took his own life after hearing hateful anti-gay comments during a City Council meeting in Norman, Okla. Now, someone reportedly plans to protest Burns' passionate speech — and undoubtedly make more hateful comments that could drive LGBT teens to suicide — during this Tuesday's Fort Worth City Council meeting. Unbelievable.
The Fort Worth Star-Telegram reported Sunday that at least one person plans to speak during Tuesday's meeting to "air disapproval" of Burns' speech four weeks ago. The brief report in The S-T doesn't identify the person or persons who plan to speak. It also doesn't say where the newspaper got the information, which is strange:
At least one person — and possibly more — plans to be in attendance to air disapproval of the much-talked-about speech by Councilman Joel Burns last month in council chambers.
Burns, the first openly gay council member, gained national attention after delivering a stirring address, in the wake of recent incidents, pleading with gay teens not to resort to suicide.
Video of the speech became an instant sensation online.
Within a week, more than 200,000 people had posted the link to the speech on Facebook, and a media tour followed. Burns appeared for interviews on CBS' Early Show, CNN, the Today show on NBC and the Ellen DeGeneres Show.
Burns was among the speakers during Saturday night's Black Tie Dinner in Dallas. Burns choked up as he talked about how he'd been contacted earlier in the day by Harrington's father.
"Mr. Harrington said that Zach's mom, a teacher, is having a particularly difficult time these days, and that he wishes he could let Zach know how much they miss him, but they can't because he killed himself — after attending a City Council meeting," Burns said. "As I said on Oct. 12, no child should be made to feel that they are without worth. Let us remind them of their value while we still can."
Burns then led a moment of silence "in remembrance of the needless loss of teens who found the bullying too much to bear."
Today we can add 14-year-old Brandon Bitner to the list of those teens.
Tuesday's council meeting, should you wish to attend, is at 7 p.m. at Council Chambers at City Hall, 1000 Throckmorton St.
Clint McCance, the school board member from Midland, Ark., who recently encouraged gays to kill themselves on his Facebook page, said Thursday night on CNN that he plans to resign his seat:
"I'm sorry I've hurt people with my comments," McCance told CNN's Anderson Cooper. "I'm sorry I made those ignorant comments and hurt people on a broad spectrum. …
"I would never support suicide for any kids," McCance said. "I don't support bullying of any kids."
"The words I used were unfortunate … but they can't be taken back," he said. "All I can do now is extend my apologies for my poor speech."
Read the full story by going here.
Human Rights Campaign President Joe Solmonese issued the following statement:
"Clint McCance's decision to resign from the school board is a step forward for the community he represents. We are hopeful the wounds that were inflicted will soon be healed. What remains troubling is that Mr. McCance focused his regret on particular word choices not the animus behind those words. We hope he will take this time to reflect not only on the language he used but on what he can do to make the lives of lesbian, gay, bisexual, transgender and questioning young people better."
Fort Worth City Councilman Joel Burns, aka the Prince of Cowtown, will be on CNN today to talk about the "It Gets Better" speech he made Tuesday that's gone totally super-viral since then. In case you're wondering, at last check, the YouTube video had more than half a million views. Which is why it's kinda hard to believe Burns has only 1,129 followers on Twitter.
UPDATE: GLAAD reports on additional appearances by Burns:
-Joel's video was played on MSNBC last night during The Last Word with Lawrence O'Donnell.
-We're told that earlier this morning Joel's message was broadcast as a package piece for CBS' The Early Show.
-At approximately 1:00 EST, Joel will be interviewed LIVE by Ali Velshi, host of CNN's Newsroom.  We've been told that Joel's video will play in its entirety (13 minutes), with a 12-20 minute interview to follow.
-At approximately 3:30 EST, Joel will be interviewed LIVE on MSNBC.
-Tonight at 10:00 EST, ABC's 20/20 has said they will feature Joel's video during a four-part special on bullying.
If you turn on the local TV news tonight, you'll undoubtedly see coverage of today's rally outside North Dallas High School in support of Andy Moreno, the transgender girl whose principal decided she wasn't fit to run for homecoming queen. A dozen or so protesters from Queer LiberAction gathered on a street corner in front of the school at about 3:30 p.m. As the bell rang a few minutes later and students poured down the front steps, QL organizer Elizabeth Pax yelled through a megaphone for those who support Andy to join the protesters. Hundreds of students swarmed the street corner, cheering and chanting as Moreno stood alongside Pax looking on. Crews from several local TV stations, as well as from CNN and MTV News, were on hand. The protesters and students, including Moreno, eventually marched up and down Cole Avenue yelling things like "Who's queen? Our queen!" as police and school officials watched nearby. We'll post a full story and video from the rally shortly. More pics below.
UPDATE: We've posted our story here.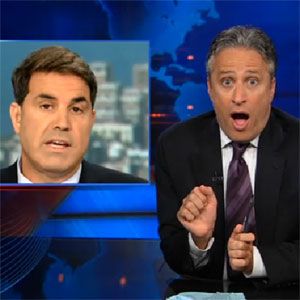 This story is so bizarre. I can't be sure what was running through Rick Sanchez's mind, but somehow the intimacy of doing a radio program must have lulled him into a state of mind that allowed that little sensor in your head that stops you from saying something supremely stupid/racist/insane to malfunction. (The Box):

CNN has fired anchor Rick Sanchez, following a radio rant Thursday night where he called Jon Stewart a "bigot," blamed CNN brass for discrimination against him and insinuated that the media industry is controlled by Jews.

Sanchez had gone on Pete Dominick's Sirius XM show to promote his new book, "Conventional Idiocy." While on air, he called Stewart a "bigot," implied that CNN is controlled by Jews and that the network passed him over for promotion because he's Latino.

The full transcript is here . It's worth reading because no paraphrasing can capture the meltdown. I'm not particularly interested in his attacks on Jon Stewart; Sanchez has been the butt of his jokes, and Sanchez sees that as racist. All Rick's done is give Stewart more to poke fun at.
Where Sanchez goes off the rails starts with his reference to "elite Northeast establishment liberals" that devolves into denying that Jews are an oppressed minority and are holding minorities back, by extension, on CNN.
There are a couple of things that most of the Sanchez-bashers are ignoring because of Rick's anti-Semitism: 1) the reality of being a minority anchor on that network, and 2) CNN's history of keeping bigot Lou Dobbs on the air, never reprimanding him for the numerous ON-AIR lies and inflammatory comments about Latinos and other minorities (remember Lou and Obama Waffles?).
Case in point:

RS- I had a guy who works here at CNN who's a top brass come to me and

say, 'You know what, I don't want you to –

PD- 'Will you wash this dish for me, Sanchez?'

RS- No no, see that's the thing; it's more subtle. White folks usually don't see it. But we do – those of us who are minorities and women see it sometimes too from men in authority. Here, I'll give you my example its this 'You know what, I don't want you anchoring anymore, I really don't see you as an anchor, I see you more as a reporter, I see you more as a John Quinones – you know the guy on ABC. That's what he told me. He told me he saw me as John Quinones. Now, did he not realize that he was telling me, 'When I see you I think of Hispanic reporters'? Cause in his mind I can't be an anchor. An anchor is what you give the high-profile white guys, you know.

Rick's not pulling that out of his ass. Last year I had the pleasure of meeting Carol Jenkins, the former president of the Women's Media Center, who had a storied 23-year career as a news anchor at New York's local WNBC-TV. She anchored the 6PM newscast (and won an Emmy). She has said much the same thing (sans Sanchez's slur, of course) about how female anchors are similarly siloed. One news director told her flat-out that viewers "want to see a man in prime time." She asked what studies or polls he was basing his view on. He had none to cite. Yes, that's right. Just a "gut feeling" about what people want to see.
The bottom line is that it's hard to break that glass ceiling, a point Rick Sanchez could have made without resorting to his Jewish conspiracy theory.
Anyway, I suppose that Rick can continue his book tour and think about his next options…and about that broken sensor.
And about Lou "The Brown Menace Is Upon Us" Dobbs? Why the flip didn't CNN have the hair-trigger trap door for him? The YouTubes of him going off on-air, on the network are numerous. And the Obama Waffles incident at the Values Voter Summit in 1998, Lou stopped by the vendor table to give a slamming endorsement of the product ("My wife will love this!")? That didn't cost Lou his job.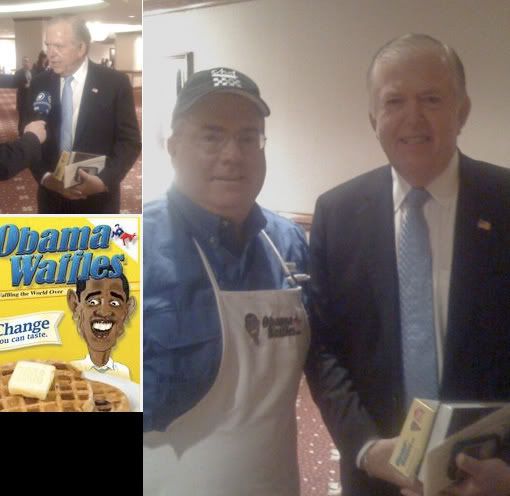 It doesn't excuse Sanchez's remarks, but it does call into question the objectivity of using bigotry as a principal reason for dismissal at CNN.
Tony Perkins, president of the anti-gay Family Research Council, sent Sen. John Cornyn, R-Texas, a letter earlier this week requesting that Cornyn skip an upcoming fundraiser for Log Cabin Republicans he's scheduled to attend, according to CNN.
"Your work in the U.S. Senate on issues important to the family is well known, as is your close association with Family Research Council and the work we do, which makes the association [with Log Cabin] all the more distressing," Perkins wrote to Cornyn on Monday. "In deference to the work you have done against the debasement of our culture, I would ask respectfully that you withdraw from attending the event."
Cornyn responded to Perkins on Wednesday by touting his anti-gay credentials. Cornyn tells Perkins he supports the Defense of Marriage Act and favors a federal constitutional amendment banning same-sex marriage. Cornyn says he supports a referendum that would allow Washington, D.C., residents to vote to overturn the City Council's decision legalizing same-sex marriage. And he says he opposes the repeal of "don't ask don't tell."
"All these positions were well known to the Log Cabin Republicans when they invited me, in my capacity as chairman of the National Republican Senatorial Committee, to attend their event later this month, and I accepted for two reasons. First, part of my job is to reach out to those committed to defeat Senate Democrats this November. The Log Cabin Republicans are doing just that, as they stand for fiscal discipline, limited government, and a strong national defense. We may not agree on several key issues, but we do agree that every committee in the United State Senate should be chaired by a Republican.  …"
Instant Tea has been harping on this issue for weeks, saying Cornyn is blatantly pandering by attending the Log Cabin dinner. His letter to Perkins confirms that Cornyn has no intentions of supporting gay rights anytime soon, and that he's only attending the dinner to try to drum up votes in November so that Republicans can take over Congress, which would allow them to further FRC's cause by preserving discriminatory laws while passing additional anti-gay federal legislation.
Here's an idea: Maybe Log Cabin should take some of the money Cornyn helps the group raise and donate it to the Trevor Project to help prevent LGBT youth from committing suicide because they're taught to hate themselves for being gay in a society controlled by people like Cornyn.
READ PERKINS' LETTER TO CORNYN
The Bully Suicide Project, a nonprofit organization launched in 2009, has launched its Fall Campaign with nationally recognized local photographer Tracy Nanthavongsa and make-up by Melissa Whitaker.
The theme of the Fall Campaign is "Real Students With Real Stats." Each model in the campaign is a high school or middle school student in North Texas that has survived bullying. Photos are graphic and drive home the real life effects of bullying by portraying the physical signs. The Bully Suicide Project (BSP), based in Dallas, is fast becoming one of the top resources for schools and parents for bullying prevention and education.
The BSP has been featured on CNN, Fox and CBS. The Fall Campaign is set to reach new goals by being introduced internationally with organizations in Australia, China, England and Italy.
To view the Fall Campaign, please visit http://bullysuicideproject.com or Facebook at "The Bully Suicide Project."
The Bully Suicide Project seeks funding from outside sources so that each school can receive this vital training for free. For more information, please contact Beaux Wellborn, assistant director of the Bully Suicide Project at 214-635-1985 or http://bullysuicideproject.com/