The National Organization for Marriage (NOM) is crowing about how victorious they were in the Indiana House today, as it voted to constitutionally ban same-sex marriage and civil unions.
They are reminding folks of the rally they had in Indianapolis in July with a video painting themselves as victims.
So, it seemed like a perfect time to remind people what their supporters looked like at that rally.
You'll remember that one of them carried signs calling for gays to be hanged.
The interview with Larry Adams, AFTER THE JUMP…

Towleroad News #gay
Newsweek was writing about the administration's defense of DADT, but the arguments from various legal scholars are general, and apply to the defense of DOMA as well. It's worth a re-read for anyone asking whether the administration HAS to defend bigoted laws.
There are two different arguments for why Obama could choose not to enforce the law. The first one: he could say it was unconstitutional.
Obama's other option: simply using his executive power to decide how the laws will be, or won't be, executed. So Obama could simply order the military to stop applying the law, or to use it much more narrowly and infrequently. "There are a lot of laws on the books he doesn't rigorously enforce," notes Geoffrey Corn, a military law expert who teaches at South Texas College of Law. "The courts have recognized that while Congress has full authority to pass laws, the president has authority over when to enforce laws," says Turley. Many criminal statutes, for example, are often unenforced and prosecutors have a lot of discretion on when to bring charges and what sentence to seek.
Some experts wonder why the administration even chose to defend the law in the first place. Turley maintains that they didn't have to: "The president has a duty to separate his administration from an unconstitutional statute. If a statute required racial discrimination, would the president seriously be arguing that he and his administration would have to defend the statute all the way to the Supreme Court?" Many liberals feel betrayed by a president who they see as having chosen to enforce and defend a discriminatory law.
As Joe has noted before, the White House outright refuses to answer the question of whether President Obama believes DADT and DOMA are constitutional. More White House obfuscation here.

AMERICAblog Gay
(2:07, clip 1): "::laughs:: I don't put down rules and regulations" [on marriage]
(3:42, clip 2): On the charge that she's profiting off marriage: "I wish"
And then a convoluted conversation about same-sex marriage, homosexuality, and gender identity that shows how much some of us have grown in a decade, while others among us have worked to regress our collective understanding:

Good As You
Although Blue Valentine is about the disintegration of a straight couple's marriage, the themes, scenes and emotions it deals with could be out of any relationship: The awkward silences, the cold touches, the largely unspoken anger, the rebuffed affection, the meaningless disagreements. There are moments of tenderness, but they are made all the sadder because we see them in flashback. It's over for these two.
I've been in this kind of relationship. I'm sure most people have. And it's not pretty.
Sound like a happy film? Yeah, it's not. But it is very real.
It's also the kind of film that invites "process" reviews — that is, stories about the making of the film itself and its style: the hand-held camera and improvised dialogue resulting from weeks of off-set rehearsal with stars Ryan Gosling and Michelle Williams (Heath Ledger's widow), who lived together as a married couple for weeks to get into the skins of the characters. That accounts for the realism — authenticity trumps contrivance, character supersedes plot.
You can't call that a bad thing, but it can be difficult to watch. Cindy (Williams) and Dean (Gosling) are a young couple with a sweet 5-year-old daughter, but their marriage is failing. In fact, by the time the movie begins, it's basically over. Both from working-class backgrounds — Dean is a housepainter and mover, Cindy is a nurse — but Cindy seems to feel trapped by Dean's lack of ambition. She likes his goofy charm, his grand acts of romanticism, but she doesn't seem challenged by him. "I thought the whole point of coming here was to have a night without kids," she snipes when he takes her to a fantasy motel and begins making animal noises. Ouch.
Director Derek Cianfrance approximates John Cassavetes' patented way of creating pained realism not from meaningful dialogue or fancy camerawork, but by intense observation of small moments between people. He hops between the beginnings of their courtship and the dissolve with only subtle visual cues. He also allows Gosling and Williams to sparkle in their roles. Both are likely Oscar contenders, so intense and measured are their performances.
Blue Valentine isn't the best date movie, but it is, in some ways, an ideal break-up movie, one that makes you feel you're not alone in that pain.
Now playing at Landmark's Magnolia Theatre in the West Village. Rated R (after an original NC-17 rating for explicit sex). 118 mins.
Today, as noted below, SLDN has organized a protest at the Capitol. This isn't the first protest. In June of 2009, SLDN organized a protest in front of the White House to protest the President's inaction on DADT repeal. The group wanted the President to lead. Still waiting. I am reposting my coverage of that protest. We had indications over a year ago that there was trouble with DADT repeal. SLDN got into a lot of trouble with the White House over this protest and the repeated efforts through 2009 to get the process moving. Back then, we all thought we'd get ENDA passed before DADT repeal. But, we didn't even get a committee vote on ENDA. I don't think anyone thought we'd get to the end of this session of Congress with neither. There's still some hope on DADT, but everything has to go very smoothly with no procedural BS games.
According to press pool reports, President Obama was at the White House today. I hope he heard the noise from the protest organized by Servicemembers Legal Defense Network (SLDN). The group collected 265 buttons, symbolizing the 265 servicemembers who have been discharged under Don't Ask, Don't Tell since Obama took office, for delivery to the President.

As we all know, the President committed to ending Don't Ask, Don't Tell repeatedly during the primaries and general election. But, it hasn't happened. Nothing has. As Obama said on his campaign website:

America is ready to get rid of the Don't Ask, Dont Tell policy. All that is required is leadership.

Leadership. Yes. It is needed.

It's really quite sad that SLDN has to protest to get the attention of the White House. But, we are where we are and this White House needs pressure. If you haven't called yet, the number is 202-456-1414. Tell Obama to end the DADT policy — he has the power. Yes, we want a legislative repeal, but Obama can stop the discharges NOW. He is the leader.

Here's a video with several scenes, too:

Still waiting for leadership. In June of 2009, this was a very brave act. No one on the progressive side was protesting Obama — except some gay activists. The DOMA brief was filed on June 12, 2009 so some of us were already aware that we didn't have a fierce advocate, as promised. The gays were ahead of the curve.

AMERICAblog Gay
Yes, that is a present-day headline.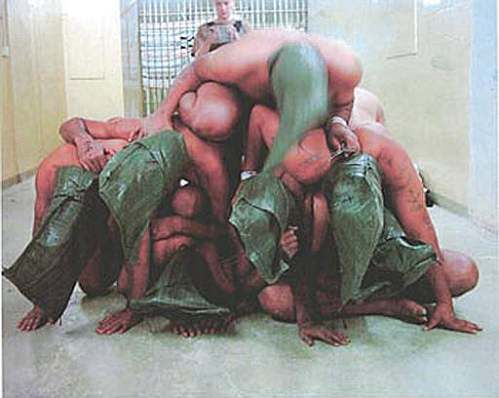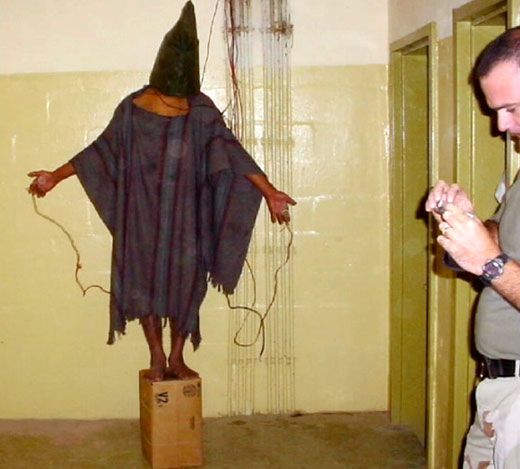 Someone pinch me, are we still living under the Bush administration?
A psychologist whose research was used in constructing the US's program to torture terrorism suspects has been granted a -million no-bid Army contract to provide "resilience training" to US soldiers.

Mark Benjamin at Salon.com reports that University of Pennsylvania psychologist Martin Seligman's research "formed the psychological underpinnings of the Bush administration's torture program."

The Army awarded the "sole source" contract in February to the University of Pennsylvania for resilience training, or teaching soldiers to better cope with the psychological strain of multiple combat tours. The university's Positive Psychology Center, directed by famed psychologist Martin Seligman, is conducting the resilience training.

Army contracting documents show that nobody else was allowed to bid on the resilience-training contract because "there is only one responsible source due to a unique capability provided, and no other supplies or services will satisfy agency requirements." And yet, Salon was able to identify resilience training experts at other institutions around the country, including the University of Maryland and the Mayo Clinic. In fact, in 2008 the Marine Corps launched a project with UCLA to conduct resilience training for Marines and their families at nine military bases across the United States and in Okinawa, Japan.

In a 2009 article, the New York Times described Seligman's small but crucial role in the establishment of the "enhanced interrogation techniques" used on terrorism suspects before the techniques were suspended in 2008.