If you haven't already seen the promotional artwork for The Hunger Games: Mockingjay, Part 1, which hits theaters in November, you've missed some pretty sexy images. The concept is to underplay the movie and make the promos look like they are for the people of Panem themselves, to get them excited over the competition. Each district has a "hero" being marketed to its residents, and if I had a choice, I'd definitely like to live in District 7 (The Lumber District — lots of wood!) or District 6 (The Transportation District — he really knows how to wear rubber!).
Something very unexpected has happened to your good girl as the psychological ballet drama Black Swan,
noted for the torrid tryst between Natalie Portman and Mila Kunis, gets
a homoerotic spoof by out entertainer Rip Taylor and the cast of Jackass.
Advocate.com: Daily News
THE SHOT — The new ad campaign for Mangano, featuring model Charles DeVoe (who just died in a surfing accident), not coming soon to a New York City billboard near you.
---
Permalink | 8 comments | Add to del.icio.us
Tagged: Advertising, Charles Devoe, Fashion, Mangano, Models, the shot
Via LezGetReal, the latest bigot eruption by one of the more homo-obsessive elected officials out there, Rep Louie Gohmert (R-TX), who represents the 1st district in the Lone Star State. I feel sorry for his constituents, because Gohmert clearly couldn't have been elected to focus on male homosexuality.
"I know when I was in the army at Fort Benning and a young man there in the barracks could not control his overt feelings of homosexuality, and so he misread indications from another person in the barracks and found out that he had misread when he crawled into his bunk with him late one night, and his advances were not met with the kind of affection that he had hoped. That's not good for the good order and discipline. When we had people who cannot control their hormones no matter whether it's heterosexual, homosexual, whatever. They're an impediment to the military."

You know, usually men who are this obsessed about male homosexuality end up getting caught in men's bathrooms like Larry Craig did. In fact, many of them seem to be really upset because the legitimization of homosexuality has resulted in them no longer being able to do things like go out and find brief hookups in men's rooms.
Below the fold are some reactions to Louie's steamy fantasy.
From my Facebook page: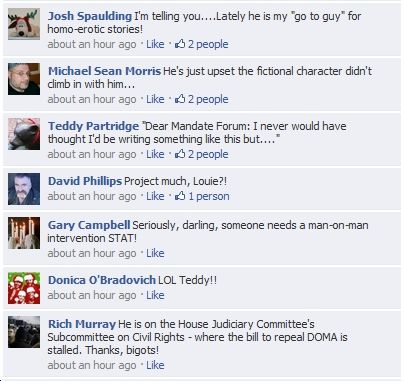 Related:

* TX Rep. Louie 'oriented toward animals…corpses' Gohmert destroyed on Rachel

* Gohmert: the Matthew Shepard Act holds soldiers' well being hostage

* Texas wingnut Rep. Louie Gohmert: demons are inside the Beltway
Pam's House Blend – Front Page