Update From Autumn: Video from Senate Democrats that folows a timeline: From Dan Choi giving Sen. Harry Reid his West Point class ring at Netroots Nation to keep until DADT was repealed — to video from today when the ring was returned to Lt. Choi.
---
Hard not to get emotional about this. Via Sen. Reid's Twitpic account: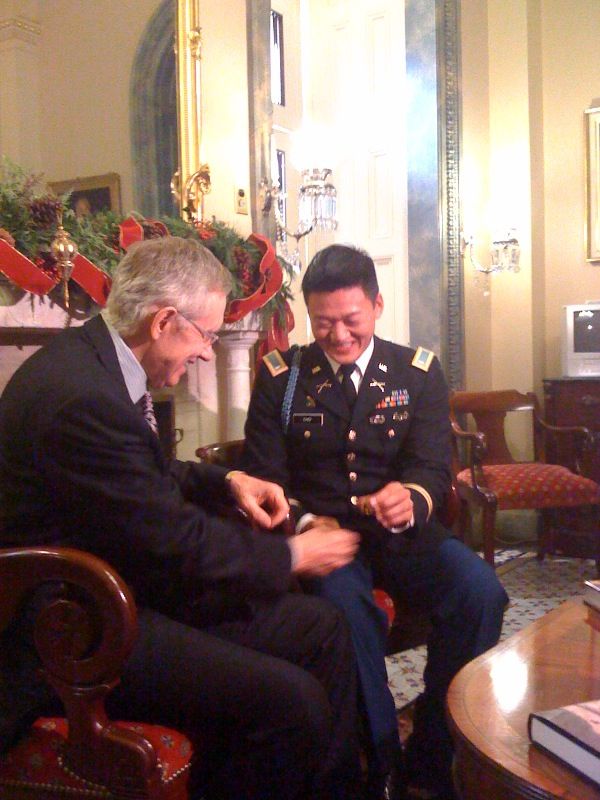 Pam's House Blend – Front Page
Greg has a really interesting post on the role Harry Reid played in the effort to end DADT. Yesterday, he wrote a post titled, "Harry Reid earns his place in history":
It's worth stepping back and pondering how dramatic the reversal in Reid's fortunes has been in the past six months. Last summer, his reelection campaign was in so much trouble that people were openly speculating about who would succeed him as Majority Leader. Six months later, he has not only been reelected after presiding over one of the most productive Congresses in decades, but he's also earned himself a place in the history books for notching an accomplishment that rivals the great civil rights bills of the past.

How did Reid do it? Advocates for gay equality hammered Reid relentlessly throughout this process, erupting in anger each time he refused to state definitively that a DADT vote would happen or refused to clarify precisely when such a vote would happen. Advocates worried that Reid was going to let the session pass without a DADT vote at the behest of the White House, which was prioritizing New START above all else.

But Reid's approach paid off, and here's how. Recall what happened before the vote on the defense authorization bill containing DADT repeal was blocked by the GOP. Reid made a whole range of concessions to GOP moderates, bringing them to the brink of casting a Yes vote. When it became clear that Susan Collins's procedural demands risked throwing the lame-duck session into chaos, Reid's decision to fast-track the vote — even though vote counters knew it would not pass if he did — was roundly criticized.

In retrospect, it turns out Reid's gamble worked.
Yes, it did.
And, I have to give Greg a shout out here, too. He was all over the DADT story — and kept it alive when some thought it was dead. So many times, Greg would uncover some new detail that put the spotlight back on the issue. I know he's a reporter, not an advocate. But, what Greg wrote, mattered. He played a key role in this historic effort, too.

AMERICAblog Gay
Movement on DADT repeal is in the air and Senate Majority Leader Harry Reid not long ago filed cloture on the stand-alone DADT repeal bill passed on Wednesday by the House and the DREAM Act. The cloture vote will be held on Saturday.
For those who need a bit of a primer on this, cue this helpful explanation from John @ Americablog:
Filing for cloture is how you cut off a filibuster. Basically, you file a petition for cloture, you wait two days for it to "ripen," then you vote on it. If you get 60 votes, cloture is invoked and the legislation can be considered for no more than 30 additional hours, when you have to have a final vote. Thus when you vote for cloture, you vote against a filibuster.
Let's go to the videotape of Harry Reid (via The Wonk Room and Igor Volsky):
REID: I'm going to file cloture tonight on the DREAM Act, we're going to have a vote on that Saturday morning fairly early. We're going to have a cloture vote tonight on Don't Ask, Don't Tell- oh, not a cloture vote, I'm going to file cloture on it tonight. Those will be sequenced for Saturday, whenever we get to them. Following that, I was told by a number of Republican Senators that they need 6 or 7 days to offer amendment on the START treaty.
UPDATE: Reactions…
"We are grateful to Majority Leader Reid for following through on his promise to schedule a vote on 'Don't Ask, Don't Tell' during the lame duck session, and we are relieved that he has now committed to doing so well before Christmas. It would have severely threatened all of the momentum that repeal has gained recently if this vote was delayed until after the holidays," said Alexander Nicholson, Executive Director of Servicemembers United and a former U.S. Army interrogator who was discharged under "Don't Ask, Don't Tell."
Aaron Belkin, Director of the Palm Center:
"As Senators consider the forthcoming vote on the stand-alone 'don't ask, don't tell' repeal bill, what matters most is the reality that prejudice is the only justification left for a vote against repeal. The Pentagon's own research supplements more than twenty studies that show allowing gays and lesbians to serve openly does not undermine military readiness, and that fears about hypothetical problems are groundless. Those who reject prejudice will vote to repeal 'don't ask, don't tell,' and those who embrace prejudice will vote to continue this policy."
Senate Majority Leader Harry Reid has filed cloture on 'DADT' repeal and the DREAM act, with a vote planned for Saturday. Reid has apparently filled the tree, which prevents any amendments to the measures.
Watch Reid announce it, AFTER THE JUMP…
Check out our earlier reports HERE….
(clip via wonk room)

Towleroad News #gay
UPDATE: Service members announce Senate sit-in.
At 12:15 pm ET Friday Servicemembers Legal Defense Network is announcing they are holding a sit-in in the Senate gallery until a 'DADT' repeal vote is taken. Senator Joseph Lieberman is planning to join them at the press conference.
Servicemembers United has also been actively lobbying (see end of post).
******
With more than 60 noted commitments to repeal "Don't Ask, Don't Tell" in the Senate, it appears that the only factor in the way right now is time, scheduling, and will. However, if 'DADT' is to be repealed legislatively, it must be done this year.
Senator Joe Lieberman appeared on MSNBC this afternoon and said that he believes 'DADT' repeal should be voted on this weekend, before any vote on the START treaty, because the treaty can be ratified next year.
At his press briefing this afternoon, Senate Majority Leader Harry Reid told reporters that he doesn't know if he'll bring the bill up before Christmas, but promised a vote on 'DADT' and other measures before the end of the year.
"I'm not sure we can get that done now. I'd like to get it done, but I'm not sure we can."
It's unclear who would return after Christmas break for a vote. And the measure must be passed in the lame duck or repeal is toast legislatively.
Then later, in his press briefing, Robert Gibbs was unwilling to give an answer why Obama isn't using his position as a bully pulpit to get the measure passed. When pushed on it, Gibbs seemed to get defensive:
"Let's be clear, we would not be at this point if it wasn't for the President's leadership in bringing this issue to the floor. You mentioned, I believe we have the votes….There is time to do this if there are those on the other side of the aisle that wish to get this done and it's clear that whether it's Senator Brown or Senator Murkowski or Senator Snowe or others, there is an effort to get this done if we have time to."
Finally, Joe Biden (See clip below) doesn't want to hear the Senate nonsense about Christmas! He was talking about the START treaty, but when is one of our leaders going to start making these demands about DADT?
In related news, Senator Mark Kirk (R-IL) is still undecided about where he stands on the issue.
Active lobbying is being undertaken by Servicemembers United
Servicemembers United, the nation's largest organization of gay and lesbian troops and veterans, announced today that, for a second day in a row, teams of DADT repeal advocates have fanned out across Capitol Hill as part of the Servicemembers United Action Fund's "OPERATION RENEWED ENGAGEMENT." The campaign is geared toward raising visibility for the "Don't Ask, Don't Tell" issue on Capitol Hill in the waning days of the lame duck session and toward pressuring Senate offices that are supportive of repeal to also support staying in session long enough to let the issue get a final vote.
"Despite the ongoing snow storm in Washington, DC right now, gay veterans and allies are storming the Hill for a second day in a row to demand that the Senate finish the job on 'Don't Ask, Don't Tell' before leaving for the holidays," said Alexander Nicholson, Executive Director of Servicemembers United and the Servicemembers United Action Fund. "The fact that these advocates are braving the snow to fight for what they believe in should demonstrate that we will not accept any excuses from lawmakers for failing to get this done, including bad weather or time running out."
Repeal supporters will be on the Hill for one final day on Friday as part of this campaign. Those interested in joining OPERATION RENEWED ENGAGEMENT on Friday, December 17th from 1:00pm – 4:00pm should contact Jarrod Chlapowski at jchlapowski@servicemembersunited.org today.
What you can do is contact your Senators, and Senate Majority Leader Harry Reid and demand a vote on 'DADT' before the holidays.
The phone number for the switchboard is (202) 224-3121. Call today.
You can also sign Senator Kirsten Gillibrand's petition demanding the Senate pass repeal.

Towleroad News #gay
So says Ed O'Keefe at the Washington Post:
In a joint statement, gay rights groups pushing to end the ban cheered Wednesday's vote, saying it "provides another resounding indication that 'don't ask, don't tell' can and should be repealed legislatively this year." The groups, ranging from the liberal Center for American Progress to the pro-gay Log Cabin Republicans, plan to lobby the Senate this week to vote on the new bill.
Forty-seven senators are cosponsoring the bill, including Senate Majority Leader Harry M. Reid (D-Nev.). He is not expected to schedule a vote on it until next week at the earliest, a spokeswoman said.

Towleroad News #gay
Things are moving fast on "Don't Ask, Don't Tell." Here is the latest.
1. It appears that the President is finally engaged. Joe and I have heard from our sources on the Hill, and reporters have also heard, that the President is in fact calling members of the Senate, including Republicans, on behalf of the DADT compromise. I hope I don't eat my words on this, but this appears to be good news, and is most welcome and necessary.
2. There's some debate as to whether Harry Reid or Susan Collins are playing fairly or playing games.
First Reid. While there are reports that Senator Reid is talking about bringing DADT up for a vote this afternoon – it would in fact be a vote to break the GOP filibuster of the underlying defense bill, and then we'd have a vote on a possible filibuster of DADT itself (actually several votes are likely). The concern is whether we yet have the 60 votes we need to break the filibuster, and thus whether it's wise to move forward with a vote. While some might argue that a vote is always a good thing, as it's good to get Senators on the record for where they stand on the issue, and that is sometimes correct (as it calls the bluff of those saying they'll vote "no"), often times you really don't want to hold a vote you're going to lose. A losing vote can cause Senators to walk away from future votes, arguing that they shouldn't be wasting time and forcing them to make difficult votes on something that isn't going to pass anyway.
(I know the usual apologists are promoting the notion that per se it's a good thing to bring DADT up for a vote, regardless of what happens. That's a lie. And they know it. But they're apologists, who are either trying to get clients, or curry favor for their next job. Look at their track record of defending the administration on this process over the last two years, and on things like the DOMA incest/pedophilia brief – then ignore them.)
So, the concern overall would be whether Senator Reid is calling the vote to simply show that "he tried," regardless of whether we lose.
Now to Susan Collins. There is growing concern that she's playing us, which would be unfortunate. Collins has been saying that she wants ample time to debate the bill and offer amendments. And that's a fair request. But just how much time, and how many amendments, does Senator Collins want? No one knows. You can't have unlimited debate, because that's called a filibuster – and surely Senator Collins isn't proposing that we just let folks filibuster the Defense bill, because we know John McCain, among others, would do just that. You have to have a set number of days and/or amendments that are limited in time and scope, or the bill will go on forever. So what would Senator Colins find acceptable? Again, no one seems to know.
Senator Reid has reportedly offered Collins a total of 15 amendments, 10 for Republicans and 5 for Democrats. That sounds awfully fair, especially giving the GOP twice as many amendments as our side gets. We're hearing that Collins won't accept this. Historically, look how many amendments there were on this bill in the past few years:
Last year, there were 11 votes total, with 6 Republican amendments.

In 2008, there were 2 votes total, one per side.

In 2007, when there were 22 amendment votes, Republicans received 10 of those votes.
Looking at that history, 15 sounds awfully fair, and giving two thirds of the amendments to the GOP is downright unprecedented in its generosity, for recent times.
Is is possible that Senator Collins is being an honest broker here? Absolutely. But to prove she's being honest, she needs to tell us what specifically she wants, in terms of amendments and time spent on the bill, so we can judge whether she is trying to save DADT repeal, or whether she is trying to kill set back our civil rights struggle. Her answer, or lack thereof, will speak volumes.
Let's hope she wants to be a hero.
PS More from Sam Stein, who reports there's some talk about putting the defense bill, sans DADT it would seem, into a continuing resolution. They'd better not dare.

AMERICAblog Gay