The Dallas Voice reports that a local activist and his friend were attacked early Sunday morning in downtown Austin, Texas:
Bobby Beltran said he and his friend had just left Rain, a gay bar, at about 1:30 a.m. When they hugged each other goodbye on the sidewalk, some men in a passing vehicle yelled, "F**king faggots, stop that queer shit!"
After Beltran yelled at the men to "get out of here," all five of them jumped out of the vehicle and attacked him and his friend. Beltran said he fought back but suffered cuts and bruises and a black eye. His friend may have suffered a broken jaw. The attackers quickly jumped back in the vehicle, which was parked in the middle of the street, and drove off.
The attack against Beltran was the third anti-gay attack reported in Austin this year, according to the paper, but what upset Beltran as much as the attack was the fact that many witnesses were reluctant to help:
He said the attack lasted for about three minutes and was witnessed by at least 20 people, but none of them tried to help. Beltran said he yelled out the license plate of the vehicle as he ran after the attackers, but no one wrote it down and he doesn't remember it.
"It was the most unsafe I've ever felt in my entire life, knowing that not even my community stood up," Beltran said. "I'm so afraid to go back down there."

Towleroad News #gay
Yesterday, HRC held simultaneous public forums with veterans affected by the harmful "Don't Ask, Don't Tell" (DADT) policy in Cleveland and Columbus.  The events, covered by local media, were held at the Cleveland City Hall where Senator George Voinovich cut his political teeth decades ago as Cleveland Mayor, and the Ohio Statehouse where he served as Governor.  Repeal advocates wanted to respectfully remind the Senator that he has bucked the more conservative elements of his party when it was the right thing to do – as it is the right thing to do with repealing this discriminatory law.
In Cleveland, Major General Dennis Laich and Cleveland City Councilman Joe Cimperman were joined by four Ohio veterans who stood up to tell their stories and make their voices heard.  Brian Tupaz, Robert Tackett, Marie Bohousch and Mark Szabo each took to the stage to share publicly their personal experience with DADT.  Their stories serve as a painful reminder of how this law has failed our service members and our country.
Two and a half hours south by southwest, at the Ohio Statehouse, Claudia Mason and David Goetz echoed those in Cleveland and called on Senator Voinovich to publicly declare his support for DADT repeal. They reminded him that he has stood on the side of equality before, voting in favor of the Matthew Shepard/James Byrd Jr. Hates Crimes Prevention Act last year, and should honor the 14,000 service members who have been discharged under this discriminatory law by voting to end this law.
Claudia, a retired Army Lieutenant Colonel from Dayton, is a straight ally and is outspoken about the importance of repealing this law. She called on Senator Voinovich to join his fellow Buckeye, Senator Sherrod Brown and listen to the recommendation from the Chairman of the Joint Chiefs of Staff and Secretary Gates in supporting repeal this year.
Also this week, members of the Columbus steering committee joined Collin and me at the Ohio Democratic Party offices to call repeal supporters and urge them to call on Senator Voinovich to support repeal this year. If you're a Buckeye, make your voice heard by calling Senator Voinovich at 202.224.3353.
We'll be putting the pressure on Senator Voinovich and urging him to join the ranks of supportive Republicans like Senator Scott Brown of Massachusetts and Senator Lisa Murkowski of Alaska to repeal "Don't Ask, Don't Tell" this year. Now is the last opportunity for Voinovich to stand on the side of equality. With a vote in the Senate on repeal of DADT expected as early as Saturday morning, Senator Voinovich needs to hear from you NOW!

Human Rights Campaign | HRC Back Story
UPDATE: Service members announce Senate sit-in.
At 12:15 pm ET Friday Servicemembers Legal Defense Network is announcing they are holding a sit-in in the Senate gallery until a 'DADT' repeal vote is taken. Senator Joseph Lieberman is planning to join them at the press conference.
Servicemembers United has also been actively lobbying (see end of post).
******
With more than 60 noted commitments to repeal "Don't Ask, Don't Tell" in the Senate, it appears that the only factor in the way right now is time, scheduling, and will. However, if 'DADT' is to be repealed legislatively, it must be done this year.
Senator Joe Lieberman appeared on MSNBC this afternoon and said that he believes 'DADT' repeal should be voted on this weekend, before any vote on the START treaty, because the treaty can be ratified next year.
At his press briefing this afternoon, Senate Majority Leader Harry Reid told reporters that he doesn't know if he'll bring the bill up before Christmas, but promised a vote on 'DADT' and other measures before the end of the year.
"I'm not sure we can get that done now. I'd like to get it done, but I'm not sure we can."
It's unclear who would return after Christmas break for a vote. And the measure must be passed in the lame duck or repeal is toast legislatively.
Then later, in his press briefing, Robert Gibbs was unwilling to give an answer why Obama isn't using his position as a bully pulpit to get the measure passed. When pushed on it, Gibbs seemed to get defensive:
"Let's be clear, we would not be at this point if it wasn't for the President's leadership in bringing this issue to the floor. You mentioned, I believe we have the votes….There is time to do this if there are those on the other side of the aisle that wish to get this done and it's clear that whether it's Senator Brown or Senator Murkowski or Senator Snowe or others, there is an effort to get this done if we have time to."
Finally, Joe Biden (See clip below) doesn't want to hear the Senate nonsense about Christmas! He was talking about the START treaty, but when is one of our leaders going to start making these demands about DADT?
In related news, Senator Mark Kirk (R-IL) is still undecided about where he stands on the issue.
Active lobbying is being undertaken by Servicemembers United
Servicemembers United, the nation's largest organization of gay and lesbian troops and veterans, announced today that, for a second day in a row, teams of DADT repeal advocates have fanned out across Capitol Hill as part of the Servicemembers United Action Fund's "OPERATION RENEWED ENGAGEMENT." The campaign is geared toward raising visibility for the "Don't Ask, Don't Tell" issue on Capitol Hill in the waning days of the lame duck session and toward pressuring Senate offices that are supportive of repeal to also support staying in session long enough to let the issue get a final vote.
"Despite the ongoing snow storm in Washington, DC right now, gay veterans and allies are storming the Hill for a second day in a row to demand that the Senate finish the job on 'Don't Ask, Don't Tell' before leaving for the holidays," said Alexander Nicholson, Executive Director of Servicemembers United and the Servicemembers United Action Fund. "The fact that these advocates are braving the snow to fight for what they believe in should demonstrate that we will not accept any excuses from lawmakers for failing to get this done, including bad weather or time running out."
Repeal supporters will be on the Hill for one final day on Friday as part of this campaign. Those interested in joining OPERATION RENEWED ENGAGEMENT on Friday, December 17th from 1:00pm – 4:00pm should contact Jarrod Chlapowski at jchlapowski@servicemembersunited.org today.
What you can do is contact your Senators, and Senate Majority Leader Harry Reid and demand a vote on 'DADT' before the holidays.
The phone number for the switchboard is (202) 224-3121. Call today.
You can also sign Senator Kirsten Gillibrand's petition demanding the Senate pass repeal.

Towleroad News #gay
Today the U.S. House of Representatives voted 250-175 on legislation to repeal "Don't Ask, Don't Tell." This historic action is the second time the House passed repeal legislation this year, the first coming in May with the National Defense Authorization Act, to which repeal legislation was attached.
Rep. Patrick Murphy and Majority Leader Steny Hoyer introduced the free-standing DADT repeal bill yesterday with identical language to the repeal amendment that passed in the House in May
"Today the U.S. House of Representatives said, for the second time, what military leaders, the majority of our troops and 80 percent of the American public have been saying all along – the only thing that matters on the battlefield is the ability to do the job," said HRC President Joe Solmonese.  "We are grateful to Majority Leader Hoyer and Rep. Murphy for championing repeal and for Speaker Pelosi's continuing leadership.  The Senate must now follow their lead."
Now all eyes shift to the Senate, where Senators Joe Lieberman (I-CT) and Susan Collins (R-ME) introduced the companion bill, S.4023, last week after the failed Senate vote to proceed to debate the National Defense Authorization Act, to which repeal legislation was attached.  The Senate bill currently has 48 bipartisan cosponsors.  The votes are there to repeal DADT, but the question is whether the Senate will make the time to pass this important piece of legislation before they go on vacation?
It is critical that you call your senators and tell them to support repeal this year. Call the Capitol Switchboard at (202) 224-3121 and ask them to connect you to your senator.
If repeal isn't passed before the Senate adjourns for the holidays, it will likely be years before there is another chance for repeal.

Human Rights Campaign | HRC Back Story
The following is from HRC field organizer and military veteran Lee Reinhart:
Last week, members from Organizing for America, Equality Illinois and American Veterans for Equal Rights joined HRC in an office visit to Senator Mark Kirk here in Chicago.  We were excited to gather such a large crowd for our visit, but the size of our groups caused its own challenges.
Kirk's office couldn't meet with such a large crowd, so we did everything that we could to make sure that at least one representative from each group got to participate in the visit. And while Kirk' office only answer to the question of repeal was the recent GOP letter to block any bill before tax cuts had been voted on, we made sure that we were heard clearly when it comes to repealing "Don't Ask, Don't Tell."
On a positive note,  staff members from Senator Durbin's got word of our crowd's visit being soured and took the time to send someone down to the lobby to talk with our group; a couple of us were even able to stop in Senator Durbin's office as well. In the end our message was loud and clear: no matter happens, we are united to continue this fight until the end.
We must continue to show Senator Kirk that Illinois residents support repeal this year. There is so much at stake and we need your help now.  We're calling HRC members all over the state and transferring them directly to the Senator's office. If you live in Chicago and can help make calls, (food and drinks provided) or if you are able to join a virtual phonebank from home, please contact Christine.Sloane@hrc.org for details.

Human Rights Campaign | HRC Back Story
Below the fold, the newly issued statement from President Obama regarding today's Senate vote on the NDAA/ DADT repeal bill.
From this Tweet came the news:

RT @JoeLieberman: @SenatorCollins and I and others are introducing a free standing bill to repeal #DADT today.

And now this press release from HRC, confirming:

On the free-standing bill:

FOR IMMEDIATE RELEASE: December 9, 2010

Last Best Chance Option Surfaces for DADT Legislative Repeal This Year

Senators Lieberman & Collins Propose Stand-Alone Repeal Measure

WASHINGTON – Today the Human Rights Campaign, the nation's largest lesbian, gay, bisexual and transgender civil rights organization, praised the bipartisan proposal under the leadership of Sens. Lieberman and Collins that emerged this evening to pass repeal of "Don't Ask, Don't Tell" as a stand-alone piece of legislation. The news comes from a bipartisan group of Senators after today's failed vote to proceed to debate on the National Defense Authorization Act. Human Rights Campaign President Joe Solmonese issued the following statement:


"There has always been strong support in the Senate for repeal of 'Don't Ask, Don't Tell' and in recent days it's become clear that support reaches far beyond 60 votes. The issue has been the procedure by which the defense bill would be considered and given that no agreement was in place before today's vote on the motion to proceed, that effort was doomed to failure.

"Thankfully a bipartisan group of Senators has committed to finding an alternative method of achieving repeal. We encourage all Senators to expeditiously take up this bill and pass it quickly so that the military has the power to implement a repeal of 'Don't Ask, Don't Tell.'

"The fight for open service has had many twists and turns but until 'Don't Ask, Don't Tell' is left in the dustbin of history we will never give up the fight."


The Human Rights Campaign is America's largest civil rights organization working to achieve lesbian, gay, bisexual and transgender equality. By inspiring and engaging all Americans, HRC strives to end discrimination against LGBT citizens and realize a nation that achieves fundamental fairness and equality for all.

# # #
This is a breaking news story and will be updated as info, links and video becomes available. ~Louise
From the White House:
THE WHITE HOUSE

Office of the Press Secretary

_______________________________________________________________________________________________________________

FOR IMMEDIATE RELEASE

December 9, 2010

Statement by the President on the Senate Vote on the National Defense Authorization Act

I am extremely disappointed that yet another filibuster has prevented the Senate from moving forward with the National Defense Authorization Act. Despite having the bipartisan support of a clear majority of Senators, a minority of Senators are standing in the way of the funding upon which our troops, veterans and military families depend. This annual bill has been enacted each of the past 48 years, and our armed forces deserve nothing less this year.

A minority of Senators were willing to block this important legislation largely because they oppose the repeal of 'Don't Ask, Don't Tell.' As Commander in Chief, I have pledged to repeal this discriminatory law, a step supported by the Secretary of Defense and the Chairman of the Joint Chiefs of Staff, and informed by a comprehensive study that shows overwhelming majorities of our armed forces are prepared to serve with Americans who are openly gay or lesbian. A great majority of the American people agree. This law weakens our national security, diminishes our military readiness, and violates fundamental American principles of fairness, integrity and equality.

I want to thank Majority Leader Reid, Armed Services Committee Chairman Levin, and Senators Lieberman and Collins for all the work they have done on this bill. While today's vote was disappointing, it must not be the end of our efforts. I urge the Senate to revisit these important issues during the lame duck session.

###

—–

ABC's human behavior pornography What Would You Do? already showed us how some folks would react (or not react) as they walked by a group of teenagers bullying a kid for being gay. But how would they react if they saw a parent taunting a kid for being a "faggot"?
---
Permalink | Post a comment | Add to del.icio.us
Tagged: ABC, Bullying, kids, Parenting, what would you do
At West Virginia University, spirits are high that we can show Senator-elect Joe Manchin that Mountaineers support the repeal of "Don't Ask, Don't Tell" this year.
Last spring I spent a lot of time here in Morgantown and found tons of support from various pro-equality groups like BiGLTM (Bisexual, Gay, Lesbian and Transgender Mountaineers) at WVU and OUTLaw at the WVU Law School. Also integral to our work are the WVU College Democrats. This past week has proved no different, as we reconnected to get the message to Manchin: repeal this discriminatory law now.
It never ceases to amaze me how personal this issue is to people from every walk of life; gay, straight, veteran and non-veteran.
On Thursday night, BiLGTM brought its members together to write letters to Manchin. One student wrote "Repealing DADT is important to me because my father fought in the Vietnam Conflict, and I know his sexuality has nothing to do with his bravery. Anybody who is willing to put his or her life on the line for our country should not be discriminated against".
What matters in this campaign is that our Senators hear these stories in the most powerful way. It wouldn't be possible for me to help West Virginian's ensure their stories are told without the help of Fairness West Virginia. Fairness has been absolutely important to our work to repeal DADT this year. We're continuing to work side by side to ensure that Senator-elect Manchin hears our message.
Can you make a phone call? Can you host a letter-writing party like BiGLTM did? Former Army Sergeant Pepe Johnson, who sits on boards for both Fairness West Virginia and Servicemembers Legal Defense Network will be delivering hand written letters directly to the Senator-elect's office.
We hope that we'll have your story in hand. Please contact me today at Christine.Sloane@hrc.org for more information.

Human Rights Campaign | HRC Back Story
You might recall that back in September, I blogged that I had to make a quick trip to NYC because I was selected to be part of a photo shoot and feature for Interview magazine's November issue. It's on newstands now.
The article is called "Stand Up for Your Rights: activists, organizers and political voices" — it doesn't appear to be on Interview's web site yet, though portions of the issue are up. The project is the brainchild of photographer David Mushegain and Dustin Lance Black, Academy Award winner for Best Original Screenplay in 2009 for "Milk," and board member of the American Foundation for Equal Rights.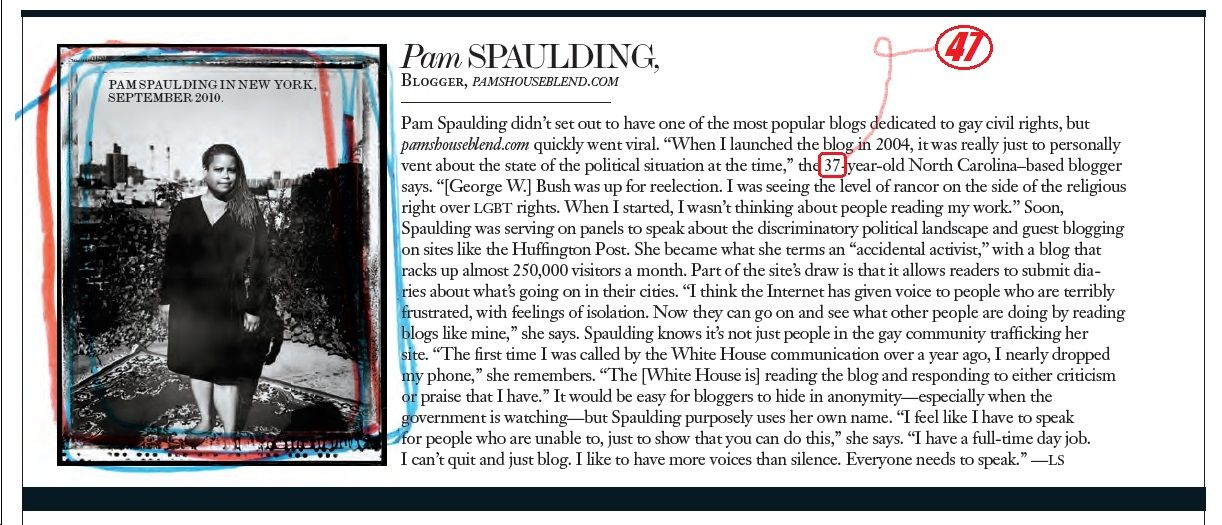 From Dustin Lance Black's introduction:
Back in 1973, Harvey Milk said something that's become one of my favorite quotes: "Masturbation can be fun, but it does not take the place of the real thing. It is about time that the gay community stopped playing with itself and get down to the real thing."

From long-time organizer David Mixner's bold call for a march on Washington in May 2009, to fellow activists Jones and Robin McGehee's answer to that call in the face of Congressional opposition later that year; from openly gay serviceman Dan Choi chaining himself to the White House in March and April, to the American Foundation For Equal Rights' move to fight Prop 8 at the federal level, rejecting the self-loathing sentiments behind a piecemeal approach, it's clear the gay movement is shifting back Milk's way.

In short, the LGBTQ movement is doing what no other movement has previously done. It's emerged from a corporate culture and given birth to a new grass roots. But how can this new energy be captured in images or words? Inherent in the term grass roots is the notion that there is no single leader or prevailing philosophy. Instead, there are thousands of voices with differing points of view and strategies, often speaking in opposition to one another and occasionally at each other's throats. (Lord knows I've got the bite marks to prove it.) But it's these disagreements that are making this movement strong again.

In a country as diverse as this one, it's going to take a multitude of approaches and voices working concurrently and aggressively to win full equality in our lifetimes. And yes, I want to get married before I die, but more important than that, none of us want to see another LGBT kid grow up being told he or she is less of a person – or deserves fewer rights – than anyone else. So let me be clear, in no way do these profiles define the new grass roots. It would take an encyclopedia to do that. These are simply some of the new grass roots, representing thousands just like them, and hopefully inspiring more men and women to take singular stands or to form their own bottom-up organizations to take on city hall or the United States Supreme Court. Because the new gay movement isn't playing with itself anymore. It's after the real thing again.
Also featured in the piece are Dan Choi, Rick Jacobs of the Courage Campaign, Robin McGehee of GetEqual, Chad Griffin of AFER, Cleve Jones, activist David Mixner, actor Alan Cumming and other newsmaking members of the LGBT community.
As always, I feel humbled by being included with so many people who are making an impact on LGBT equality; it's not always clear to me that what I do online (knowing that I am standing in for LGBT citizen journalists/Cheetos-stained, PJ-wearing bloggers in this piece) is meaningful. Sometimes it can have an impact – by extending the voice of non-professional LGBTs to the ears of those with access. Other times you do feel like you're shouting into a void and cannot effect change precisely because we don't have direct access to power. I don't think there's any single answer to the question of how we impact the movement. I give it a bit of a shot in this article (the text of mine is after the jump),
As you can see by the photo (I'm on page 101 with Gavin Creel of Broadway Impact and Constance McMillan), I don't look like my normal blogmistress self — no glasses, in a form-fitting wool dress, and wistfully, about 15 lbs lighter than I am now.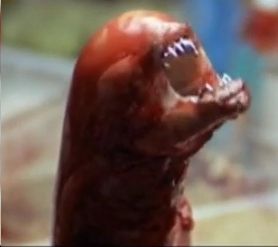 That's because I've had to boost my insulin levels prior to surgery, and it puts the weight on quickly (thankfully it's leveled off and not still increasing at the present time). Sigh. Hopefully back to the weight loss after the alien uterus is ripped out in a couple of weeks.
Below the fold, amusing background on the photo shoot and a larger version of that photo with the full text.
The photography took place outdoors on the rooftop of a Lower East Side apartment building. From my earlier post:
I wasn't told much in advance other than to have 1) blue jeans, 2) a black T-shirt, and 3) a white button down shirt. The latter I had to go out and buy because I don't wear button-down shirts because my boobage usually causes irritating gaps. I didn't know if I needed to wear any makeup, so I showed up bare-faced. Anyway, I arrive and David greets me. He's an incredibly nice guy, btw. Very laid back. There were stylists that we waited for. Of course I was hoping they could do something to ensure that I looked fabulous, or at least not embarrassing.

But there was a complication — they didn't have my clothing or shoe sizes, so they had to guess. I think to myself, "oh no, nothing will fit." Stylists are not used to working with short, top-heavy, overweight women. I cringed to myself. They opened the bag of clothing options and most were fall/winter things (it's November issue). One item that looked like it might fit was one of those designer "little black dress" outfits – the all-purpose kind that I prayed would get over the boobage and not look like ass on me.

I came out and lo-and-behold, the size L fit well enough to do the job. Thank goodness for stretchable fabric. It wasn't like sausage stuffing, but still. And there was no makeup person, so I was going to be shot as-is. OMG. All I had on me was lip gloss. Imagine the terror. Oh well, go with the flow. So we went onto the roof…

David's theme is a 1950s B&W Polaroid look. What was fascinating about it was that he was using a 1950s camera that he had rebuilt, and David was using film that he acquired via auction. This stock was really old – as in the boxes had expiration dates that were over a decade old. Also, this particular size of Polaroid film is no longer made. He was going to work from the negatives, not the prints themselves, and took some digital shots for backup.

The weather was very nice – not hellish hot as it had been the last time I was in NY – and I was shot in full sun. We took many photos with my glasses on, since that's how most people recognize me, and several with them off, standing and seated.

So after he went through quite a few of those old Polaroid cartridges, David was happy with the look he wanted. Now I don't know which one will end up in the magazine, but it seemed everyone agreed on two that were without my glasses, so it's quite likely you'll see me without specs, my hair down and not smiling. Very different look. But you know how those old photos no one seemed to smile, so I understand what he's going for. I have a hard time not smiling or laughing. Modeling is hard work.

I was the last shoot of the day; he had already photographed David Mixner as well as Alan Cumming. David Mushegain showed me the Polaroids of theirs and the shots looked fabulously 50s.

Before I left, I asked for one of the reject prints from the shoot, and David kindly wrote a nice note on the back thanking me for my work and for participating in the project. I wonder what Kate will think of the shot.
Interview's editors sent me early copies of the issue, and unfortunately (or is it good fortune) they listed me as 37 years old. While I'd love to be 37 again, I always cop to my actual age of 47. They apologized profusely, but you know these things happen.
Pam SPAULDING,

Blogger, pamshouseblend.com

Pam Spaulding didn't set out to have one of the most popular blogs dedicated to gay civil rights, but pamshouseblend.com quickly went viral. "When I launched the blog in 2004, it was really just to personally vent about the state of the political situation at the time," the 37-year-old 47-year-old North Carolina-based blogger says. "[George W.] Bush was up for reelection. I was seeing the level of rancor on the side of the religious right over LGBT rights. When I started, I wasn't thinking about people reading my work." Soon, Spaulding was serving on panels to speak about the discriminatory political landscape and guest blogging on sites like the Huffington Post. She became what she terms an "accidental activist," with a blog that racks up almost 250,000 visitors a month. Part of the site's draw is that it allows readers to submit diaries about what's going on in their cities. "I think the Internet has given voice to people who are terribly frustrated, with feelings of isolation. Now they can go on and see what other people are doing by reading blogs like mine," she says. Spaulding knows it's not just people in the gay community trafficking her site. "The first time I was called by the White House communication over a year ago, I nearly dropped my phone," she remembers. "The [White House is] reading the blog and responding to either criticism or praise that I have." It would be easy for bloggers to hide in anonymity – especially when the government is watching – but Spaulding purposely uses her own name. "I feel like I have to speak for people who are unable to, just to show that you can do this," she says. "I have a full-time day job. I can't quit and just blog. I like to have more voices than silence. Everyone needs to speak." -LS