The complaint box is open. Vent. Rant. Rage.
Is there any? That's my question after — OK I'll admit it — reading Harlequin romances! I'm still working on improving my Dutch so I'll buy any manner of used Dutch book written at or just above my reading level. On our last foray to the book shop I found Dokters, a set of three short novels for 50 cents. Sold! It's been fantastic for the vocabulary. For example, our word for fish semen, milt, means spleen in Dutch — fascinating!
But it has also been a glimpse into heterosexual pulp fiction, a genre I've had little experience with. I'm disappointed to find that 30 years into the AIDS epidemic that safe sex has not been incorporated into these Harlequin romance stories even though the story lines reflect modern-day life in other ways. For example, women have their own careers and they also have sexual relationships and children outside of wedlock, without shame.
I know that romances are escape literature and make the women who read them feel hope despite the mistakes they may have made or the lack of love in their current lives. But don't readers also want the author to show them how to have sexy safe sex or at least support the meme that characters who are so achingly in love wouldn't dream of having unprotected sex without a conversation first?
Only once in these three stories is a condom produced during a sex scene, and then not because the woman produced it or because the couple talked about protection, but because, we learn later, the man thinks he carries the Huntington's gene and doesn't want to knock up the women he's screwing with a Huntington's baby. From the story "More Than Friends" (my rough translation):
Suddenly Josh turned away. Toni shivered and felt deserted. But suddenly she understood. A condom. She hadn't actually given that a moment of thought. And undoubtedly Josh had quite a store of those. With his lifestyle, that was very important. These thoughts should perhaps have bothered her, but it didn't matter to her at all. All that mattered was that she and Josh were together.
GAG! And check out this "sex on the first date" scene from the story "A Buried Treasure"
Of course it wasn't smart to stay out late since they both still had interviews the next day. It also would have been better had they not gone to the observatory because there they learned about the constellations that they later, lying in the grass in the park, would try to find again. If they hadn't done that, Jack wouldn't have kissed her.

Or had she kissed him first?

It didn't matter. The attraction was so strong that Hannah effortlessly transgressed all the rules she had about going out on dates with men. She would start a new life and everything was excitinig, magical and delicious. What could be more perfect than spending the night with the hansomest, most attractive man she had ever met?

Had it been reckless? Absolutely. Unforgettable? More than unforgettable.
Reckless and unforgettable alright, because Hannah got pregnant. But by the time we meet Hannah, her daughter is 5 years old and adorable and Hannah is the picture of loving, devoted single-motherhood. And after a few twists and turns of the plot she and her hunk o' burnin' love are reunited and live happily ever after.
Now I'll admit I've only read the three stories in this single volume, all written by the same author. So maybe I'm missing something. Maybe the wider world of heterosexual pulp fiction is rampant with nauseatingly romantic responsible sex. Help me out here blenders, is that so? And is gay pulp any better?
Pam's House Blend – Front Page
This is going to be continually updated and rough to start… much patience will be required!

~Louise
According to the ever-wise, all-knowing and very dear friend of the Blend Joe Sudbay, Maine Senator Susan Collins and her office follow Twitter feeds VERY closely.
So we're embarking on an impromptu campaign to wake up the Maine media, who for the most part are NOT paying attention to either DADT repeal or the key role Collins now finds herself in the process, and to flood the senator's Twitterfeed. EqualityMaine has already started tweeting messages this morning as well, which I have shared.
@SenatorSnowe EQME tweeting- NOW to repeal DADT Sen Susan Collins (202) 224-2523 Sen Olympia Snowe (202) 224-5344 #dadt

@SenatorCollins EQME tweeting- NOW to repeal DADT Sen Susan Collins (202) 224-2523 Sen Olympia Snowe (202) 224-5344 #dadt #mepolitics

Who's with us? Here's what we need to do:

1. Message her @SenatorCollins or retweet.

2. Use hashtags #DADT and #mepolitics. The second not as necessary, but I know she and her staff follow both and it will then land in the feeds of mainy more Mainers, including media.

3. Follow her http://twitter.com/#!/SenatorC…

Thanks so much!
First Update (9:30am) Ex-Senator Sam Nunn now supports DADT repeal.
Seventeen years after leading the fight in Congress against gays in the military, former Democratic senator Sam Nunn says he thinks gays could serve openly without damaging the armed forces' ability to fight.

In an interview this week, Nunn told the Associated Press that the law known as "don't ask, don't tell" should be overturned as long as there is enough time to prepare the troops for the change. He said the Pentagon should be given at least a year before the repeal takes effect to ensure operations in Afghanistan aren't affected.

"Society has changed, and the military has changed," the former senator from Georgia said.
Press releases wilol be below the fold…
Press release from IAVA

Senate Must Pass Defense Bill Supporting Troops, Military Families This Year

FOR IMMEDIATE RELEASE

Thursday, December 9, 2010

Critical Provisions to Address Invisible Wounds, Military Sexual Trauma Included

NEW YORK – Today, Iraq and Afghanistan Veterans of America (IAVA), the country's first and largest nonprofit, nonpartisan organization for veterans of the wars in Iraq and Afghanistan, called on the Senate to swiftly pass the National Defense Authorization Act (NDAA). Although "Don't Ask, Don't Tell" has dominated the national discussion, and it is undoubtedly important, it is only one part of the vital Defense Bill. This broad legislation also includes provisions to expand mental health care resources, address Traumatic Brain Injury (TBI) and Military Sexual Trauma (MST), extend the stop loss deadline and improve the electronic sharing of health records between the DoD and the VA.

"Most of America thinks there is an up or down vote on 'Don't Ask, Don't Tell.' Missing from the national discussion is the fact that DADT is one of dozens of important provisions included in a Defense Bill that will have a historic impact on our troops and veterans. While the country is fighting two wars, passing funding for our troops should be a no-brainer. We cannot allow personal politics to get in the way of supporting our service members. If Congress fails to pass the Defense Bill, it will be the first time in 48 years. That's not a precedent this Administration or Congress wants to set," said IAVA Founder and Executive Director Paul Rieckhoff.

"Our troops can't afford to wait until next year for vital Pentagon funding. One in three troops are coming home today with invisible wounds like Traumatic Brain Injury, one in seven female veterans are screening positive for Military Sexual Trauma and thousands of service members are losing their medical records as they transition from the DoD to the VA health care systems. IAVA urges the Senate to pass this critical legislation this year and ensure our troops aren't left waiting for live saving resources."


In addition to a provision for the repeal of the "Don't Ask, Don't Tell" policy (see IAVA's full statement supporting repeal here ), key provisions contained in the NDAA address the following urgent issues:

? Expanding the number of DoD mental health providers. There is a chronic shortage of mental health providers in the military. With rates of mental health injuries and suicide rising higher every month, the DoD is in desperate need of providers to help service members identify and combat invisible wounds. This bill provides education incentives to recruit both civilian and military mental health care providers. (Senate ?703)

? Mandatory pre- and post-deployment TBI assessments. Although TBI is the signature wound of the wars in Iraq and Afghanistan, the DoD has never adequately developed a comprehensive screening program. NDAA will require the DoD to do pre-deployment assessments to compare to post-deployment assessments after a potential injury. (House ?722)

? Eradicating Military Sexual Trauma. NDAA contains 29 recommendations of the Joint Task Force on Sexual Assault in the Military, including modernizing the Uniform Code of Military Justice and the creation of a sexual assault reporting hot line. (House ?1601-1664)

? DoD/VA record sharing. In 2009, the DoD and VA began to work on a joint electronic lifetime record that follows a service member from enlistment to the grave. There have been concerns that the record sharing between the DoD and VA could violate the Health Insurance Portability and Accountability Act (HIPAA). NDAA would change HIPAA to allow records to migrate between the DoD and the VA. (Senate ?715, House ?532)

? Military pay raise and bonuses. NDAA provides a 1.9% pay increase for all service members and the extension of a host of recruitment and retention bonuses set to expire. (House ?601)

Because of these provisions and a number of others, passage of the NDAA this year is broadly supported. IAVA is a member of The Military Coalition (TMC), a consortium of 32 nationally prominent military and veterans organizations representing more than 5.5 million current and former service members, their families and survivors. The TMC recently urged the passage of NDAA in a letter to Senator Reid and Senator McConnell here .

Iraq and Afghanistan Veterans of America www.IAVA.org is the country's first and largest nonprofit, nonpartisan organization for veterans of the wars in Iraq and Afghanistan and has more than 200,000 Member Veterans and civilian supporters nationwide. Its mission is to improve the lives of this country's newest generation of veterans and their families.

###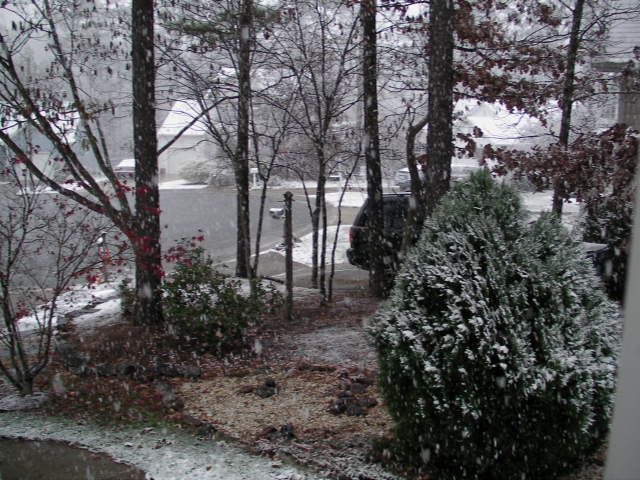 Kate took me out for so I could get my walk in for the day. Today we hit Kohls to look for a smaller pillow for me to put between me and the seat belt when I attempt to drive next week sometime if I am up to it.
Anyway, I'm not sure whether this is an indication of the sucky economy or not, but while there was brisk business because of an 6-hour sale there (big savings like 40%-50%, plus I had my coupons, of course), it was by no means as crowded as one might expect during holiday season. No waiting at registers, not a lot of knocked over, picked over merchandise strewn around after the crazy early birds came through.
While we were out it started snowing, it has been pretty steady, and the temperature dropped enough that 1) it was starting to stick and 2) the drivers around here went into panic mode, acting like asses trying to get to the grocery store, I suppose to hit the bread, milk and egg sections as usual.
So we're back and let the dogs out to enjoy the snow. Casey was more interested than Chloe.
That outing did me in, btw. Even with my new ab binder from Hystersisters, that short jaunt was enough to make me pretty sore and fatigued. The good news is it didn't cause any bleeding, which is the marker of overdoing it. Whew.
***
Q of the day…
1) Are you doing any holiday shopping this year?
2) If yes, are you doing it online or offline in the stores?
3) Online – have any sites you've visited crashed because of traffic?
4) Offline – have you seen any indications that shopping is up or down from last year?
5) Do you think there have been deep discounts or not?
On the few short trips I've made (not to holiday shop, just to walk or get necessities), I really think aside from passing by the insanity of the parking lot at the mall near us on Black Friday, it's not been packed like that again.
We've decided, particularly with this economy and I'm laid up sans a month's pay (still happy to be employed, of course), that we're just opting out of most holiday shopping save a few gift cards for a very short list of peeps. I haven't the energy or motivation to do it. Does that make me a Scrooge? LOL.
Pam's House Blend – Front Page
Pimp out your own blog or personal site with some links to your favorite work. And tell us what other sites are ringing your bell these days.
Gab about anything you want; Blenders could help me out since I am news challenged from being asleep a lot while recovering from surgery. I have no clue what's going on in the world.
Take a look at this…why am I with Mr. Bill? If you click on the pic, it will take you to my latest vlog entry — on my first real day out. I wasn't out for very long, but it gave me an idea of how far I do have to go to get back to whatever "normal" is, health wise. Pass the meds, I need to hit the sack again. ZZZZzzzz.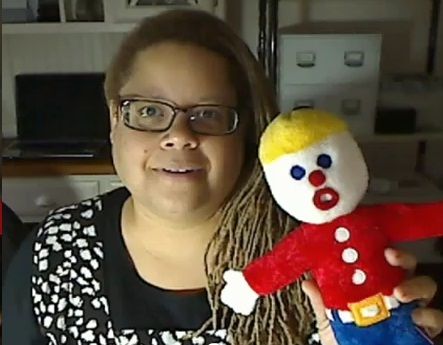 Kate is deeply engrossed in the Iron Bowl right now (Go Bama! Roll Tide), so I'd really need to be out cold before I could ignore her whooping and hollering at the TV screen… 🙂
Pam's House Blend – Front Page
What's for dinner? Share your recipes, traditions, and disasters.
Note: Louise wrote this diary. I am posting it for her for technical reasons. -Lurleen
---
We would ask that everyone notice the wee PayPal "Donate" widget in the upper lefthand corner of the front page.

If you can, please pop a lil something in there for Pam and Kate. Between boarding for Casey and Chloe, deductibles and other unforeseen expenses coming up, this could come in handy right now.

Thanks!

~Louise, Lurleen, Autumn, Alvin, Keori and Clarknt67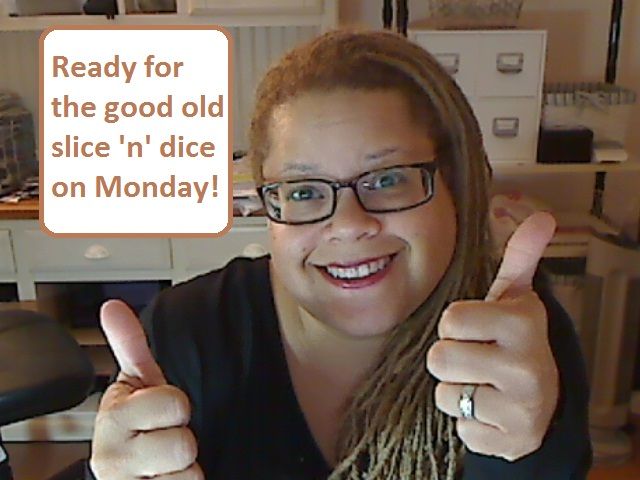 As you all know, Pam's surgery is this morning– so the rest of us thought it an appropriate time to post just WHY Pam means so much to us all personally.
I mean, think about it- there are thousands and thousands of us Blenders! That's pretty amazing, when you think about it- one person's frustration almost exactly 4 years ago with the world as she saw it culminated into her sitting down, tickety-typing her thoughts and views. Hitting "Enter"- and setting up this online coffee shop we know and love so much…
And for anyone who has met Pam and Kate in person, as I was fortunate to do this summer at the 50th birthday party of Americablog's Joe Sudbay, we can all agree that one would be hard-pressed to find a more loving, fun, down-to-earth and genuinely sweet couple than them.
(And I really hope they come back up to Maine next summer! 🙂
Pam herself is astounding; I can't express how much her generosity in inviting me to come aboard as a barista in 2009 meant and continues to mean to me- and that the email came on April Fool's Day just adds that extra cosmic dash of silly appeal for me. 😉
Because of Pam, I found a voice I never knew that I had, and while Maine isn't where we want it to be regarding marriage equality or even politically right now, we will be. Give me time…
(Sidenote: I spoke with Governor Baldacci at one of the President Clinton rallies this fall; it was very pleasant to get a big hug and talk about our previous conversation. He said that at the time he spoke with me and Snooky he was "just starting to come around" to the idea of marriage equality- and that he is now a strong supporter and advocate. I like to think that our talk helped John "get there"! So, one more thing to thank Pam and indeed the entire Blend family for- you have all helped me find my voice.)
And her generosity to other bloggers? One needs look no further than her post over the weekend letting us all know that SharkFu, aka Angry Black Bitch, is also having the same surgery as Pam today. So, let's give her some love, too!
The numerous accolades that Pam and her blog have received over the years are just a tangible testimony to how so many others, including her peers in the blogosphere, view her- her integrity, her honesty, her personal standards of fairness and true family values are benchmarks that many strive for and few attain.
Yeah, I am kinda fond of the gal… 😉 Because of the Blend, I have a family I never imagined. And for that, I am eternally grateful.
Thank you, Pam!
So gonna throw this open to all of you Blenders, to express your thoughts, link a video for Pam, send her YOUR love!
Speaking of gay coffins, what are your plans for disposing of your body?
Thanks to everyone who joined our live blog tonight. A few key race results here. For those of you still up late night, feel free to use this as an open thread. I'll be back up in the morning (perhaps a little later start than usual).

Towleroad News #gay