LGBT White House staff just released their own "It Gets Better" video, expressing support to bullied gay teens.
Watch, AFTER THE JUMP…

Towleroad News #gay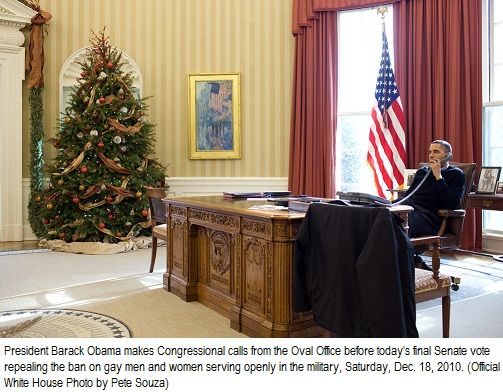 It's been a long historic day and the reactions have run the gamut from "you know it played out just as the President planned" (the brilliant 12 dimensional chess strategy meme), to "HRC claiming any responsibility for this is BS" to "it couldn't be done without "X" (as in there's a single reason for DADT's legislative repeal).
As always, I think the truth lies somewhere in the middle. I'm not sure why any one faction has to "claim" victory — that seems very Beltway, as opposed to the big picture that there was a win today, one with an incomplete asterisk next to it.
A promise to repeal the discriminatory policy of Don't Ask, Don't Tell is exactly that – repealing the impact of the policy itself. That was made quite clear — from SLDN's cautionary warning to service members not to come out yet, to HRC's victory post saying the same thing.
Here are two examples of viewing the glass of pre-victory from today. First, Brian Bond, Deputy Director of the Office of Public Engagement at the White House (a.k.a. the "LGBT liaison") has a post up: "Ending Don't Ask Don't Tell."
Today, I had one of those "once in a lifetime" moments. As I sat in the Senate Gallery with my bosses, White House Senior Advisor Valerie Jarrett, Deputy Chief of Staff Jim Messina and Director of the Office of Public Engagement Tina Tchen, I saw history being made as the US Senate voted 65 to 31 to pass the Don't Ask, Don't Tell Repeal Act of 2010. I am proud of the many leaders in Congress and all those who have worked to put an end to DADT. And I'm proud of the President for his leadership on this issue. It has been a long time getting here and it has been a struggle – but as the President has said many times, "Change isn't easy." But today we took a huge step forward to set right a wrong.

Last December about this time, I was at a small event in the Roosevelt Room. The President was just getting ready to leave for the Christmas Holiday. He walked over to me and without missing a beat, put his hand on my shoulder, and I will never forget what he said to me – unsolicited — "We are going to end Don't Ask Don't Tell. We have a little bit of work to do still, but we are going to get it done." A month later, in his first State of the Union Address, the President said, "This year, I will work with Congress and our military to finally repeal the law that denies gay Americans the right to serve the country they love because of who they are. It's the right thing to do."

Now I am sure that there will be many stories written about what happened and how we got here, but for me, the key part of the story that I will never forget is that commitment from the President. Nor will I ever forget the brave men and women who have served with distinction who also happen to be gay or lesbian. Throughout the course of this effort, I have been privileged to meet some amazing heroes who just wanted to serve their country. I will carry their stories with me for the rest of my life.
Dan Choi (who is out of the hospital and received his Blend "get well card" today), has a piece up at Huff Po — "Congress Repeals DADT" — and strikes a different tone.
No revolution towards justice ever went backwards. To all the supporters of equality and Don't Ask Don't Tell's death, I am so grateful. The road has not been easy. We have learned many important lessons about social justice, movements, supporting each other, and speaking out against discrimination.

The mission is not finished; it has only just begun. The most critical mission is supporting and encouraging closeted soldiers to finally access their full integrity, dignity, and humanity. This mission is in keeping with the first lessons learned at West Point or basic training. As the legislation signals a new chapter in our journey, we can be sure that our work has only begun. I call on all soldiers to gain the courage to come out. First come out to yourselves, then tell your trusted friends and family. Tell everyone who you trust and who deserves nothing less than truth. Stop hating yourselves as your country has signaled for so long. Furthermore, your coming out is not for you. It is for all those who come after. Military service is not about rank, pension or paycheck. Climbing the ladder is shameful without true purity of service and I applaud those who give up the superficial artifacts of career in favor of complete integrity and justice.

…President Obama, you are not off the hook. The compromise bill passed today puts the moral imperative squarely on your desk. Sign an executive order instituting a full non-discrimination policy throughout the military. If you do not, if you drag your feet and politicize this with your theoretical calculations as you have these past two years, you will be guilty of abetting those who loudly proclaim homophobia from their platforms and pulpits. Provide them no shelter or safe haven. Institute justice now.
Both points of view are personal, both stem from resolve to see equality happen, but there is no black and white to the struggle for equality, it involves many political shades of gray. For those who are so motivated by being "right" or on top politically, they don't want to see that there are many routes to success along the way, that the spectrum of ideas and tactics were responsible for today's step, not in spite of one viewpoint or another. That's pretty disappointing, but not unexpected. There are many battles ahead, perhaps people can get their heads together after popping the champagne corks this evening.
Pam's House Blend – Front Page
And that would probably kill it. Fortunately, Reid filed for cloture (to end the filibuster), and the vote should be on Saturday.
Publicly, President Barack Obama has reaffirmed his support for repealing the policy this year. But the White House is quietly pushing far more aggressively for the new START treaty, signaling it may be open to punting the "don't ask, don't tell" repeal until after the new year if it can get enough GOP votes on the treaty for ratification, according to several senators and Democratic aides.

"I've heard rumors of that, but it would be unconscionable," said Sen. Joe Lieberman (I-Conn.), a leading repeal advocate in the Senate. "It really would be immoral because we have fought hard for this for a long time. It's wrong, and we have to change it, and we've got the votes. And we can't let people run the clock out on us when we're talking about basic American rights."
Then there's this:
Senate Democrats say they could not sustain the attacks from the left if they didn't do everything in their power to push a vote on repealing "don't ask, don't tell." Others say the gay community and the Democratic base would be understanding if they couldn't get a bill done this year.

"I have a lot of people in Nebraska who are supportive of repealing 'don't ask, don't tell,' but they don't hold against you what you can't do," said Nebraska Sen. Ben Nelson, a Democrat up for reelection in 2012. "I think they'll look and see who's been holding it up, who's been against it, who's been dilatory, whos's been obstructionist on that and other things and [they will] hold them accountable.
Trust me. If DADT isn't repealed this year, there will be attacks and they will be sustained, and they won't just be against Republicans. This was the President's strategy, and the Democrats went along with it – and so did HRC. They own this baby. They didn't do squat on ENDA or DOMA, even though they promised.
They'd better make it work.

AMERICAblog Gay
UPDATE: Service members announce Senate sit-in.
At 12:15 pm ET Friday Servicemembers Legal Defense Network is announcing they are holding a sit-in in the Senate gallery until a 'DADT' repeal vote is taken. Senator Joseph Lieberman is planning to join them at the press conference.
Servicemembers United has also been actively lobbying (see end of post).
******
With more than 60 noted commitments to repeal "Don't Ask, Don't Tell" in the Senate, it appears that the only factor in the way right now is time, scheduling, and will. However, if 'DADT' is to be repealed legislatively, it must be done this year.
Senator Joe Lieberman appeared on MSNBC this afternoon and said that he believes 'DADT' repeal should be voted on this weekend, before any vote on the START treaty, because the treaty can be ratified next year.
At his press briefing this afternoon, Senate Majority Leader Harry Reid told reporters that he doesn't know if he'll bring the bill up before Christmas, but promised a vote on 'DADT' and other measures before the end of the year.
"I'm not sure we can get that done now. I'd like to get it done, but I'm not sure we can."
It's unclear who would return after Christmas break for a vote. And the measure must be passed in the lame duck or repeal is toast legislatively.
Then later, in his press briefing, Robert Gibbs was unwilling to give an answer why Obama isn't using his position as a bully pulpit to get the measure passed. When pushed on it, Gibbs seemed to get defensive:
"Let's be clear, we would not be at this point if it wasn't for the President's leadership in bringing this issue to the floor. You mentioned, I believe we have the votes….There is time to do this if there are those on the other side of the aisle that wish to get this done and it's clear that whether it's Senator Brown or Senator Murkowski or Senator Snowe or others, there is an effort to get this done if we have time to."
Finally, Joe Biden (See clip below) doesn't want to hear the Senate nonsense about Christmas! He was talking about the START treaty, but when is one of our leaders going to start making these demands about DADT?
In related news, Senator Mark Kirk (R-IL) is still undecided about where he stands on the issue.
Active lobbying is being undertaken by Servicemembers United
Servicemembers United, the nation's largest organization of gay and lesbian troops and veterans, announced today that, for a second day in a row, teams of DADT repeal advocates have fanned out across Capitol Hill as part of the Servicemembers United Action Fund's "OPERATION RENEWED ENGAGEMENT." The campaign is geared toward raising visibility for the "Don't Ask, Don't Tell" issue on Capitol Hill in the waning days of the lame duck session and toward pressuring Senate offices that are supportive of repeal to also support staying in session long enough to let the issue get a final vote.
"Despite the ongoing snow storm in Washington, DC right now, gay veterans and allies are storming the Hill for a second day in a row to demand that the Senate finish the job on 'Don't Ask, Don't Tell' before leaving for the holidays," said Alexander Nicholson, Executive Director of Servicemembers United and the Servicemembers United Action Fund. "The fact that these advocates are braving the snow to fight for what they believe in should demonstrate that we will not accept any excuses from lawmakers for failing to get this done, including bad weather or time running out."
Repeal supporters will be on the Hill for one final day on Friday as part of this campaign. Those interested in joining OPERATION RENEWED ENGAGEMENT on Friday, December 17th from 1:00pm – 4:00pm should contact Jarrod Chlapowski at jchlapowski@servicemembersunited.org today.
What you can do is contact your Senators, and Senate Majority Leader Harry Reid and demand a vote on 'DADT' before the holidays.
The phone number for the switchboard is (202) 224-3121. Call today.
You can also sign Senator Kirsten Gillibrand's petition demanding the Senate pass repeal.

Towleroad News #gay

(Above, Obama meets the Joint Chiefs to discuss DADT on November 29, 2010 – Official White House photo by Pete Souza)
White House Press Secretary Robert Gibbs was asked about 'DADT' today. Gibbs told reporters that "certainly our hope is that the Senate will take this up again."
When asked about Obama's pledge to stay in town until the START treaty is done, and whether he might promised the same for DADT, Gibbs said,
"Let me be clear, the President isn't — if START gets done, the President and Congress is here, the President is not leaving.  I said earlier that the President will be here as long as the Congress is here…I think that we always envisioned it that if the Congress was here, the President would be here.  There's a whole host of important things beyond the tax agreement and START — 'don't ask, don't tell' being one of them — that the President believes can be dealt with before Congress leaves town."
Gibbs was also asked if there are other options on the table should DADT repeal fail legislatively:
"Well, I should say this.  I think it's a distinct possibility that 'don't ask, don't tell' will be repealed by the end of this year and that's where our effort is focused."
Watch, AFTER THE JUMP…

Towleroad News #gay
Today, as noted below, SLDN has organized a protest at the Capitol. This isn't the first protest. In June of 2009, SLDN organized a protest in front of the White House to protest the President's inaction on DADT repeal. The group wanted the President to lead. Still waiting. I am reposting my coverage of that protest. We had indications over a year ago that there was trouble with DADT repeal. SLDN got into a lot of trouble with the White House over this protest and the repeated efforts through 2009 to get the process moving. Back then, we all thought we'd get ENDA passed before DADT repeal. But, we didn't even get a committee vote on ENDA. I don't think anyone thought we'd get to the end of this session of Congress with neither. There's still some hope on DADT, but everything has to go very smoothly with no procedural BS games.
According to press pool reports, President Obama was at the White House today. I hope he heard the noise from the protest organized by Servicemembers Legal Defense Network (SLDN). The group collected 265 buttons, symbolizing the 265 servicemembers who have been discharged under Don't Ask, Don't Tell since Obama took office, for delivery to the President.

As we all know, the President committed to ending Don't Ask, Don't Tell repeatedly during the primaries and general election. But, it hasn't happened. Nothing has. As Obama said on his campaign website:

America is ready to get rid of the Don't Ask, Dont Tell policy. All that is required is leadership.

Leadership. Yes. It is needed.

It's really quite sad that SLDN has to protest to get the attention of the White House. But, we are where we are and this White House needs pressure. If you haven't called yet, the number is 202-456-1414. Tell Obama to end the DADT policy — he has the power. Yes, we want a legislative repeal, but Obama can stop the discharges NOW. He is the leader.

Here's a video with several scenes, too:

Still waiting for leadership. In June of 2009, this was a very brave act. No one on the progressive side was protesting Obama — except some gay activists. The DOMA brief was filed on June 12, 2009 so some of us were already aware that we didn't have a fierce advocate, as promised. The gays were ahead of the curve.

AMERICAblog Gay
The rejection was a defeat for Obama, who campaigned promising to overturn the law and later called it one of his top legislative priorities for the year. But in recent weeks the White House has done little to push the legislation, focusing its influence instead on tax cuts and a nuclear arms treaty with Russia.
Can't say we didn't warn them.
Obviously, this is resonating at the White House. Jake Tapper just did a two-part tweet that reads:
WH spox: POTUS "committed to working with Congress to achieve a repeal of #DADT this year
and:
and is "willing to explore all legislative options to reach this goal during the lame duck session." 2/2 #DADT
We need to see the President sending this message — not a spokesperson. And, we need to see hear and see the President make the statement, not get it by email.
President Obama should know by now that the disillusionment is justified.

AMERICAblog Gay
Following today's conclusion of the Joint Chiefs' testimony before the Senate Armed Services Committee, the White House hosted an off-the-record meeting with members of various DADT pro-repeal groups. Chris Geidner reports at Metro Weekly that today's was the largest of several such recent meetings.
Two people who attended the meeting but asked to remain anonymous because of the off-the-record nature of the meeting told Metro Weekly that those organizations that were represented included Center for American Progress, Human Rights Campaign, Log Cabin Republicans, National Black Justice Coalition, National Gay and Lesbian Task Force, OutServe, People for the American Way, Servicemembers Legal Defense Network, Servicemembers United, Stonewall Democrats and Third Way. [Politico's Josh Gerstein, who first reported the news, also reported that representatives from OutServe and the Palm Center attended the meeting, a fact confimed to Metro Weekly by a third attendee.] As such, it would make it the largest of several such White House meetings held about DADT repeal this year. The two attendees of the meeting said that the White House was represented at the meeting by Christopher Kang, White House legislative affairs; Christina Tchen, director of the public engagement office; Brian Bond, deputy director of public engagement; and representatives from the Domestic Policy Council and White House Counsel's Office.
According to Metro Weekly, White House representatives expressed optimism that a Senate vote on DADT will take place before the end of the year. One attendee reported that the meeting did not feel like pandering: "I know it wasn't. I've been mollified before, and this wasn't mollification."
Read Chris Geidner's full report.
Scott Wooledge, who was arrested last week along with other GetEqual protesters, at the White House fence, writes about what the protest accomplished.

AMERICAblog Gay