This was a really interesting and unexpected event. Kate and I were watching VH1 Classics "Best of I Love the 70s" and the phone rings.
Usually if we don't recognize the phone number we ignore it because it's usually tele-spam (how many of you have received the urgent "we need to talk to you about reducing your interest rate NOW" from your credit card company that you have zero balance with). Kate this time decided to ask who was calling and it was Billy Kennedy, running for the U.S. Congressional seat in the 5th District of NC currently held by the repulsive, homophobic embarrassment Virginia Foxx.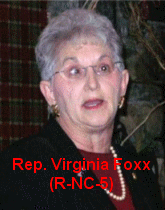 Since I've blogged about Foxx and Kennedy's campaign several times I thought that he was calling to ask about whether I could do a live blog or some fundraising pitch on the Blend, but he actually was just dialing for dollars outside of his district with the usual list, and I was on it. I don't think my name clicked at first, but as we continued our conversation he made the connection.
He started laughing because I was the last person on the call list for the evening and he hadn't made the connection. Anyway, I told him that it would be great to have him on the Blend for a liveblog to talk about Foxx's poor record of serving her district and what he plans to bring to the table.
What he has said in the past:
I will not run a wedge campaign. I want to focus on what all of us can do to improve our lives. I plan to listen to my constituents and hear what's important to them because I respect other people's points of view. I will not allow my opponent to play "gotcha" politics on these questions of individual liberty.

I want to make it clear. I support freedom and equal rights for all people. I will protect all individual constitutional rights, without allowing politicians to pick and choose which Amendments deserve to be taken seriously.

Even when a candidate or political party wins an election through the use of a wedge issue, once they arrive in Washington they do nothing to further its cause. That is when it becomes painfully clear that the candidate never had any real commitment to the issue itself. The candidate simply used the issue to try to fool the people and win the election at any cost.
So once Billy recalled PHB, he was excited about the prospect of a liveblog, as he's done them on DKos as well as Crooks & Liars and it would be nice to give him as boost – the 5th deserves better. We will have a date for a liveblog soon.
Pam's House Blend – Front Page