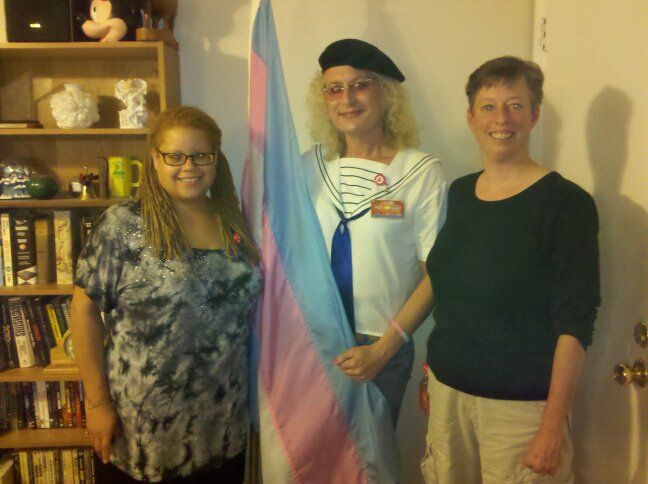 I was scheduled to be at Southern Comfort today — Autumn and Lurleen are still in Hotlanta. I did get to pose with them and the official transgender flag, created by activist Monica Helms. That's the photo on the right.
But I had to hop on a flight to NYC for a last-minute honor — I, along with 13 other LGBTs were selected to be part of a photo shoot and feature for Interview Magazine's November issue. It's a project that is the brainchild of photographer David Mushegain (see some of his work here, "The Spirit of Punk" and here) and Dustin Lance Black, Academy Award winner for Best Original Screenplay in 2009 for "Milk," and board member of the American Foundation for Equal Rights.
As far as the article itself, I don't know much about it other than it is about the LGBT "civil rights movement that showcases several of its core activists." I haven't been interviewed yet, but the photo shoot was today. The photography took place outdoors on the rooftop of a Lower East Side apartment building.
I wasn't told much in advance other than to have 1) blue jeans, 2) a black T-shirt, and 3) a white button down shirt. The latter I had to go out and buy because I don't wear button-down shirts because my boobage usually causes irritating gaps. I didn't know if I needed to wear any makeup, so I showed up bare-faced. Anyway, I arrive and David greets me. He's an incredibly nice guy, btw. Very laid back. There were stylists that we waited for. Of course I was hoping they could do something to ensure that I looked fabulous, or at least not embarrassing.
But there was a complication — they didn't have my clothing or shoe sizes, so they had to guess. I think to myself, "oh no, nothing will fit." Stylists are not used to working with short, top-heavy, overweight women. I cringed to myself. They opened the bag of clothing options and most were fall/winter things (it's November issue). One item that looked like it might fit was one of those designer "little black dress" outfits – the all-purpose kind that I prayed would get over the boobage and not look like ass on me.
I came out and lo-and-behold, the size L fit well enough to do the job. Thank goodness for stretchable fabric. It wasn't like sausage stuffing, but still. And there was no makeup person, so I was going to be shot as-is. OMG. All I had on me was lip gloss. Imagine the terror. Oh well, go with the flow. So we went onto the roof…
David's theme is a 1950s B&W Polaroid look. What was fascinating about it was that he was using a 1950s camera that he had rebuilt, and David was using film that he acquired via auction. This stock was really old – as in the boxes had expiration dates that were over a decade old. Also, this particular size of Polaroid film is no longer made. He was going to work from the negatives, not the prints themselves, and took some digital shots for backup.
The weather was very nice – not hellish hot as it had been the last time I was in NY – and I was shot in full sun. We took many photos with my glasses on, since that's how most people recognize me, and several with them off, standing and seated.
So after he went through quite a few of those old Polaroid cartridges, David was happy with the look he wanted. Now I don't know which one will end up in the magazine, but it seemed everyone agreed on two that were without my glasses, so it's quite likely you'll see me without specs, my hair down and not smiling. Very different look. But you know how those old photos no one seemed to smile, so I understand what he's going for. I have a hard time not smiling or laughing. Modeling is hard work.

I was the last shoot of the day; he had already photographed David Mixner as well as Alan Cumming. David Mushegain showed me the Polaroids of theirs and the shots looked fabulously 50s.
Before I left, I asked for one of the reject prints from the shoot, and David kindly wrote a nice note on the back thanking me for my work and for participating in the project. I wonder what Kate will think of the shot.
***
NY miscellany – I must have a tattoo on my forehead that says "I'm a friendly New Yorker" because I was asked by 4 random people at 4 different station platforms for directions. And I was picked out — other people were standing around me each time. The weird thing is that 3 of them wanted to know what station or train to take to Ground Zero. Why people would want to go down there on 9/11 is beyond me. It's probably a zoo and a traffic mess. Then again, 3 of them seemed to be foreign tourists.
But I was friendly and knew the answers, since I know the NY Subway system quite well after living in NY for many years. So maybe there is a tattoo on my forehead.
More below the fold.
The other thing I did today was do a surprise drop-by to see my NY relatives in Bed-Stuy, including my cousin Kim whose birthday is today, 9/11. I didn't tell them I was coming, so it was fun to surprise them. They were holding a nice block party, so I took a few photos.