Wait — you mean there are no heterosexuals that engage in that activity, Bryan? I think the man upstairs who sees all (if he is actually doing some bedroom peeping) would disagree with you.
This man is troubled beyond reason to make pathetic, mewling sex-obsessed statements like this (via Right Wing Watch):
Glenn, Glenn, Glenn: if special rights are given to people just because they want to use the alimentary canal for sexual purposes, no social conservative will be able to criticize homosexual behavior on biblical or moral grounds without running the risk of legal punishment.

…We must choose between the homosexual agenda and religious liberty, because it is impossible to have both. Every advance of the homosexual agenda comes at the expense of our first liberty, the very first right enshrined in the Bill of Rights, the right to freedom of religious expression. You have chosen the side of suppression and tyranny over the light of liberty.

…But Glenn, our "Divine Destiny" as a nation does not include societal approval for people who want to use the anus for sex. The "Laws of Nature and Nature's God" don't endorse such behavior. And neither should you.
Kyle at RWW probably needed to shower after posting this ignorant garbage. Fischer, btw, is one of the featured guests at the upcoming Values Voter Summit. Check out this overstuffed Wingnut Clown Car…the Duggars alone could break the axle of that vehicle. I notice that spots of color "Bishop" Harry Jackson and Ken Hutcherson are MIA; obviously Ann Coulter is not on the invite.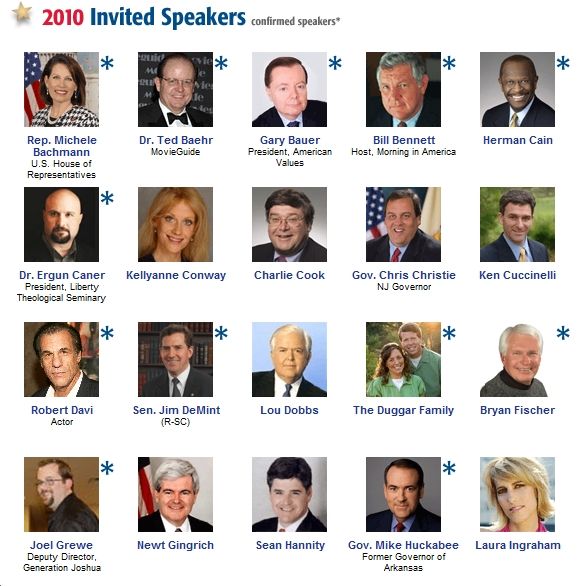 Additional invited and confirmed guests are below the fold.
More of the motley crew – Rick will be Spreading Santorum: http://www.spreadingsantorum.com

Pam's House Blend – Front Page