Back in April, Andrew Shirvell, an assistant attorney general in Michigan, started a blog called "Chris Armstrong Watch". You may have seen him boasting about it last night on CNN's AC360. The blog is a cyber-bullying attack on Chris Armstrong, student body president at University of Michigan. Armstrong is under attack simply because he is gay. The inaugural blog post starts out like this: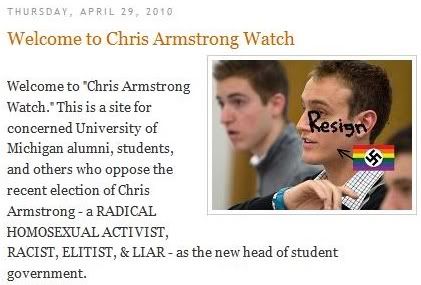 Welcome to "Chris Armstrong Watch." This is a site for concerned University of Michigan alumni, students, and others who oppose the recent election of Chris Armstrong – a RADICAL HOMOSEXUAL ACTIVIST, RACIST, ELITIST, & LIAR – as the new head of student government.
Michigan is a state where you can be fired for being gay or transgender, or for being perceived to be gay or transgender. And although Michigan's Attorney General Mike Cox has been championing an anti-cyberbullying campaign, there are no protections for students in Michigan who are bullied because they are or are precieved to be gay or transgender.
Then along comes Andrew Shervill, a cyberbully who works for the Attorney General as an official representative of the law. Any attorney general worth their salt would recognize a huge problem in the making — the perception that the Office of the Attorney General is biased against gays — and act swiftly and decisively to rectify the situation.
Michigan Attorney General Mike Cox
Any attorney general truly concerned with cyberbullying and truly concerned that Michigan residents maintain faith in the fairness and impartiality of the office of the state's top lawyer would have something more solid to say than this:
Cox [initially] defended Shirvell's "non-work related private blog." Cox took later released a more strongly-worded statement, saying Shirvell's "immaturity and lack of judgment outside the office are clear."
The writing is on the wall: Attorney General Mike Cox has no interest in cracking down on anti-gay cyberbullies in his own department, and he is unconcerned about maintaining the public's trust in the fairness and impartiality of his office because Cox is himself an anti-gay bully.
In his capacity as Attorney General of Michigan, last week Cox joined twelve other state attorneys general in filing an amicus brief in the Perry v. Schwarzenegger Proposition 8 case. The brief supports California's discriminatory anti-equality marriage amendment that in November, 2008 striped loving gay and lesbian couples of their right to marry.
In signing onto this brief, Cox is bullying the entire gay population of the states of California and Michigan. His signature on that brief sends the strongest signal possible gay, lesbian, bisexual and transgender people in Michigan that their top lawyer, the Attorney General, thinks their marriages would denigrate civil marriage.
Call Michigan's Governor Jennifer Granholm and Attorney General Mike Cox and demand they show their commitment to the protection of all of Michigan's residents from bullying by investigating, reprimanding or firing Andrew Shirvell.
Gov office: (517) 335-7858

AG Office: (517) 373-1110
Keep an eye on Equality Michigan's Facebook page for further action opportunities. Below the fold, Julielyn Gibbons describes in depth Andrew Shervill's anyi-gay cyberbullying crusade. You may wish to sign her Change.org petition "MI Attorney General: Fire anti-gay cyber-bully Andrew Shirvell".
Related:

* State AGs: Sexless Marriage is Counterfeit, Same-Sex Version Would Destroy Marriage
Julielyn Gibbons describes the depth of the problem at the Change.org petition "MI Attorney General: Fire anti-gay cyber-bully Andrew Shirvell"
Targeting: Mike Cox (Michigan Attorney General)

Started by: Julielyn Gibbons

Andrew Shirvell, an assistant attorney general in Michigan, started a website to attack Chris Armstrong, the President of the University of Michigan student body.

At that site, Armstrong, a college student who happens to be gay, has been subjected by Mr. Shirvell to a barrage of insults and attacks unworthy of the office of Attorney General.

He has doctored photos to show Mr. Armstrong emblazoned with a Nazi swastika surrounded by a rainbow flag.

He has referred to Mr. Armstrong as "Satan's representative on the Student Assembly."

And he has described Mr. Armstrong as a "Nazi-like" recruiter for "the cult that is homosexuality."

These actions would be troubling enough coming from a private citizen. Taken as the work of an Assistant Attorney General – someone sworn to uphold the law – they amount to not only an affront to all Michiganders, but an affront to the basic notion of equal justice.

But the hard truth is that Mr. Shirvell's activity is not an isolated incident, only the most recent in a history of repeated attacks on Michigan's gay community.

He has described gay Americans as belonging to a "Culture-of-Death."

He wrote that one gay rights activist was "indoctrinating children with his perversity."

All of this coming from a man who has sworn to uphold the rights for all citizens of Michigan.

Petition Michigan Attorney General Mike Cox to fire Andrew Shirvell and show that his office will not tolerate harassment and bullying by one of their own.