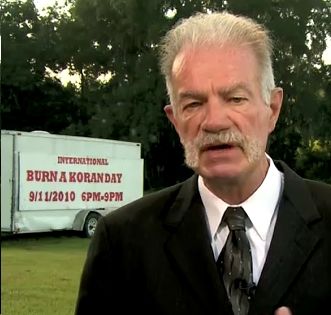 He certainly has the right to do this, but Terry Jones, the pastor of Dove World Outreach Church in Gainesville, Florida, is going to burn the holy book of Islam on the anniversary of the September 11th attacks.
This is in spite of a plea by General Petraeus for Jones to think twice about the political impact of the visuals of the burning in Moslem countries. (CNN):
"It could endanger troops and it could endanger the overall effort in Afghanistan," Petraeus said in a statement issued Monday.

With about 120,000 U.S. and NATO-led troops still battling al Qaeda and its allies in the Islamic fundamentalist Taliban movement, Petraeus warned that burning Qurans "is precisely the kind of action the Taliban uses and could cause significant problems — not just here, but everywhere in the world we are engaged with the Islamic community."

Petraeus said he was concerned by the political repercussions of the church's plan.

"Even the rumor that it might take place has sparked demonstrations such as the one that took place in Kabul yesterday," he said. "Were the actual burning to take place, the safety of our soldiers and civilians would be put in jeopardy and accomplishment of the mission would be made more difficult."
In the clip below the fold, CNN's Kiren Chetry almost goes apoplectic in frustration over the nonsense Jones bleats.
Jones has no plans to call the burning off; he claims this event should not offend moderate Muslims.
We realize that this action would indeed offend people, offend the Muslims. I am offended when they burn the flag. I am offended when they burn the Bible. But we feel that the message that we are tyring to send is much more important than people being offended."

Jones said Muslims are welcomed in the United States, if they observe the Constitution and don't try to impose Sharia law, or Muslim law. The message, he said, is directed toward the "radical element of Islam."

"Our message is very clear," he said. "It is not to the moderate Muslim. Our message is not a message of hate. Our message is a message of warning to the radical element of Islam, and I think what we see right now around the globe provides exactly what we're talking about," he said.

…"We need to speak up against sin and call the people to repentance. Abortion is murder. Homosexuality is sin. We need to call these things what they are and bring the world the true message: that Jesus is the way, the truth, and the life," it says on the church's website.