Update (by Autumn) below the fold.

---
Thanks to Rolling Stone, which, unlike the LGBT press, got to interview the President about LGBT rights (specifically DADT), we have yet another sterling example of fierce advocacy.
We're just impatient; it's too much to ask to have repealed DADT within two years. Well, crap, he hasn't done any of the big ticket items HE promised.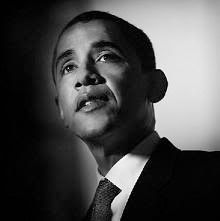 Now he's making it clear the only way the discharges will stop is the slow-walk through Congress — and he's likely about to lose control of the House, so progress will come to a screeching halt thanks to his lack of pressure on The Hill this year, a Congress without a spine, and Robert Gates running the decision making process. (The Wonk Room):
The DADT remark came as Obama was stressing his administration's accomplishments in its first two years in office and showing frustration over the lack of credit he has received. "I've been here two years, guys. And one of the things that I just try to remember is that if we have accomplished 70 percent of what we committed to in the campaign, historic legislation, and we've got 30 percent of it undone – well, that's what the next two years is for, or maybe the next six," Obama said. He did not directly say how he would meet his administration's promise to end DADT before the end of the year, but signaled that it should be done in an "orderly" way:

OBAMA: Understandably, everybody has a great sense of urgency about these issues. But one of the things that I constantly want to counsel my friends is to keep the long view in mind. On social issues, something like "don't ask, don't tell." Here, I've got the Secretary of Defense and the Joint Chiefs of Staff both committed to changing the policy. That's a big deal.

ROLLING STONE: You get credit for that.

OBAMA: Now, I am also the commander in chief of an armed forces that is in the midst of one war and wrapping up another one. So I don't think it's too much to ask, to say "Let's do this in an orderly way" – to ensure, by the way, that gays and lesbians who are serving honorably in our armed forces aren't subject to harassment and bullying and a whole bunch of other stuff once we implement the policy. I use that as an example because on each of these areas, even those where we did not get some grand legislative victory, we have made progress. We have moved in the right direction.
All I can say is Obama's doing an incredible job of motivating his base to go to the polls, don't you think?
We're just the messengers, peeps. Anyone out there that is going to blame the media or blogs for people staying home needs to look at 1600 Pennsylvania Avenue.
A must-read if you want to catch up on DADT news (the good and the bad) – hop over to The Progress Report.
***
And if the above wasn't bad enough, take a look at what else President Obama said about his base. Incredible political strategy – lecture and admonish it for being unenthusiastic and unhappy with his administration and Congress. Gee why would the Base think this way?
Obama: Democratic voter apathy 'inexcusable'

The president has been telling Democrats to "wake up" and recognize that he and the Democratic-run Congress have delivered on promises, from a new health care law to tougher rules for Wall Street to more aid for college students. Obama wants disenchanted supporters to see that Republican wins in November would undermine the ability of Democrats to get the unfinished business done, from climate change legislation to allowing gays to serve openly in the military.

What emerges in the magazine story is a stern, lecturing tone from Obama.

It comes mainly at the end of the interview. Obama had wrapped the lengthy Q-and-A session, according to the magazine, but then returned unprompted to make one more impassioned point and unleash on the enthusiasm gap. He portrayed a clear choice between an administration that despite some warts has helped advance its agenda, and a Republican Party that would offer disastrous policies for the economy and civil liberties.

"The idea that we've got a lack of enthusiasm in the Democratic base, that people are sitting on their hands complaining, is just irresponsible," he said in the interview. He said Democrats should be thinking about what's at stake this election "if they want to move forward over the next two years or six years or 10 years."

The frustrating and pathetic thing about this whining is that, at least here at the Blend, there has never been a call to stay at home, it's been the opposite — give as generously as possible to pro-equality candidates, donate your time to canvass for them or promote them (as we do with liveblogs and interviews), and to show up to vote for them.
What we have said is no money to the Dem machine that turns around and funds the election of Blue Dogs that end up "No" votes on our issues. That gAyTM is closed.
And that does not mean zero criticism if we're looking at performance and promises. I think a person on Twitter yesterday put it quite succinctly, if tartly:
@mystic23 another thing, Dems – just cause I'm angry @ Dems doesn't mean I won't vote for Dems in Nov. FU for telling me not to be angry.
Update and commentary by Autumn:
Visce President Biden joins in on "motivating" the Democratic base. From MSNBC's Biden tells Obama's core supporters to "buck up":
Vice President Joe Biden told disaffected liberals within his own Democratic Party on Monday to "buck up" and "stop whining" ahead of November 2 congressional elections in which Republicans are trying to regain control of Congress.

…During a political appearance in New Hampshire, Biden directed comments at members of his own party's base constituency who feel that Obama has not delivered on promises since coming to power in January 2009.

According to Politico, Biden said they should "stop whining and get out there and look at the alternatives" — referring to Republican candidates trying to take control of the House of Representatives and Senate from the Democrats.

"So those who … didn't get everything they wanted, it's time to just buck up here, understand that we can make things better, continue to move forward, but not yield the playing field to those folks who are against everything that we stand for in terms of the initiatives we put forward," Biden said later on Monday during an interview on the MSNBC cable TV channel…
The MSNBC video of Vice President Biden telling Democrats to "buck up" (via the YouTubes):
Damn skippy. With statements from President Obama telling us progressives that our alleged "apathetic" feelings about voting are "inexcusable," and Vice President Biden telling us progressives that we need to "stop whining" and "buck up" — Is it any wonder many progressives like me aren't very enthused to vote this November?
I didn't vote against the other guys in 2008; I voted for candidates that I thought were going to boldly follow though with their campaign promises. I voted for President Obama and Vice President Biden in part because Presidential Candidate Obama said he was going to be a "fierce advocate" for the lesbian, gay, bisexual, and transgender (LGBT) community. If the best the cowardly Democrats in the House, Senate, and White House can offer us is "we're better than the other guys," I know my motivation level is going to be low. If they're going to insult my intelligence by telling me I should be more motivated to vote — even though the Democrats didn't live up to their campaign promises — I'm even less motivated. I'm sharply angry at beltway Democrats, not apathetic in the slightest.
Oh, I'll vote this coming November as I was already planning to do, but I'm not excited at all to vote like I was in 2008 — not by a long shot.
---
Pam's House Blend – Front Page