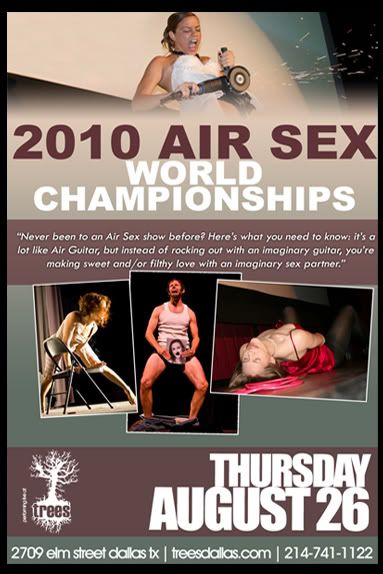 Either this is the dumbest thing ever, or the most brilliant. I'm still deciding.
The time for you to lose your air virginity is NOW.
Last year, The World Air Sex Championships erupted in over 14 cities across North America, crowning champions of all shapes, sizes, colors and styles. The competition climaxed in Austin in October where we crowned the first ever World Champion. Now we're back on the hunt, looking for the 2010 World Champ.
Never been to an Air Sex show before? Here's what you need to know: it's a lot like Air Guitar, but instead of rocking out with an imaginary guitar, you're making sweet and/or filthy love with an imaginary sex partner. You choose a clip of music, you show up in whatever sort of wardrobe you like, and you come up on stage and show everyone how you do it. Or how you wish you could do it. Or how you once had it done to you, and oh my god was that a bad idea and while it's embarrassing to show that act to a room of strangers, you know that you need to do it now in order to make sure that no one else falls down the same rabbit hole you got stuck inside. Or, you know, just do it however you want. The only rules we have are the laws laid down by the state we're in. Since most Air Sex venues serve alcohol, you can't get naked. And since some also serve food, all orgasms have to be simulated (or at least arguably so). Other than that, you're free to do whatever it takes to impress the judges, the audience in the theater, and the world!
The above is from the Facebook invite that has been lurking on my page. On Thursday night at Trees in Deep Ellum, Air Sex comes to Dallas and finally, all the sex machines of Big D — real life and imaginary — can show off their bedroom prowess in public without the fear of having to go into porn. Or this may just be a stepping stone. Hard to say. Although, I wonder how many power tops and aggressive bottoms will show up to represent the gay contingent and show the world how it's done.
After watching a few of these videos (which made me both intrigued and squirmy), contestants Slut Truffle, Dirty D and Buster Hymen suggest some new moves worth trying on your partner. Apparently straight sex ain't so bad either.
Of course, if any of our readers compete, please send us your video. We'd be more than happy to share.
The Air Sex Championships is hosted by comedian Chris Trew and presented in association with the Dallas Comedy House. Trees, 2709 Elm St. 7 p.m. $10.