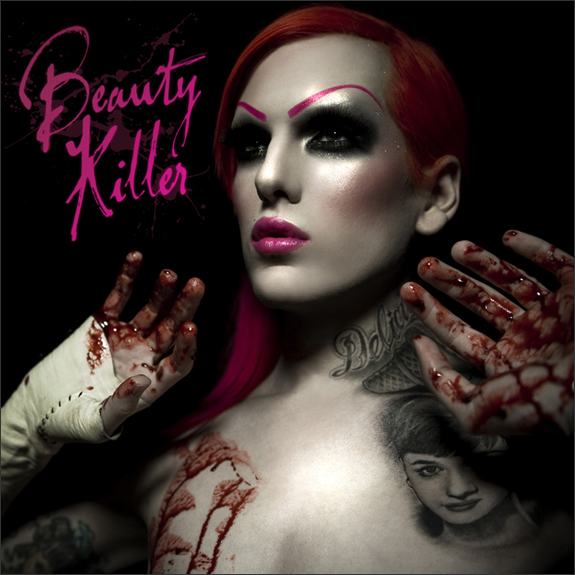 This edition of FLP, we take on the chainsaw-wielding tatted up club kid, Jeffree Star, who churns out dance music with some major bite. But it might come with an infection after.
The Myspace star is starting to step away from finding pseudo-fame on the Internet by landing gigs on the Vans Warped Tour, releasing this album on a new label and working with some bona fide musicians and producers. But, how does his September release Beauty Killer stand up to the FLP's usual suspects? Read on. Caution: Strong language ahead!
The mission: Take a CD sent to the Voice for review that didn't make the paper and listen to it track by track with witty commentary.
The usual suspects: This week's reviewers include Chance, Chris and myself.
"Get Away With Murder"
Sample lyric: There's a mystery inside my head / And it's you dripping all in red
Chris: This song definitely inspires bareback sex on the patio of powerhouse in San Fran. I've never been there in my life! I might just take up flagging after this song.
Chance: Gimme some flags and let me go to it.
Rich: It has some really nice energy but he's so angry.
"Prisoner"
Sample lyric: Like a deer in the headlights I couldn't see / Anything else but the way you breath
Chris: He's got a smooth, gruff voice that I'm enjoying.
Chance: It's Natalie Maines meets Marilyn Manson. Never thought you'd see those two ladies chopping it up on a track. This certainly isn't one you're going to learn the words to.
Rich: I wouldn't  get off the dance floor for this but it's not as polished. I wouldn't take a drug to enjoy this song more either.
"Louis Vuitton Body Bag"
Sample lyric: Stab you with scissors and let's hold hands / Blew out my birthday candles wished that you were dead
Chance: l love the name of the song but he's trying to be shocking in a world where nothing is shocking. I get it! Your affected!
Chris: It's sort of like a novelty trying to be controversial. He may look like Cassie Nova's sister but I'm sure those ladies would throw down at Thanksgiving dinner and make their mom cry.
Rich: Matt Skiba from Alkaline Trio is on this song. It's a bit troubling. I didn't know there was drag emo.
"Beauty Killer"
Sample lyric: So self-obesessed with my mascara and mistakes / Vanity's like a funeral and everyone is at my wake
Chance: It's almost like he's trying to be one of the Scissor Sisters just like Solange Knowles tried to be with Destiny's Child. I could have sex to this song. I see this in UltraLoungeLover's top 20.
Chris: The hook is catchy. It's good Friday night cruising music.
Rich: Did I like this? I can't remember. Now I don't like it.
"Electric Sugar Pop"
Sample lyric: Yeah I'm a princess, a hot mess. / A tiger in a short dress.
Chance: If this song was better, I'd like it. He should have definitely collaborated with Kim on the Real Housewives of Atlanta on this.
Rich: It's elementary but listenable.
"Love Rhymes With Fuck You"
Sample lyric: Shut up and tie me up / Your trash but it feels like love
Chance: You have to be on a three-day bender to enjoy this one.
Chris: Sounds like he's singing through his vagina, it's not even douched.
Rich: What a waste of a good title. This song doesn't capitalize on it.
"Bitch, Please!"
Sample lyric: Slide my panties off in your Lamborghini, / TMZ just saw my Coochie like I was Britney.
Chris: This is my favorite. They should play this at the Big D Bear Dance this weekend. If there's any hot bears out there we'll be there. He's not afraid to sound like a drag queen.
Chance: This is a good one. This is my weekend theme song. I would buy this for $.99 on itunes.  It should be the first single for sure.
Rich: I could see Brit singing this. So the consensus so far is this is the fave.
Got milk? Eesh, nevermind.
"Lollipop Luxury"
Sample lyric: Can't take your hands off me / I know you wanna suck me
Chris: I'm bored. It's a little too bold and a little too brash for me.
Rich: I have issues with people who put their own names in their songs.
"Fame and Riches, Rehab Bitches"
Sample lyric: Christian Dior, and hot couture / It doesn't look good when you're dead on the floor
Chance: (stunned silence)
Chris: He doesn't know what he wants you to do, mosh, dance, lounge, it's all over the place. I need a hydrocodone for the migraine this is giving me.
"Fresh Meat"
Sample lyric: 'Cause I'm fresh meat and vintage Dior / Stealing from the rich and giving Gucci to the poor
Chance: Sounds like salmonella. I like my meat medium-well and this is a bloody mess.
Chris: Judging from those photos, I doubt it's fresh. There's definitely some swine flu in that hole.
Rich: This should be sexier than it is. Dickey's would not serve this meat. Not even with a coupon.
"Queen of the Club Scene"
Sample lyric: Now the club is hot and you're colder than ice / If you want a shot, better take it tonight
Chance: I do kinda like the sound of this. I could listen to this in a convertible cruising down Santa Monica Blvd. I'd pay a $1.29 but only if it came w album art.
Chris: He does look like Jenna Skyy. If I heard this song on the radio, I would buy the album and then I'd go home and kill myself.
Rich: I'm totally into this song. It's almost a copy of Britney's "Brave New Girl" but still good. What a nice surprise considering the meat of the CD is so abrasive.
Final thoughts:
Chris: If he was at Rubber Gloves in Denton I'd check it out, but I'd probably end up at Mable Peabody's!