The whackadoodles of the fringe right are hopped up on the holy Kool-Aid this week. I was going to award a Fundnut of the Day, but came across two worthy of a tie.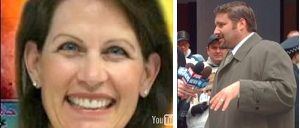 First our very manly, non-limp-wristed friend Matt "Bam Bam" Barber, the Director of Cultural Affairs. He has given a ringing, batsh*t endorsement of Michele "Reagan in pumps" Bachmann as a presidential candidate in 2012.
From the instant his fruitful eight-year reign ended, Republicans have pined for the next Ronald Reagan. To date, no man has succeeded in filling the conservative standard-bearer's legendary boots. Well, maybe it's time to swap boots for pumps. Could he be a she?

Sarah Palin, you say? Perhaps, but there's actually another outspoken, attractive, fearlessly conservative Tea Party favorite firing up the center-right grass roots: Rep. Michele Bachmann, Minnesota Republican.

…Mrs. Bachmann is not afraid to shake things up in her own Republican Party. What she lacks in physical stature, she makes up for in – to borrow one of the mainstream media's favorite terms – gravitas. If it takes a step stool to kick a moderate Republican in name only's tail into line, the counterestablishment lawmaker will climb it and kick it.

True, a House member hasn't been elected president since James Garfield, and a woman never has. But as Barack Obama, our first black president, might tell you: We live in an age of firsts.

And speaking of Mr. Obama: In the unlikely event that you could untether him from his tele-prompter binky long enough to debate Mrs. Bachmann, I'd bet my share of the stimulus money that she'd mop the floor with him.
Right. Put down the crack pipe, Bam Bam.
***
But there's a tie – it's probably hard to top Cindy Jacobs for non-reality-based thinking. She has declared that the repeal of DADT is the cause of the mass death of birds. Right Wing Watch:
Over the weekend, Cindy Jacobs of Generals International posted a new video prompted by the fact that, as a prophet, people have been asking her about the meaning behind the recent rash of bird deaths … to which she replied that it might be due to the fact that America is violating God's prohibition on homosexuality with support for gay marriage and the repeal of Don't Ask, Don't Tell:

Well, there's something interesting we have been watching – let's talk about this Arkansas pattern and say, could it be a pattern? We're going to watch and see. But the blackbirds fell to the ground in Beebe, Arkansas, well the Governor of Arkansas' name is Beebe. And also, there was something put out of Arkansas called Don't Ask, Don't Tell by a former Governor, this was proposed, Bill Clinton. As so, could there be a connection between this passage Hosea 4 and now that we've had the repeal of the Don't Ask, Don't Tell where people now legally in the United States have broken restraints with the Scripture because the Scripture says in Romans 1 that homosexuality is not allowed.

It could be because we have said it's okay for people who commit these kinds of acts to be recognized in our military for the first time in our history, there is a potential that there is something that actually happened in the land where a hundred thousand drum fish died and also where these birds just fell out of the air.
Who is the fundnut of the day? Vote…
Pam's House Blend – Front Page