From GetEqual's release:
The vigil, held to coincide with the starting day of the lame-duck session of Congress, will send a clear and frank message to the United States Senate – repeal "Don't Ask, Don't Tell" now. Senate Majority Leader Harry Reid, President Barack Obama, and other Democratic leaders have continually reassured the LGBT community that the legislation would be repealed during the current session of Congress.

The vigil is set to center around the gravesite of gay Vietnam Veteran Leonard Matlovich. Matlovich, a recipient of both the Purple Heart and Bronze Star, made headlines in the 1970s after he came out as openly gay and fought to stay in the U.S. Air Force – landing him on the cover of Time Magazine. Matlovich's tombstone at the Congressional National Cemetery is meant to be a memorial to all gay veterans and is inscribed with the well-known phrase: "When I was in the military, they gave me a medal for killing two men and a discharge for loving one."

The vigil will be one in a series of actions GetEQUAL will engage in throughout the week to pressure the Senate to repeal the discriminatory "Don't Ask, Don't Tell" law. The lame-duck session begins on Monday, November 15, and is expected to run approximately two weeks – or until leadership has the votes to call adjournment. With Congressional leaders such as John McCain and Carl Levin in discussions over the "Don't Ask Don't Tell" policy, national activists across party lines are making their voices heard.
Lt. Dan Choi preparing Sgt. Leonard Matlovich's grave before this morning's vigil.
"Paying respects to the memory and legacy of Sgt. Leonard Matlovich – and re-dedicating ourselves to the movement focused on repealing DADT" —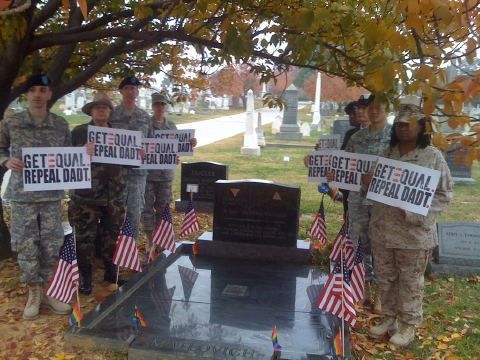 Blenders at today's event include Autumn Sandeen, Scott Wooledge (Clarknt67) and Michael Bedwell. Note that this is one of a few actions planned — so stay tuned.
Pam's House Blend – Front Page