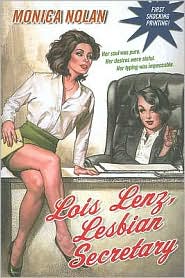 In a recent office clean-up, these two books made their way to my desk. Still in brand new condition, I've decided to offer two of Monica Nolan's books to give away which are pretty much priceless in every sense.
The covers of each are perfectly pulp fiction-esque and the titles are to die for. I have a copy of Bobby Blanchard, Lesbian Gym Teacher and Lois Lenz, Lesbian Secretary. With taglines such as She schooled them in field hockey…and desire and Her soul was pure. Her desires were sinful. Her typing was impeccable, just tell me you don't want them both.
Email me here with "Ladies first" in the subject line and a winner will be selected tomorrow. Congrats to today's winner of Fangs and Stilettos. And don't miss this week's Literary Issue of the Dallas Voice on stands and online now.