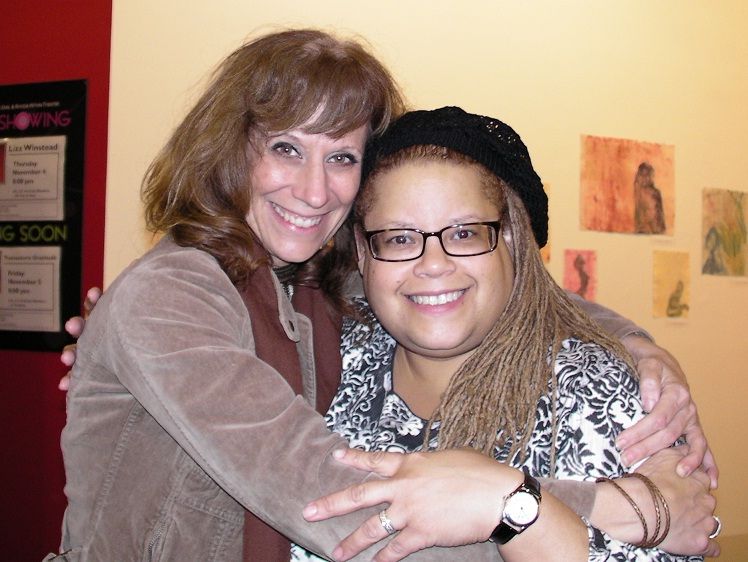 UPDATE: With Lizz after her show, which was full of hilarious riffs on the election. Kate & I had a fab dinner w/her as well.
Lizz was on The State of Things with Frank Stasio earlier on Thursday; check out that interview.
***
Tonight in my neck of the woods — a relative stone's throw from where I live in Durham, the fabulous Lizz Winstead will be in the house at the Carrboro Arts Center to do her political satire show (tickets are ), the first since the election. I can't wait hear what she has to say about that debacle; we're breaking bread before the show, so I'll get a sneak preview.
Post Election Day humor from comedian and Daily Show co-creator Lizz Winstead. Fans asked her to perform at The ArtsCenter–so she is! twitter.com/lizzwinstead. As co-creator and former head writer of The Daily Show and Air America Radio co-founder, LIZZ WINSTEAD is one of the top political satirists in America. As a performer, LIZZ brought her political wit to The Daily Show as a Correspondent and later to the radio waves co-hosting Unfiltered, Air America Radio's mid morning show, where she brought on board Hip Hop legend CHUCK D and political big brain RACHEL MADDOW. Most recently, Lizz wrote and produced an independent pilot of her Off-Broadway hit, "WAKE UP WORLD, a show Rachel Maddow called, "The funniest thing I have seen in years."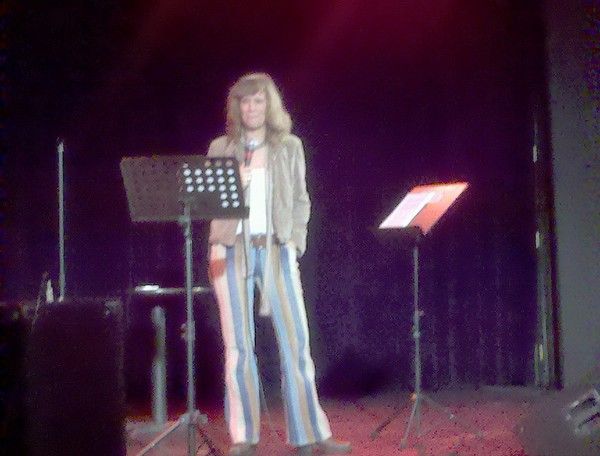 Here's an interview with Lizz pre-election when she sat down with Metro Weekly's Chris Geidner.
I'm looking forward to her biting wit — we need something to laugh about here in NC as the elections were a mixed bag. Speaking of which, Ian Palmquist of EqualityNC shared his thoughts about the election and what it means, since our General Assembly is now going to be run by the Republicans.
Read Ian's letter below the fold.
Dear Friends,

I wanted to write and share my initial thoughts on last night's election results and what they mean for our ongoing work to win full civil rights for lesbian, gay, bisexual and transgender North Carolinians. I know it was a tough night for me, and I imagine it was for you too.

Openly Gay, African-American Candidate Wins

First, one of the bright spots of the evening: we are thrilled to see Marcus Brandon win a House seat in Guilford County. Marcus will be the first openly gay member in the House, and one of just five openly gay African-American legislators in the country! Having someone like Marcus at the table is a big win for the LGBT community.

The New Majority

We have a new legislative landscape to work in. As you likely know by now, the Republican party has won significant majorities in both the state House and Senate. With the new majority comes new leadership in the legislature and new challenges for Equality NC. We're going to have to work harder than ever to stop anti-LGBT bills and be more creative to find ways to move forward on our issues.

Fortunately, we've always been committed to working with legislators on both sides of the aisle, and we won't be starting from scratch. There are Republicans we can and will work with, in addition to continuing to build support in the Democratic caucus. Our membership long been bipartisan, and three of our board members are Republican, including Equality NC's board chair, Dan Gurley, who is the former Executive Director of the NC Republican Party. They are great assets to have as we look for opportunities to find GOP support.

Make no mistake: there will be big legislative challenges ahead. We are likely to see a serious attempt to pass the anti-LGBT constitutional amendment and other attacks on our communities. We're going to need supporters like you to be engaged now more than ever as we defend our past victories.

We will be calling on the new majority to govern as they campaigned. In most races, the Republicans campaigned not on social issues like LGBT rights and abortion, but on creating jobs and addressing the state budget.

What The Voters Didn't Say on LGBT Rights

One thing that is very clear from last night's election results is that voters were not focused on LGBT issues.

While some pundits said that voting for our pro-equality legislation was politically dangerous, legislators in challenging districts who were directly attacked for supporting the School Violence Prevention Act (Sen. Bill Purcell, Rep. Darren Jackson, and Rep. Grier Martin) won re-election.

Equality NC PAC's endorsed candidates fared well. In fact, none of our endorsed candidates who were previously elected to their seat lost last night. Overall 42 of our 52 endorsed legislative candidates won their races. (Click here for results in these races.)

One other take away from the results is that moderate Democrats who took anti-equality positions out of political fear were not protected by their cowardly stance: Sen. Don Davis and Rep. Nelson Cole, co-sponsors of the Marriage Discrimination Amendment, and Sen. A.B. Swindell, who voted against the School Violence Prevention Act, all lost their races.

Looking Back, Looking Forward

I have to take a moment to recognize the commitment the outgoing legislative leadership had to issues of fairness. House Speaker Joe Hackney and Senate President Pro-Tempore Marc Basnight and other leaders in both chambers have made significant contributions to making our state a better place for all North Carolinians, including LGBT people. We thank them for that and are looking forward to continuing to work with them in the legislature.

Like you, we're still evaluating exactly what this new environment means as we go forward; we'll be sharing more of our next steps in the coming days and weeks. But we do know that no matter who is running the legislature, the work of Equality NC to win full equality goes on. Thank you for being a part of our team.

For Equality,

Ian