Recall if you will Michele Strobel, the anti-gay candidate who is challenging Representative Norm Johnson (R-Yakima) for his seat in the Washington state Legislature because Johnson co-sponsored the domestic partnership expansion bill in 2009. Rep. Johnson has two gay sons. Strobel announced her candidacy with this statement:
"It was a slap in the face to Christians," Strobel said. "It was a slap in the face to traditional values."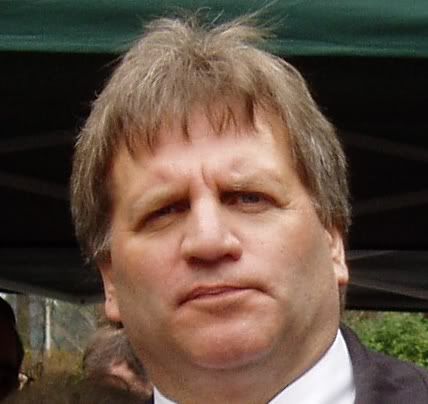 Strobel soon publicly linked herself to anti-gay crusader Larry Stickney, affirming her reputation as a single-issue, anti-gay candidate. In an early effort to counter the single-issue reputation, she diversified by trying to "save" some bikini baristas from their employment, and made a public display of her opposition to a strip club in a city she in which she does not reside. But attention has returned to Strobel's core value of anti-gay activism with this ad attacking Rep. Johnson for his co-sponsorship of the domestic partnership law. The ad ran in the Sunday and Thursday editions of the Yakima Herald-Republic.
REP. NORM JOHNSON – YAKIMA'S OWN KING CANUTE?

Legend has it that an ancient British king, Canute, overly impressed with his legislative power, set up his throne on the edge of the sea and commanded the tide to cease its ebb and flow.

Mother Nature, who alone commands the tide, ignored him.

Although Canute might have been a good king in every other respect, his one effort to command Mother Nature earned him the derision of centuries.

More recently, a groups of politicians in the Washington state legislature decided that the natural condition of marriage between members of the opposite sex is discriminatory, so they proposed a new law that recognized same-sex partnerships, a law that State Representative Norm Johnson co-sponsored.

Johnson now hopes that 14th District voters will share his Canute-like delusion and re-elect him in November. Instead he deserves the same response that rational people have always given those who try to abolish Nature – derisive laughter. Johnson should be not only voted out of office, he should be laughed out of office.

Fortunately, a more rational candidate, Michele Strobel, is running for his position and deserves the support of realistic voters.

Paid for by CORAL (Committee for Rational Legislation), PO Box 531, Yakima WA 98907
The ad got the Canute story completely wrong (Canute sought to prove that he couldn't command the tides.). But the real story here is how Michele Strobel responded to the outcry this ad caused. According to the Yakima Herald-Republic Strobel claimed to have no prior knowledge of the ad.
Calling the ad "divisive, derogatory, in poor taste and mean-spirited," Strobel said Thursday she would have told its creators thanks but no thanks.

"If these people want to be supportive of me, this is not the way to do it," she said. "Unfortunately for me, I can't control what people do."
She sounds pretty darn decent there, doesn't she? But her claim loses credibility when the details surrounding the ad are examined. (link added)
[The controversial ad] included text indicating it was paid for by the Committee for Rational Legislation (CORAL) and listed a Yakima post office box as the committee's address. CORAL registered earlier this month as a political committee with the state Public Disclosure Commission, listing Philip Brendale of Yakima as its treasurer. The financial backing for the committee, according to the PDC, came entirely from Kwik Lok Corp., an international business founded and based in Yakima. The company donated ,241 to CORAL to pay for news-paper advertising, according to the PDC.

Kwik Lok, which is owned by Jerre Paxton, also has donated ,600 to Strobel's campaign. Kwik Lok's sales director, Lorne House, who said Thursday that he wrote the copy for the ad, has donated ,000. Brendale's wife, Sandi Belzer Brendale, has donated to Strobel.

Strobel, however, said she doesn't know Paxton or House. She also said she didn't know anything about Kwik Lok until she found out, after the fact, that the company funded the ads.

"In fact, I had to say, 'Kwik Lok? Kwik Lok? Who is Kwik Lok?'" Strobel said.

This despite taking ,600 in campaign money from the company.
The maximum donation any company or individual can make to a candidate's legislative campaign in Washington is 0 per election. So ,600 translates into Kwik Lok and its owner Jerre Paxton each maxing-out their donations for both the primary and general elections. It just isn't credible that Strobel wouldn't know who her major donors were, especially since Strobel only has a total of 6 donors who donated the maximum for both elections. Unless, of course, she is thoroughly disengaged from her campaign. Neither explanation is particularly flattering.
Then the article goes on to report this disturbing news. (link added)
She does know Sandi Belzer Brendale, who has long been involved in far-right political causes in the Yakima Valley, including being the section leader of the local John Birch Society chapter. Strobel said she has seen no need to distance herself from Brendale.

"I don't know her well enough to say that she's someone I want to distance myself from," Strobel said.

Both Philip and Sandi Brendale were listed as Strobel endorsers in an official campaign ad that ran Sunday. So was House.
Either Strobel isn't at all bothered by the John Birch Society connection (the Strobels have rubbed elbows with JBS before), or she didn't do due diligence on her endorsers before publishing the list in the newspaper and simply didn't know that Sandi Brendale was a member. Again, neither explanation is flattering for Strobel, although the former seems most likely.
The value set of the John Birch Society is hardly distinguishable from that of the Tea Party on matters of taxes and immigration, and Michele Strobel is without a doubt a Tea Party candidate. No surprise that the John Birch Society was a co-sponsor of the 2010 Conservative Political Action Conference.
Vigorous opponents of the Civil Rights Act back in the day, today JBS works to stoke anti-gay sentiments and to counter "the homosexual agenda". A search on the JBS website on the term "homosexual" yields 100 hits. Here's an excerpt from the essay "Stop the Homosexual Revolution" written recently by JBS president John F. McManus. Given Michele Strobel's strident anti-gay stance and Tea Party affiliation, there is a lot for her to sympathize with in the John Birch Society.
[W]ould a homosexual seek to join the military because the close quarters associated with the military life would present him or her with a source for desired liaisons? The answer is an emphatic yes.

Acceptance of homosexuals is a severe departure from long-standing practice. It makes more likely the acceptance of other fundamental departures from military discipline and the proper function of the military. Moral relativism, a feature of homosexuality, spawns the attitude that all military orders and practices are relative and not to be acted upon swiftly or carried out without question. …

Congress should not only be urged to cancel the "Don't Ask, Don't Tell" policy, all members should be asked to reinstitute the ban on homosexuality.
Michele Strobel also just received ,320-worth of in-kind support in the form of campaign mailers from Family Policy Action. Family Policy Action is clearly an arm of Family Policy Institute of Washington, the local affiliate of Focus on the Family and Family Research Council; the address and telephone number for FPA and FPIW are one in the same. FPA has spent over ,000 this election on mailers on behalf of anti-gay candidates, according to the Public Disclosure Commission.
For someone who doesn't like ads that are "divisive, derogatory, in poor taste and mean-spirited", she sure does attract the assistance of people who do. The Yakima County Republican Party has endorsed Rep. Norm Johnson.
Pam's House Blend – Front Page