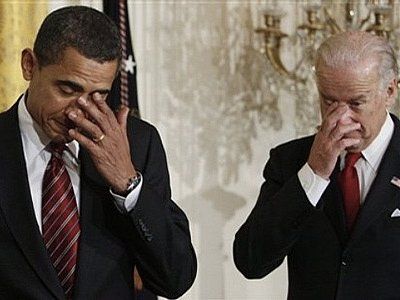 Joe Biden and our Fierce Advocate are receiving serious blowback for their temper tantrum against the disaffected, disillusioned Dem base. Check these out:
"Dear White House: Here's how to handle the left's "whining" (Greg Sargent at WaPo's PlumLine)
[I]t's entirely counterproductive for the White House to rail in some generalized way about the left's "whining." Far better to think clearly about what these arguments actually are, and to grapple with them head on.

If the Dem base is unenthusiastic, give Dems something to get excited about, or effectively tell them why they should be excited. If you disagree with Maddow or Greenwald on what's possible in terms of policy, or if you disagree with the Adam Greens of the world on politics, explain why they're wrong, rather than spewing epithets in all directions. Above all, don't vaguely question the right of these various parties to make those arguments. This is, after all, democracy, and as Obama himself has repeatedly said, democracy is a messy business.
How about this for our peeps in Chicago as you welcome Rahm back into the fold…
Dean Called Rahm's 'Contempt' For Base 'Devastating And Incredibly Demoralizing': Book Excerpt (Sam Stein, Huff Post).
"The White House began to believe that they could mobilize their supporters without hearing what their supporters really wanted in terms of specific change," Dean is quoted as saying. "The principal problem with OFA is the same one the president's having. You can't dictate to your base what's going to happen. It's got to be a two-way deal, and it hasn't been."

Addressing a telling moment in the health care debate, when White House Chief of Staff Rahm Emanuel (a frequent Dean critic) called out progressive activists for running ads against conservative Democrats, Berman asked the former DNC Chair for his reaction.

"I'm not looking to pick another fight with Rahm Emanuel, but the contempt with which he held the progressive wing of the party was devastating and incredibly demoralizing," Dean said. "That's basically saying to your own people — you got us here, now FU."
And not to be undone, Peter Daou, with "How a handful of liberal bloggers are bringing down the Obama presidency."
The constant refrain that liberals don't appreciate the administration's accomplishments betrays deep frustration. It was a given the right would try to destroy Obama's presidency. It was a given Republicans would be obstructionists. It was a given the media would run with sensationalist stories. It was a given there would be a natural dip from the euphoric highs of the inauguration. Obama's team was prepared to ride out the trough(s). But they were not prepared for a determined segment of the left to ignore party and focus on principle, to ignore happy talk and demand accountability.

As president, Obama has done much good and has achieved a number of impressive legislative victories. He is a smart, thoughtful and disciplined man. He has a wonderful family. His staff (many of whom I've worked with in past campaigns) are good and decent people trying to improve their country and working tirelessly under extreme stress. But that doesn't mean progressives should set aside the things they've fought for their entire adult life. It doesn't mean they should stay silent if they think the White House is undermining the progressive cause.