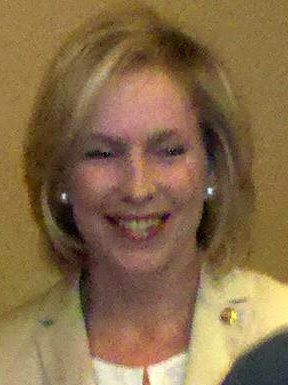 On Friday about 15-20 BlogHer attendees, including your blogmistress, were invited to a meet and greet, on-the-record Q&A with Sen. Kirsten Gillibrand (D-NY), who is running for the junior U.S. Senate seat she has filled out that was vacated by Hillary Clinton. Attending BlogHer was important to Gillibrand, who is very attuned to the power of the Internet, blogs and social networking in creating an effective campaign.
I'll give you all the short review:
* It was a very short presser, but Gillibrand made sure to mention a timeline on DADT vote from her perspective – she expects passage by the end of this year.
* She's very polished (as in message discipline), but still comes across as earnest and believes strongly in transparency in government.
* As this was tied to BlogHer, I was pleased by Gillibrand's focus on the importance of women and technology – more women need to be in the room when the legislative sausage is being made on the Internet, since it involves privacy and security matters, and issues that women bring to the table are important to factor in decision-making. Here is a clip of Gillbrand on the importance of encouraging girls to go into the hard sciences, math and technology studies. Sorry for the less-than-premium video, it's actually not bad for my Droid phone cam.
* Her immigration positioning was excellent — and excellently delivered. Sen. Gillibrand discussed reunification of families (including LGBTs) in immigration reform. Need to have a realistic conversation about having 5 year work visas and true reform, not tinkering with a broken existing system. She supports the Dream Act and a path to citizenship. She believes something will be done in the lame duck session.
* She's very stoked about working with bloggers in new media venues (liveblogs, call-ins,), and is savvy about their influence
* There wasn't enough time for questions (but isn't that always the way).
My one question that I would have asked, as a follow up to a question asked about advice for progressive women running in more conservative states (she was asked about women running for office in Texas), that she didn't really answer:
For qualified women in politically transitioning states, like Elaine Marshall — does she have advice on how to advance the progressive agenda in a more challenging environment? Does she speak with candidates in this class of 2010 about these issues?
Todd said he'd follow up with Sen. Gillibrand.
Pam's House Blend – Front Page