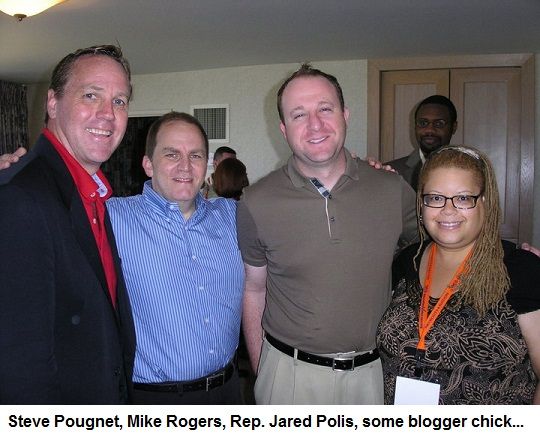 Kudos to Adam Bink for taking the discussion of the mid-terms in a different direction.
I have gotten somewhat tired of hearing the woes of Dems this cycle from folks reading Politico and assuming the majorities will all but evaporate. There's an intentional ignorance in the traditional media to forget about open Senate seats ripe for pickup in New Hampshire, Missouri, Ohio and Kentucky, and competitive seats in North Carolina and elsewhere. For a variety of reasons, there hasn't been as much attention on the House, where I'm focusing on CA-45, a district where Obama won and we have a candidate that can do the same.

CNN has a profile up about Steve Pougnet, the openly gay mayor of Palm Springs, CA who is running to take down Mary Bono Mack, the Republican incumbent. Steve, who I profiled earlier here, would be the first married, openly gay parent elected two Congress (he and his partner are raising twins, Julia and Beckham).
We met Steve while at Netroots Nation this year (above photo), and this is one seat that is winnable, and Steve is a well-known and much respected official. Bono Mack is severely underperforming for her district; she's simply not doing the job and thinks no one is looking. Even worse, she's painted as some sort of moderate Republican. Don't be fooled. This is not moderate:
* She voted against repeal of DADT;

* She has not co-sponsored ENDA (or even say whether she will support it;

* She supported the 1999 Largent Amendment that would have banned same-sex adoption in the District of Columbia;

* She even voted against the Lilly Ledbetter Fair Pay Act.
If you see our friends at GOProud and LCR endorsing her, it's a fair question to ask why her anti-equality positions are acceptable in 2010. Meanwhile, take a look at Pougnet's first ad:
And the pitch…
Chip in on ActBlue here.
You can also tweet a donation to the campaign:
@adamjbink Donate @StevePougnet via @ActBlue to help air his first TV ad: http://bit.ly/bF5Lhy #LGBT #gay