Get a load of this fantasy headline from the LA Times. Even if Boehner means what he says, as outgoing Speaker Nancy Pelosi hands him the gavel, his Tea Party peeps are going to be on his posterior from day one: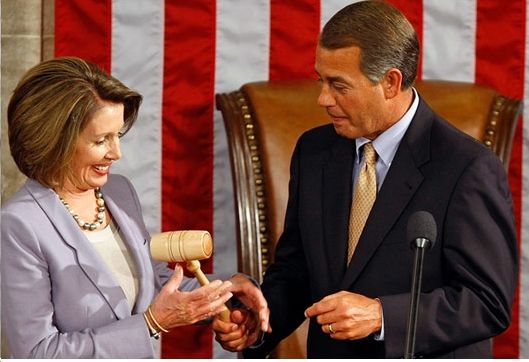 John Boehner elected as House speaker, promises new GOP-controlled chamber will be 'honest, accountable and more responsive'
Boehner, a 20-year congressman from southern Ohio, will pledge to make the House "honest, accountable, and more responsive" to the needs of the American people.

"Our aim will be to give government back to the people," Boehner is expected to say, according to excerpts of his address released early Wednesday. "In seeking this goal, we will part with some of the rituals that have come to characterize this institution under majorities Republican and Democratic alike. We will dispense with the conventional wisdom that bigger bills are always better; that fast legislating is good legislating; that allowing additional amendments and open debate makes the legislative process "less efficient" than our forefathers intended. These misconceptions have been the basis for the rituals of modern Washington. The American people have not been well served by them."

But the challenges of governing and holding a perhaps fractious GOP caucus together may clash with Boehner's stated goals of a more open and inclusive process. Already Democrats are slamming next week's expected vote in the House to repeal the healthcare overhaul legislation because Republicans are not going to allow the repeal bill to be debated and amended.

"Republicans have now broken at least three of the pledges they made in the election," Democratic National Committee spokesman Brad Woodhouse said Wednesday. Beyond the healthcare repeal, Woodhouse cited the House GOP's move to exempt the proposed repeal from a requirement that legislation that increases the federal budget deficit be offset by spending cuts elsewhere. (Proponents of the healthcare law say it will reduce the deficit over the next 20 years.)The GOP may also be backing away from a pledge to slice 0 billion from the budget for the current fiscal year because a quarter of the year has almost passed.
***
Changing gears, Robert Gibbs announced today that he was stepping down as White Press Secretary. His departure comes as there are several shifts under way at the White House as the President and his team gear up for the 2012 re-election bid.
Mr. Gibbs said that he intended to leave in early February. His successor has not yet been decided, he said, but will likely be announced within the next two weeks.

President Obama, who is in the middle of making final decisions on the first major reorganization of his administration, said in a brief telephone interview on Wednesday that Mr. Gibbs would remain a close adviser and "will continue to shape the dialogue politically for many years to come."

The departure of Mr. Gibbs is part of a series of moves inside the West Wing as the president prepares for a new phase of his administration. The internal shuffling also could bring a new White House chief of staff, a decision the president is expected to make by week's end, with an announcement as early as next week.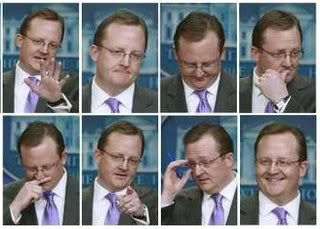 Gibbs did his job, conveying basic information with as little detail as possible, particularly on DADT. One could sum up his answers to questions from The Advocate's Kerry Eleveld and ABC's Jake Tapper, among others as 1) fibbing assclownery or 2) making him appear to be an empty vessel that is never briefed by high level WH officials.
I'm sure his replacement will bring the same level of candor to the podium
Of course here at the Blend we've been telling you that unless the President and Congress act on LGBT legislation in the first two years, the focus will turn away from progress to getting Barack Obama re-elected and members of Congress focusing on their seats. Of course this is now exacerbated by the turnover of the House to the GOP, making it a certainty ENDA (or any other items in the queue on the Hill) will not go anywhere. DADT squeaked by, thank goodness, but that's still not fully repealed.
Pam's House Blend – Front Page