UPDATE FROM PAM: The event raised M for the DCCC. How many anti-equality candidates do you think will benefit from that? For a description of the event and who attended go below the fold.
---
"If it weren't for you, we would not be in the White House."

— President Obama on May 27, 2009, at a DNC Hollywood fundraiser where 250 studio executives, directors and stars doled out ,200 a person.
Well, well — what a difference a year makes…or not. Tonight the President has his hat out in hand in oh-so-gay Hollywood, this time for the Democratic Congressional Campaign Committee. In a piece in The Hollywood Reporter, it's noted that unlike Bill Clinton, Barack Obama doesn't care for hobnobbing with the L.A. movie stars, he just wants their dough — and they are still willing to give it to him, even though he's failed to deliver anything of significance, particularly to the LGBT community.
This evening's fundraiser featuring Speaker of the House Nancy Pelosi takes place at the Hancock Park home of "ER" and "The West Wing" executive producer John Wells and benefits the Democratic Congressional Campaign Committee. The usual gang of Hollywood A-listers will be in attendance: the host committee includes J.J. Abrams and wife Katie McGrath, Alan and Cindy Horn, Barbra Streisand, the Katzenbergs, and Kate Capshaw and Steven Spielberg (though the S and K of DreamWorks SKG aren't expected to show).
You have to read between the lines of Obama toady, Newsweek's Jonathan Alter, who won't risk losing his access to the WH (and he happens to be pimping a book on the President, btw) to actually hold him accountable.
During his Los Angeles book party for "The Promise: President Obama. Year One," Newsweek columnist Jonathan Alter spoke with Hollywood's glitterati and literati at the Westside home of Sony Pictures Entertainment CEO Michael Lynton (who also happens to be his brother-in-law). Director Jay Roach, "House" executive producer Paul Attanasio, "Little Miss Sunshine" producer Ron Yerxa and more than 100 others gathered to grill Alter with questions about the president.

"I didn't detect any anger, (but) on one level they are disappointed," Alter said about the Hollywood community. "On another level, there's residual admiration for him and an understanding they don't know about the details of his job."

On many issues about which the guests cared — the environment and gay rights, among them — Alter said the matters simply are out of Obama's hands. "Climate change went through the House but failed in the Senate," he said. "Don't Ask, Don't Tell requires an act of Congress, and Obama needs (Joint Chiefs of Staff chairman) Adm. (Mike) Mullen to lead the way."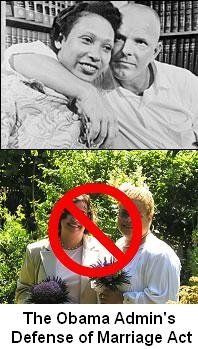 In other words, they don't know how the sausage is made; they just throw him the check and buy the nicely packaged and marketed sausage when it comes out of the factory.
Our problem is our sausage never makes it out of the factory. They keep grinding the innards over and over…
The only player quoted in the piece has feet grounded in reality about the complete PR mess coming out of the WH on marriage equality and even then, Bruce Cohen has no grasp pf common sense regarding the political time squandered by administration's foot-dragging.
The area in which Hollywood expresses its dissatisfaction most clearly is over Obama's track record on gay rights. Activist Bruce Cohen, the "Milk" and "American Beauty" producer now working on next year's Oscars telecast, insists that "it's not time to grade him yet — we haven't even gotten to the midterm exams" but still feels some administration stands are conflicted.

"We've not had presidential support on gay marriage itself, though Obama said that (California's) Proposition 8 was unconstitutional, which we appreciated," he said. Still, "we're hoping one of the things the case does is make people realize you can't be against Prop. 8 and be against gay marriage."
If only these Hollywood deep pockets would join "Don't Ask, Don't Give" instead of enabling this party and President, the admin and Congress would sit up and take notice.
Perhaps it's time to have protests at these tony private fundraisers as well; stopping the cash flow is apparently the only way to make them see the need to get our sausage packaged and out of the factory.
Pool report:
Motorcade departed at 6:10 Pacific time from the Beverly Hilton, speeding down Century City and Olympic boulevards, where Angelenos snapped cell phone pictures and waved. One held a small sign proclaiming, "We need jobs," but this was a friendly crowd. Motorcade turned onto Hudson Avenue, passed lush lawns and lovely houses to the home of John Wells, producer of television shows such as West Wing, ER and China Beach.

The 10-minute ride brought us to a landscaped front yard that was more English garden then lawn, with topiaries, paths, and a fountain with a large great blue heron spouting water.

The event has raised million. Entry was ,500, but co-hosts, such as JJ Abrams, Steven Spielberg and Kate Capshaw, Cindy and Alan Horn, Marilyn and Jeffrey Katzenberg (not actually here), Janet and Tom Unterman and Barbra Streisand (not actually here) paid ,400 a couple.

Judd Apatow is also here, as is House Speaker Nancy Pelosi and Democratic Congressional Campaign Committee Chairman Chris Van Hollen. Former NFL head coach Dennis Green is also here, as is Taye Diggs and wife and Tony Award winner Idina Menzel, who will entertain.

Here's the whole list:

Additional Attendees

Members of the California Congressional Delegation expected to be in attendance:

Speaker Nancy Pelosi

Chairman Howard Berman

Congressman Brad Sherman

Congresswoman Barbara Lee

Congressman Joe Baca

Congresswoman Laura Richardson

Congresswoman Judy Chu

Congressman John Garamendi

Labor Secretary Hilda Solis

Los Angeles Mayor Antonio Villaraigosa

Former CA State Speaker and Congressional candidate Karen Bass (Bass is running CA-33, the Diane Watson open seat. The event is being held is Congresswoman Watson's district)