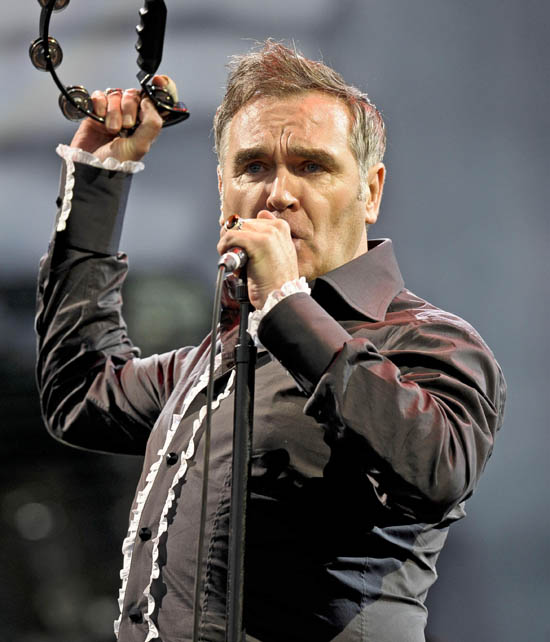 The Morrissey online zine True To You reported Monday that the singer was bit by a dog. And it doesn't sound too pretty.
Information regarding Morrissey's hand and arm injuries; Morrissey's show at the London Palladium sold out in five minutes
11 July 2011
Morrissey sustained hand and arm injuries recently after being attacked by a dog in England. Morrissey has attended hospital in Malmo (Sweden) where x-rays reveal a fractured index finger on his right hand. The cracked bone is at the tip of the finger. The injury will not affect upcoming shows.
Morrissey is delighted with the news that tickets for the London Palladium sold out in five minutes.
Dog bites suck but this kind of punctuates his mild streak of bad luck. In an interview with Pitchfork last month, the out singer mentioned his new album is complete but he won't record it without a label. And apparently they're not calling him. Ouch. 
• CBS reports that Madonna is officially in the studio recording her 12th album. This will be the follow-up to 2008's God-awful Hard Candy. She's working with producers David Guetta and A-Trak, according to Rolling Stone, but Idolator mentions a whole slew of names on the potential collab roster. 
• As U.K.'s News of the World came to a screeching halt, George Michael publicly declared his elation over Rupert Murdoch's questionable publication. Monday, the singer was on a Twitter rant that was both interesting and entertaining. Now he's going to be asked about them, according to this tweet.
Could Michael have a new career as a media pundit? Monday's tweets have been utter gold.