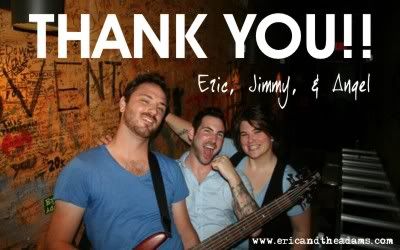 Eric and the Adams performed their final show as a trio last night at The Hunt Club in Tulsa, Okla. where the band is based. The band has played Dallas many times and singer Eric Himan has come to town as a solo act. The last we saw of any of them was Himan opening for Jay Brannan back in December. Himan and Angel Adams' have both left letters on the band's site saying their goodbyes and citing reasons the band was dissolving — going in different directions, having babies.
We're kinda sad to see them go. The band has been overly courteous to the Dallas Voice always being open to interviews and reviews.
Good luck guys in your future endeavors and we hope that last show killed! We love all your original work but we're just gonna go back and remember the time you covered the Beastie Boys at Sue Ellen's. Mmmk?