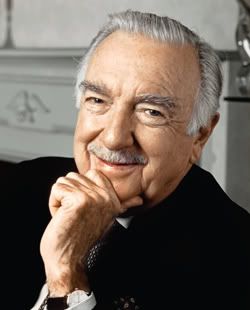 Kudos to Rachel! News legend Walter Cronkite, who passed away at 92 in July 2009, would be proud of this recipient of the award in his name. Rachel Maddow joins the company of Peter Jennings, Tom Brokaw, Larry King, and Bill and Judith Moyers.
The Interfaith Alliance announced Monday that it would award its 2010 Walter Cronkite Faith & Freedom award to the MSNBC anchor in honor of her work covering religion and politics. Maddow will receive the award alongside Chautaqua Institution Department of Religion Director Rev. Dr. Joan Brown Campbell.

The award, which will be presented at a gala dinner in New York in October, "recognizes individuals who courageously promote democratic values, defend religious freedom and reinvigorate informed civic participation," according to the announcement.
Interfaith Alliance President Rev. Dr. C. Welton Gaddy: "Rachel's passionate coverage of the intersection of religion and politics exhibits a strong personal intellect coupled with constitutional sensitivity to the proper boundaries between religion and government."
***
I was always a big fan of Walter Cronkite. I would ask my mom if we could have Walter Cronkite over for dinner because I wanted to ask him about the news. She said that was the only person on TV that I ever asked that about. That never came to pass, of course, but I watched him cover the news of the day with rapt attention.
And there's probably some little girl out there watching Rachel Maddow each night, dreaming the same dream about having her over to dinner to discuss politics.
Related:

* Missing dinner with Walter Cronkite
Pam's House Blend – Front Page