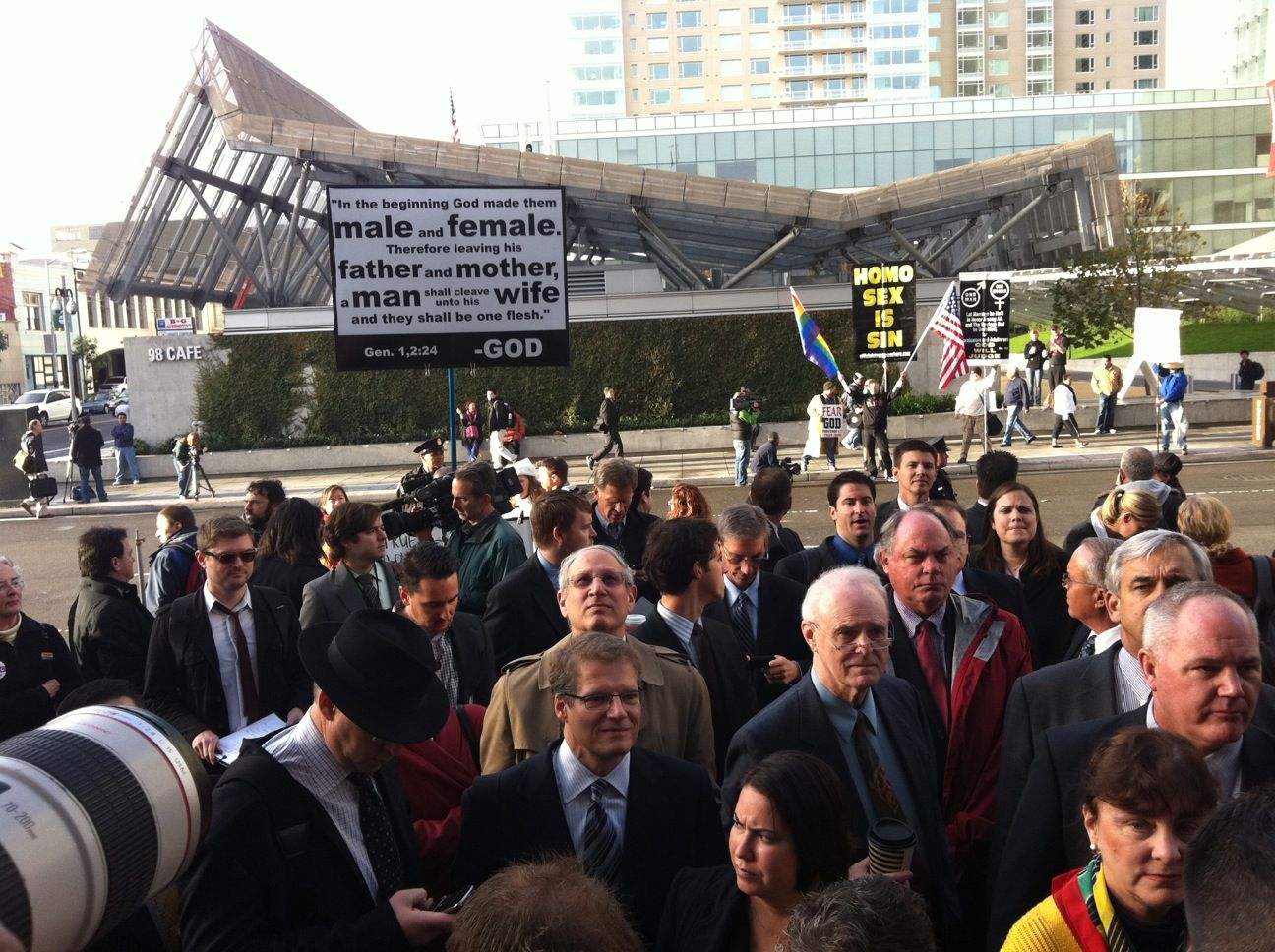 NOTE FROM PAM: Bumping up Lurleen's prep post from yesterday. New Blend content is below. Photo: Keen News Service via Twitpic.
At 12:30 PM ET The Blend will feature live discussion and analysis on the front page courtesy of Americablog, hosted by Joe Sudbay and featuring commentary by contributor and California lawyer/activist Liz Newcomb and USC Constitutional Law Professor David Cruz, who "is a constitutional law expert focusing on civil rights and equality issues, including equal marriage rights for same-sex couples." AB's prep docs are here.
Another good primer: Chris Geidner's Prop 8 Argument Day FAQ Top 10 questions at MetroWeekly.
---
Was Justice Vaughn Walker's
ruling
correct that Prop 8 is unconstitutional? Do the proponents of Prop 8, Yes on 8, have standing to appeal his decision? These are the two major questions before the 9th Circuit Court of Appeals on
Monday, December 6th at 10 a.m. PST
. The hearing is scheduled to last 2 hours.
The case is called Perry v. Schwarzenegger and will be heard at the James R. Browning Courthouse, 95 7TH Street in San Francisco, CA. Unlike the earlier trial, this hearing will be televised, tweeted and blogged. From American Foundation for Equal Rights:
Watch Online

AFER and Towleroad.com have teamed up for live coverage and commentary during and following the hearing. Check back here for details.

Featuring Richard Socarides, Attorney and White House adviser under President Bill Clinton and bloggers Andy Towle and Corey Johnson.

Watch on TV

C-SPAN and The California Channel and San Francisco outlets: KGO-TV, KRON-TV KTVU – Channel 2, ABC News

Listen/Stream Audio

ABC News, KCBS radio, KGO radio, KQED News
For a list of federal courthouses in CA, OR, WA, NY & MA live streaming the hearing click here. And of course the Courage Campaign's Prop 8 Trial Tracker will be covering the proceedings.
Significantly, California Attorney General-elect Kamala Harris said she will not seek to defend Prop 8. This means that if the 9th Circuit rules that the defendants have no standing to defend Prop 8, the case is over provided that Yes on 8 is unsuccessful in appealing the 9th Circuit's decision to the US Supreme Court. It may take the court several weeks to release their decision. You can read the documents submitted to the 9th Circuit Court appeal on the Court's special website here.
Update: San Diego Lesbian & Gay News has posted a fascinating exploration of the possible outcomes for this case, penned by legal expert Ari Ezra Waldman.
Pam's House Blend – Front Page