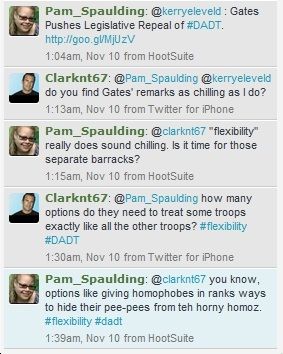 Right: a conversation about the absurdity.


Number one, it's hard to take anything Secretary of Defense Robert Gates says regarding repeal at this point, since he's been part of the foot-dragging maneuvers to begin with. Number two, for him to cite legislative repeal as giving the military more "flexibility" in handling implementation of repeal only raises more questions about what the Pentagon's "needs" are related to rollout. (The Advocate):
In making his case, Gates referenced a two-week period in October when the Pentagon went through "four different policy changes" after a federal judge issued an injunction on the law and then denied a stay request until she was overruled by a higher court.

"So I, I think we have the least flexibility – we have the least opportunity to do this intelligently and carefully and with the kind of preparation that is necessary, if the courts take this action as opposed to there being legislation," Gates concluded.
What does he mean? What flexibility in implementation and preparation would be hampered by the courts? Does he want to leave asinine ideas like separate-but-equal quarters on the table for the homophobes in the ranks at the Pentagon's disposal? Left alone, Gates's remarks leave much to be desired (and that's being charitable).
Pam's House Blend – Front Page