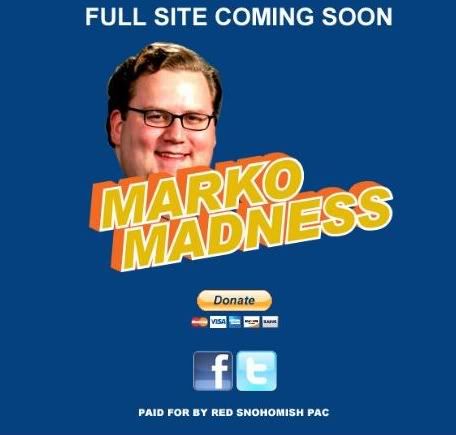 "New attack website created! Can't wait to see the negative attacks that www.MarkoMadness.com cooks up. It's the oldest trick in politics: if you don't have anything productive to say, distort and attack!"
My interest was piqued Friday when I saw the comment above appear on Rep. Marko Liias's (D-Edmonds) campaign Facebook page. Marko is a highly-respected openly-gay Washington state legislator facing a tea party candidate in the November election. Marko was the prime sponsor of the safe schools law which was passed unanimously by the legislature last year – a spectacular accomplishment. I had to find out who was promising to sling mud at Marko.
The website (pictured right) states that it is paid for by Red Snohomish PAC. Thirty seconds on the Public Disclosure Commission website revealed that Red Snohomish PAC is the project of Andrew Funk of Mountlake Terrace, WA.
The name Andrew Funk might ring a bell for two reasons. First, Andrew Funk was the Eagle Scout and college undergrad who was a 2009 candidate for Mountlake Terrace City Council. He lost the election, but not before refusing to state his position on Referendum 71 during a candidate forum. Funk lost that election to Doug McCardle who stated "I am for equal rights for everyone".
The other reason Andrew's name rang a bell would seem to explain his interest in setting up the MarkoMadness website. In 2008, Funk was Marko Liias's opponent in the race for Washington state Legislature. Funk not only lost both the primary and general election, he got trounced by Marko: 61% to 39% in the primary, and 64% to 36% in the general. His new website is looking like major sour grapes.
I do have to wonder whether the promised "week[ly] vote for the top reason to remove Rep. Marko Liias…from office" will be based on bits of red meat fed to Andrew Funk by the Elizabeth Scott campaign. Scott is Marko's challenger this election cycle, and her campaign has already proven itself willing to hit below the belt by attacking Marko's family. These comments, posted in August, are from Marko's Facebook wall:
Attack of the week: The Scott campaign is staring a huge primary loss in the eyes, the new strategy? Attack my family! It's the traditional Republican playbook…

My opponent's campaign is trying to drag the failure of my family's construction company and make it a political issue… Punch me all you want, but don't drag the rest of my family back through an excruciating time in our lives.

[B]oth parties have used personal attacks to win campaigns. I guess my preference is that we focus on the issues, since there is plenty of disagreement there. At a minimum though, I think we should all agree to leave our family out of the spotlight…
By the way, I am mad about Marko and so was pleased to see him entertain a supporter's idea that he print up MarkoMadness t-shirts as a campaign fundraiser. Making wine out of sour grapes, gotta love it!
To find out more about Marko and the great things he's done for the 21st and Washington, check out his website.
Pam's House Blend – Front Page