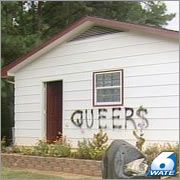 Venore, TN is reeling from what is being investigated as a hate crime against Carol and Laura Stutte, whose home was destroyed in a fire this week. The garage had "QUEERS" spray painted on it. The couple had been routinely harassed by a homophobic neighbor. (WATE):
Carol Stutte has an adult daughter from a previous relationship who also lived with them. At the time of the fire, they were in Nashville celebrating their fifth anniversary in Tennessee.

"My daughter was supposed to be here. She was sick," Carol Stutte said. "I was grateful my baby girl didn't get killed in this fire. She would have been trapped in the basement."

…Carol Stutte says her partner is too afraid to come back to the property since the fire. She says they've been harassed all five years they've lived there by one neighbor.

She also says recently the neighbor threatened to kill them and burn down their house," Stutte said. "I knew we had been threatened, but we never thought anything would be followed through."
PFLAG-Maryville is getting the word out about immediate needs of this family for those who are asking how they can help.
The Stuttes have identified the following immediate needs:
Women's clothing size 10 and size 16

Women's clothing for college-aged daughter size 18

Women's shoes size 6, 8, and 9

Toiletries (soap, toothbrush, toothpaste, deodorant, shampoo…)

Dog food for 3 dogs (Purina Dog Chow)

Women's scrubs size small in both top and bottom (Navy Blue along with other styles/color)

Other items that could be useful…used laptop, tools, cleaning supplies, gift cards (dept. store, grocery, restaurant), storage tubs.
Options for donating $$: TVUUC, MCCK, Knoxville Pridefest.
A letter from activist David Massey is below the fold.
Sept. 10, 2010–David Massey Email

All,

Please forward this email to your friends and networks.
The two-story home of a lesbian couple in Vonore, TN, was completely destroyed by fire this past Saturday evening, and there is little doubt that it was arson. The word "Queers" was painted in large letters on the side of the garage. WATE covered the story; go to www.wate.com.

Efforts are underway to support the couple, Carol Ann and Laura Stutte, and their adult daughter.

First, the newly formed Maryville chapter of PFLAG (Parents Families & Friends of Lesbians and Gays) will be gathering needed clothing and household items.

Second, the Tennessee Valley Unitarian Universalist Church is collecting financial donations. Please make your check payable to TVUUC and write "Vonore Family Fund" in the memo line. Send the check to Vonore Family Fund, c/o TVUUC, 2931 Kingston Pike, Knoxville, TN 37919. This fund starts off with a 0 donation from the Knoxville Area chapter of PFLAG. Please include your email address so we can let you know how much money was raised.

Third, we want to be sure that the arson investigation is not swept under the rug, and there is reason to believe that it could be. If you know a Tennessee state representative or senator, please call that legislator and urge him or her to contact the Tennessee Bureau of Investigation and express interest in the arson investigation at 2715 Highway 360, Vonore, TN 37885.

Fourth, join the campaign to write a letter to your local newspaper… or post messages on media websites … expressing your outrage at such hate crimes in the state.

Stay tuned for a possible "gathering of support" for this family.

David Massey