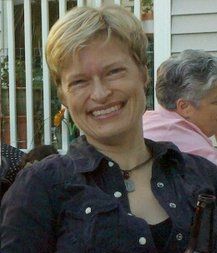 Kerry Eleveld, whose reporting and commentary at The Advocate are often linked to here at the Blend, received a well-deserved award from her peers. It's always good to know that she's in the White House Press Briefing room to show what it takes to get a straight — ahem — answer out of Robert Gibbs. (NLGJA):
Kerry Eleveld of The Advocate has been selected to be honored with the Sarah Pettit Memorial Award for Excellence in LGBT Media. Named for the late Newsweek journalist and founding editor of Out magazine, the award recognizes outstanding contributions of a journalist working in the LGBT media.

Of Eleveld's work, judges said: "Eleveld needs to be commended for pushing for a D.C. bureau for The Advocate," as well as "From her unique place inside the White House, she's consistently making news and controlling the direction of news stories."
Having an out reporter focusing on our issues in that briefing room has made a huge difference in how this administration and the rest of the journalists in the room perceive the community. It inevitably draws more attention and competition for the MSM to cover our issues better — and more accurately. And having spent some time around Kerry, she is never "off-duty." The above photo was taken in Maine during a party; I don't think she filed any stories from there.

One thing I'd like to mention Kerry has to walk a fine line; while she is recognized for her reporting with this award, she is equally well-known for her "View from Washington" column, her commentary on issues (including some of the stories she covers), where she is able to give more in-depth perspective. This dual role is actually a more beneficial and honest presentation to the community – the fantasy line of "journalistic objectivity" is crossed all the time by the MSM; why not just do the right thing and label reporting and commentary. What a concept.
Congratulations, Kerry. Don't let the accolades go to your head – even though Gibbs is still scared of your raised hand in the briefing room. Joe has more, including video of Kerry sparring with Gibbs.
The other award winners are below the fold…
The 2010 NLGJA Excellence in Journalism Awards:

Journalist of the Year Award

Winner: Randy Gener, American Theatre magazine

Honorable mention: Carolyn Lochhead, San Francisco Chronicle

Sarah Pettit Memorial Award for Excellence in LGBT Media

Winner: Kerry Eleveld, The Advocate

Excellence in News Writing Award

Winner: Jen Colletta, Philadelphia Gay News, "Researchers: Gays Excluded from Clinical Trials"

Honorable mention: Phillip Zonkel, Press-Telegram, "Suffering in Silence"

Excellence in Feature Writing Award

Winner: Benoit Denizet-Lewis , The New York Times Magazine, "Coming Out in Middle School"

Honorable mention: Alfred P. Doblin, The Record, "Stonewall Started It"

Excellence in Opinion Writing Award

Winner: Maya Rupert , LA Watts Times, "I Believe in America "

Honorable mention: LZ Granderson , CNN, "Gay Is Not the New Black"

Excellence in Network Television Award

Winner: Bud Bultman, Rose Arce, Dave Timko, Amanda Sealy, and Steve Keller, CNN, "Her Name Was Steven"

Honorable mention: Jacqueline Gares and Amber Hall, In the Life, "40th Anniversary of Stonewall"

Excellence in Radio Award

Winner: Jad Abumrad and Aaron Scott, Radiolab, "New Stu"

Honorable mention: Tim Curran, Aaron McQuade and Dave Gorab; Sirius XM OutQ News; "Stonewall 40 Minutes" series

Excellence in Online Journalism Award

Winner: Dave Singleton and Team, AARP.org, "The Stonewall Riots: 40 Years Later"

Honorable mention: Jessica Bennett, Kathy Jones, Margaret Keady, Jennifer Molina, Monica Parra and Carl Sullivan ; Newsweek.com; "From Stonewall to Mainstream"

Excellence in Photojournalism Award

Winner: Scott A. Drake, Philadelphia Gay News, "PDA With a Purpose"

Excellence in HIV/AIDS Coverage Award

Winner: Michel Martin and the staff of Tell Me More, Tell Me More/NPR

Honorable mention: Jennifer Morton, POZ, "How Stigma Kills"

Excellence in Student Journalism Award

Winner: Todd Cross , Syracuse University multimedia graduate student, "Transgender: The Path to One's Identity"

Honorable mention: Laura Lofgren, Fusion magazine, "The Importance of Being Aaron"

Founded in 1990, NLGJA is the leading professional organization for LGBT journalists with 20 chapters nationwide, as well as members around the globe. This year, NLGJA celebrates two decades of advocating for fair and accurate reporting on LGBT issues