Am I the only one willing to stand up for marriage as an institution of one man and one woman?

Am I the only one willing to stand up for a U.S. military unencumbered by perverse social experiments?

Am I the only one willing to stand up for liberty as a gift of God?

— WorldNetDaily's Joseph Farah, continuing his public psychological meltdown in today's column, "The homo con continues"
Ah, I love the smell of schadenfreude in the morning. It appears that poor Joseph Farah believes he stands alone in fighting the Homosexual Agenda these days. The level of desperation and flop sweat makes for excellent blogging opportunities here at the Blend, but I can't help feeling that we're really watching someone mentally unravel over the political changes afoot.
In yet another column (it's up to a near daily e-blast or WND editorial at this point), Joseph Farah attacks GOProud, blaming the gay conservative organization for: 1) convincing Ann Coulter to come to HOMOCON; 2) having the gathering hosted at PayPal co-founder Peter Thiel's house (he's a libertarian, btw); 3) apparently "pro-gay brainwashing" a bunch of prominent conservatives to attend.
Sponsors for the Homocon event now include:

Conservative Political Action Conference director Lisa DePasquale;
Americans for Tax Reform President Grover Norquist, who sits on GOProud's board;
John Hawkins of Right Wing News;
Fox News contributor Margaret Hoover;
Craig Engle, former general counsel to the National Republican Senatorial Committee.

Suffice it to say, I told you so.

I told you this event was aptly named. It literally represents the homo conning of the Republican Party and the conservative movement.
Now, Joe, all of the above people are attending and sponsoring of their own free will, so I presume that they want to be there, not jawboning with you about The Homosexual Agenda taking over the Republican party. I would, however, assume that they are thumbing their noses at your Bedroom Peeping Agenda.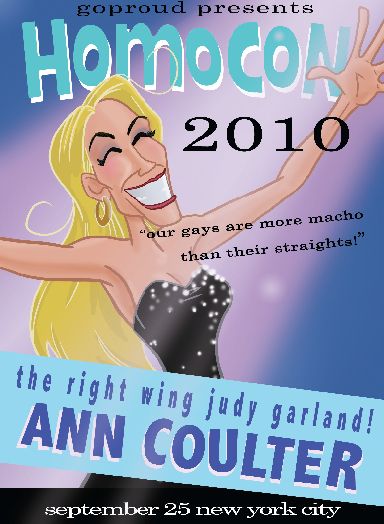 Farah is really pissed at Coulter – she's apparently earned as special place in Joe's Hell; look at the path of social destruction he now applies to her (keyboard alert);
When I said Ann Coulter was giving validation to this group, this is what I meant. She has opened the floodgates for participation and support for a group that favors:

liberty-destroying hate-crimes legislation;

same-sex marriage;

open homosexuality in the U.S. military;

special government perks for homosexuals.
I'm trying to figure out what these special government perks are. Do you all have any ideas about that? Free toasters? Babies to eat? WTF?
The vast Farah ego that is now being crushed by rejection from these conservatives has him claiming "last man standing" status to save society – with his "Taking America Back National Conference." Do I hear a plea for attendee$? Pull out the tiny violin…
We are witnessing the destruction of Washington's conservative establishment before our eyes.

And what a time for capitulation – on the very brink of the biggest electoral mid-term congressional victory in modern American history!

Again, I repeat: I'm not seeing anyone of prominence in the Republican Party or the conservative movement standing up to this wholesale retreat on some fundamental conservative issues.

…This kind of appeasement of the open celebration of sin represents the camel's nose under the "big tent" that some conservatives and Republicans are so hell-bent on building.

There is a way that every non-celebrity conservative and Republican who recognizes this capitulation by the conservative establishment in Washington for what it is can stand up and be counted.

Join me in Miami for what has been planned as an alternative to this kind of surrender – the "Taking America Back National Conference" Sept. 16-18.

Stand up proudly for marriage, freedom and national security with me.
Here are the high-caliber people who will stand up proudly with Joe. I'm not seeing the future of the GOP in this crowd.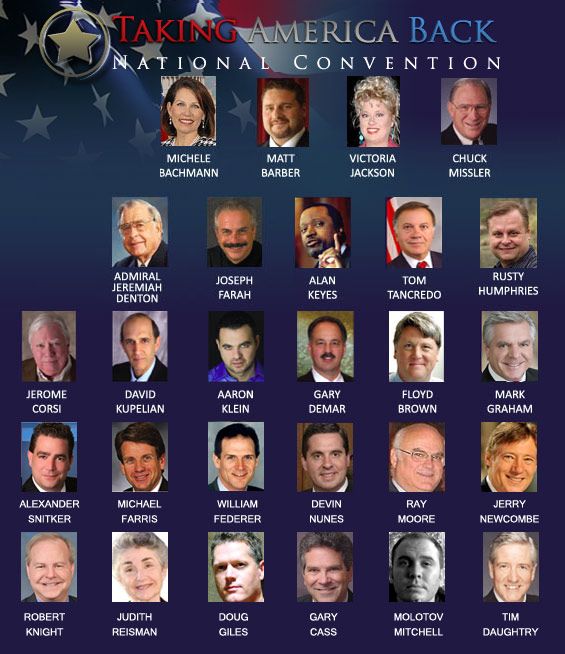 Related:

* WND's Farah obsesses over GOProud's 'infiltration and subversion of the conservative movement'

* Mike Signorile interviews WND's Farah – on Coulter's 'betrayal': 'My Eyes Have Been Opened'

* Coulter on fundie Take Back America confab: 'They're a bunch of fake Christians'

* WorldNetDaily's Farah in complete meltdown as high-profile conservatives 'embrace the homos'
Pam's House Blend – Front Page