4:05 PM ET: From live presser re: AZ shooting – surgeon says he's "as optimistic as he can be" about Giffords' recovery (full recovery unclear). Surgery over. One child shot has died. Federal authorities identify the gunman as Jared Laughner of Arizona, born September 1988.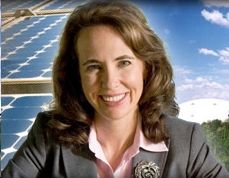 U.S. Rep. Gabrielle Giffords was hosting her first "Congress on Your Corner" at a Safeway supermarket in northwest Tucson when she and at least 12 people were shot.
This is the first female member of Congress targeted for assassination; Giffords is a member of the LGBT Caucus. From LGBTPOV:
This blogger notes that Gifford was on Sarah Palin's political hit list for her support of healthcare reform. The blogger agrees and says: "I intend to do my part to help make her pay."

"As those of us who follow Sarah Palin's political activity are aware, the former Governor of Alaska has strongly recommended that We the People Take Back the 20 in the November elections. The 20 under discussion are legitimately vulnerable Democrats up for reelection to Congress this fall and who also live in voting districts that went for McCain/Palin in 2008. One of those Democrats is Representative Gabrielle Giffords of Arizona's District 8.

Gaby Giffords is also on my personal political hit list, primarily because Pam and I live in Cochise County, Arizona, which is part of District 8. We don't appreciate our Representative going against our wishes and voting for Obama's Health Care Deformed…and I intend to do my part to help make her pay."
From CNN:
UPDATE: The right-wing blogger took his post down but here's a screencap: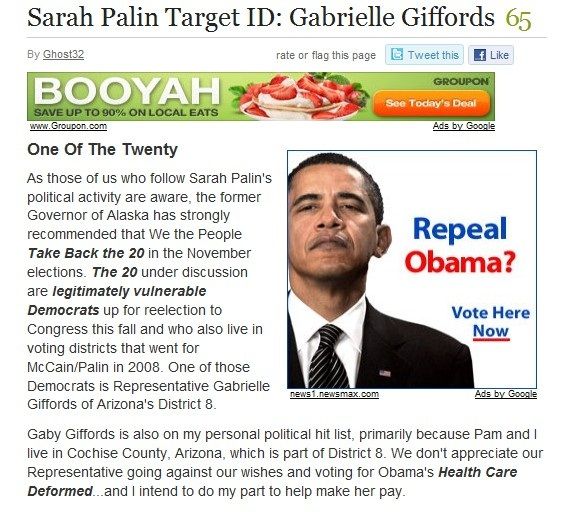 UPDATE #2: Sarah Palin has taken down a page from the SarahPAC website that showed Rep. Giffords and others targeted in Tea Party cross hairs.
Sarah Palin's statement on her Facebook page: (be sure to check out the comments)
My sincere condolences are offered to the family of Rep. Gabrielle Giffords and the other victims of today's tragic shooting in Arizona.

On behalf of Todd and my family, we all pray for the victims and their families, and for peace and justice.

– Sarah Palin
Statement from the President:
THE WHITE HOUSE

Office of the Press Secretary

_____________________________________________________________

FOR IMMEDIATE RELEASE

January 8, 2011

STATEMENT BY THE PRESIDENT

This morning, in an unspeakable tragedy, a number of Americans were shot in Tucson, Arizona, at a constituent meeting with Congresswoman Gabrielle Giffords. And while we are continuing to receive information, we know that some have passed away, and that Representative Giffords is gravely wounded.

We do not yet have all the answers. What we do know is that such a senseless and terrible act of violence has no place in a free society. I ask all Americans to join me and Michelle in keeping Representative Giffords, the victims of this tragedy, and their families in our prayers.
UPDATE 3: Giffords interviewed recently about being "targeted":
Visit msnbc.com for breaking news, world news, and news about the economy

"We're on Sarah Palin's targeted list, but, the thing is, that the way that she has it depicted, has the crosshairs of a gunsight over our district. When people do that, they've got to realize there's consequences to that action."