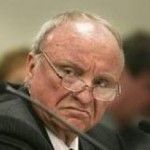 How petty, small, mean, and bigoted does someone have to be to want to roll back protections for children in schools? Look no further than Turd Extraordinaire Chris Buttars. (Pride in Utah):
Senator "black babies are dark and ugly things" Chris Buttars was recently named as chair of the State Public Education committee, despite his call in 2010 to eliminate the 12th grade as "unnecessary." It appears he plans to use his latest position of power as much possible in his war against civil rights. His proposed resolution, SJR 1, strips the State School Board of the power to make changes to their policies unless they are already provided by statute. In other words, take away the protections for straight and LGBT kids from bullying, and the non-discrimination rules for district employees.
And here is the money quote from Buttars, who seems to have difficulty with church/state separation:
"We're in big trouble in our public education system. I didn't realize how much until a month ago when I was asked to chair public education appropriations," said Buttars. "We met and when we got done we were all so terrified we couldn't believe it. This was right under our nose."

"By accepting that, there's no God because he deals in absolutes," said Buttars. "This is an entire program to bring America down and I want to tell you right now it's well entrenched in Utah."
You can read his bill here.
NOTE: PRIDEinUtah will hold a rally on the opening day of the Utah Legislative session –January 24th, at 5:30pm in the rotunda of the Utah State Capitol Building.
Pam's House Blend – Front Page