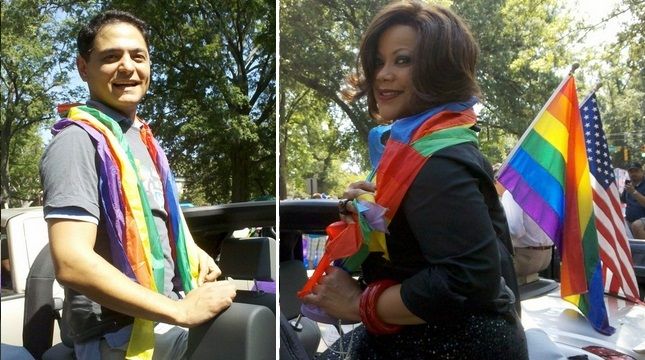 Photo: The openly gay Mayor of Chapel Hill, Mark Kleinschmidt (l) and local anchor/reporter for the CBS affiliate here, WRAL-TV's Pam Saulsby. It's her first appearance at Pride. There's a photo of me with Pam floating out there somewhere. Hopefully it will turn up.
---
I wasn't feeling too well today (lots of muscle pain), but I got myself together to head downtown to Duke's East Campus on Main Street where the parade for NC Pride is held each year.
Durham is an excellent host town, with a very LGBT-friendly police and fire department, and LGBT and gender-non-conforming folks can take over the city without fear of some fundie eruption (outside of protesters). The neighborhood here is Old West Durham and I ran into the association prez, my friend John Schelp, along with ally City Councilman Mike Woodard (you'll see them in the photo album).
I didn't see any this year, but I didn't walk the parade route this time, so if any Blenders were there, please report on whether Operation Save America or one of the local Baptist/evangelical churches bothered to come out in the gawdawful heat.
We hold Pride in September to avoid a sweatbox, but we were SOL this year as temps were in the 90s. My car registered 102 when I got in it. My feet were on fire from walking on the cooked asphalt. The searing heat went through my shoes! On my way back to the car, I stopped to chat with one of our friendly police officers and he had parked himself in the numerous areas of shade provided by the pin oaks on campus near the sidewalk. He was still burning up, since his uniform is of course polyester (eek), and the bulletproof vest underneath is like insulation. I don't know how they do it.
Anyway, I did take photos and video with my Droid phone just to give you a sense of the festivities.
Here's the video I mostly shot the colorful floats, noisy stuff, dancing scantily-clad men, etc. It's tame by gay metropolis standards, but hey it's the South!
A photoalbum is below the fold. It gives you a better idea of who was marching — lots and lots of LGBT-affirming churches, many people of color (black and Latino) and a ton of parade watchers and supporters. I don't have a head count yet.