Elizabeth Taylor hospitalized after suffering symptoms from congestive heart failure.
Time magazine cover photo awarded "World Press Photo of the Year": "The woman it depicts is Bibi Aisha, who was 18 when she left her husband, a Taliban fighter, over claims of domestic abuse. In an act of retribution, the Taliban allowed him to cut off her ears and nose. Aisha's husband abandoned her after the assault; American soldiers and aid workers later rescued her and transported her to the United States–where she now lives–for reconstructive surgery."
Tom Cruise to star in the Hollywood version of Rock of Ages.
Moby Dick ship discovered in the Pacific Ocean.
Lowell, Massachusetts man wakes up to find his door covered with numerous anti-gay slurs.
Contestant on UK reality show admits to doing gay porn.
Scientists find that "Lucy" walked on two feet.
Disturbing rise in racist and anti-gay hate crimes in London.
Leonardo Dicaprio suits up as J. Edgar Hoover in LA.
Get ready for a Wonder Woman-themed brand of cosmetics from MAC.
Things just keep getting worse for Borders bookstores.
Nashville mayor says he will sign anti-discrimination legislation for gays and lesbians: "Nashville is known as a welcoming and friendly city and as a city that doesn't tolerate discrimination."
Lady Gaga's "Born This Way" is the fastest selling single in iTunes history.
Andrew Garfield keeps getting more and more acting gigs.
Rhode Island Republican House Minority Leader Robert Watson under fire for comments he made during an event at the Chamber of Commerce: "if you are a Guatemalan gay man who likes to gamble and smokes marijuana."
New spanish-language radio drama "Bienvenidos a Casa" focuses on gay Latino teen.

Towleroad News #gay
GLAAD has announced the nominations for its 2011 Media Awards, which honor excellence in a broad range of LGBT-related media, including movies, television, theater, newspapers, magazines, and digital journalism. A first-time category this year is Outstanding Blog, for which this here website thingy is nominated! My co-nominees are Bilerico Project, Blabbeando, Pam's House Blend, and Rod 2.0. All pals of mine! Below is GLAAD's highlight reel for this year's nominees in television and film. Click over for the complete listing of nominees in all categories.


As mentioned earlier, there were some big LGBT-related wins at the Golden Globes tonight. While Glee's Chris Colfer and Jane Lynch took home acting awards, the show itself won for best television series – comedy or musical. A complete list of winners, AFTER THE JUMP.
Winners at the 68th annual Golden Globes:
Movies
Best drama: The Social Network
Best comedy/musical: The Kids Are All Right
Actor, drama: Colin Firth, The King's Speech
Actress, drama: Natalie Portman, Black Swan
Actor, comedy/musical: Paul Giamatti, Barney's Version
Actress, comedy/musical: Annette Bening, The Kids Are All Right
Supporting actor: Christian Bale, The Fighter
Supporting actress: Melissa Leo, The Fighter
Best director/motion picture: David Fincher, The Social Network
Animated feature film: Toy Story 3
Screenplay: Aaron Sorkin, The Social Network
Original song: Diane Warren, You Haven't Seen the Last of Me (Burlesque)
Original score: Trent Reznor and Atticus Ross, The Social Network
Foreign-language film: In a Better World (Denmark)
Cecil B. DeMille Award (for lifetime achievement): Robert De Niro
Television
Best drama series: Boardwalk Empire (HBO)
Best comedy/musical series: Glee (Fox)
Actor, drama series: Steve Buscemi, Boardwalk Empire (HBO)
Actress, drama series: Katey Sagal, Sons of Anarchy (FX)
Actor, comedy/musical series: Jim Parsons, The Big Bang Theory (CBS)
Actress, comedy/musical series: Laura Linney, The Big C (Showtime)
Supporting actor in a series, miniseries or TV movie: Chris Colfer, Glee (Fox)
Supporting actress, series, miniseries or TV movie: Jane Lynch, Glee (Fox)
Actor, miniseries or TV movie: Al Pacino, You Don't Know Jack (HBO)
Actress, miniseries or TV movie: Claire Danes, Temple Grandin (HBO)
Miniseries or TV movie: Carlos (Sundance Channel)

Towleroad News #gay
The following comes from HRC Online Content Manager Dan Rafter:
HRC was recognized as one of the Top Five "Must-Follow Non-Profits" at the Fourth Annual Mashable Awards, which highlight the best of online social innovation. Congratulations to To Write Love On Her Arms (TWLOHA), which took home the top honor in the category. TWLOHA is a non-profit dedicated to helping those struggling with depression, addiction, self-injury and suicide.
Thank you to all who participated and voted for HRC! We recognize the power of social innovation to affect the change needed to advance equality. To that end, HRC dramatically expanded its online presence in 2010, with more than 670,000 fans on Facebook and 27,000 followers on Twitter.
HRC is on the forefront of innovation in advancing awareness on issues of lesbian, gay, bisexual and transgender equality across multiple platforms. Some of our highlights in 2010 included mobilizing for the repeal of "Don't Ask, Don't Tell,"; demonstrating broad support for equality through a National Coming Out Day application; and engaging web users in a photo mosaic aimed at raising HIV/AIDS awareness on World AIDS Day.
Thank you again for your votes and, more importantly, your continued commitment to advancing equality. We look forward to building on the great work of 2010 in the New Year.
And be sure to visit us online at www.hrc.org, follow us on Twitter @HRC and on Facebook at www.facebook.com/HumanRightsCampaign.

Human Rights Campaign | HRC Back Story
Neil Patrick Harris will host the eighth annual Spike TV Video Game Awards on Dec. 11, adding another bedpost mark for the actor, who's already led the Emmys, Tonys, TV Land Awards, and even the World Magic Awards. Give this man the Grammys already.
---
Permalink | Post a comment | Add to del.icio.us
Tagged: Neil Patrick Harris, spike tv, video game awards, Video Games

The Mashable Awards celebrate corporate, organizational and individual innovators in digital and social media. This year, HRC has been named one of the top 5 finalists in the "must-follow non-profit" category. Voting is open until December 14 at 11:59pm. You can vote for us once a day!
We're definitely going to need all the votes we can get. We're up against PETA, To Write Love on Her Arms, VH1 Save the Music Foundation and Vittana. The winner will be announced next month.
Thanks to everyone who helped us get this far.

Human Rights Campaign | HRC Back Story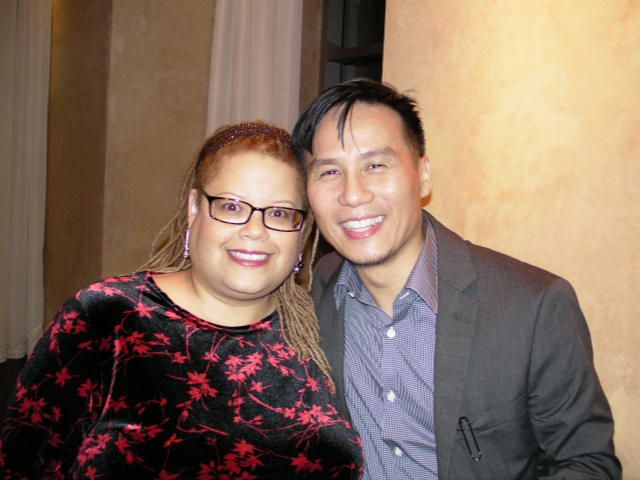 Blenders know I'm a big Law & Order: SVU fan. I am a big fan of BD Wong, and it was a privilege to meet him when I was honored, along with Bil Browning, Andy Towle and Joe Jervis, with the The New York City Anti-Violence Project (AVP) Award in 2009.
We've seen the high-profile violence against our community and the tragic suicides by our youth who don't see a future for themselves because of bullying. They have to know that is worth living and that being "different" is OK. it's essential that the messages of hope and resources are available to those affected by violence and discrimination — the work of AVP, The Trevor Project and efforts like Dan Savage's It Gets Better make it possible
BD contributed this touching video for the It Gets Better series:
***
In related news, among this year's recipients of the Courage Award is the Village Voice's staff writer Steven Thrasher, who will be with us on Monday at 8PM to liveblog about this award and his much-talked about piece, "White America Has Lost Its Mind":

Congrats to Voice staff writer Steven Thrasher, who has been awarded the 2010 Courage Award by the New York Anti-Violence Project — the oldest organization in the nation that combats violence toward and within the LGBT community. We are proud to have this amazing writer (and human) in our midst!

Stapel continued, "Your work at the Village Voice, particularly your coverage of proposed state funding cuts for domestic violence, has been exemplary. In recognition of your work as a community activist, advocate and journalist, we would like to honor you with a 2010 Courage Award. In accepting this award, you will join the distinguished company of past awardees including: progressive LGBTQ bloggers — Bill Browning, Joe Jervis, Pam Spaulding and Andy Towle, Tony Kushner, Emil Wilbekin and George C. Wolfe to name but a few."

Kudos, also, to Thrasher's co-honorees, journalist Duncan Osborne of Gay City News and the Paul Rapoport Foundation.

The event will be hosted by BD Wong, and will take place will on October 18 at the Prince George Ballroom on East 27th Street.
Pam's House Blend – Front Page
What to know what's happening with stars like Chris Colfer and Jane Lynch at the 2010 Emmy Awards? Click here for updates.
Advocate.com: Daily News
BEST BED AND BREAKFAST

Daisy Polk Inn
2917 Reagan St., Dallas.
214-522-4692
Sun.-Sat. 24 hrs.
Daisy Suite and Reagan Suite: $150 a night.
Dickason Suite: $129 a night.
DaisyPolkInn.com
The Daisy Polk Inn is every bit the grand dame that its namesake was. Built in 1904 and fully restored by 2002, the home was first owned by, who else, Daisy Polk — an "up and coming" star (according to the Dallas Press) of the Dallas opera scene who also taught at Hockaday School for Girls and passed away in 1980.
She lived at the Reagan Street address for 60 years. The gorgeous arts and crafts home now belongs to local pharmacist Wayne Falcone, who purchased the property in 1996. He lovingly restored it to its natural and historically correct beauty with the help of Dallas antiques expert and interior designer Gerald Tomlin.
Once the home was granted historical status and licensure to become a bed and breakfast, Falcone decided to open its doors to the public.
Guests can rent any one of the three rooms or the whole place if they prefer. Unlike typical B&Bs. Falcone turns over the keys to his guests, and they have the place to themselves until morning, when breakfast is served. And breakfast at the Daisy Polk Inn is no simple affair. From the china to the home-baked goodies, it is a lavish meal that guests won't soon forget.
— Jenny Block
---
BEST ROMANTIC GETAWAY
New Orleans, La.
Convention and Visitor's Bureau:
NewOrleansCVB.com
Visitor's bureau LGBT focus:
NewOrleansOnline GLBT
A little more than two years ago, most of America seemed to have written off New Orleans — it was destined to become a modern-day Atlantis, swallowed up by the sea and passed away into legend.
But the residents of the Crescent City would have none of that. They persevered, rehabilitating the city as quickly as possible and welcoming back tourists — especially gay tourists — with enthusiasm. (It helps that the French Quarter, the center of gay life, is above sea-level and was largely spared when the levees broke.)
Certainly bachelor revelers into great partying and easy hookups don't have to find a reason to frequent the Big Easy other than Mardi Gras and Southern Decadence, but the city's old antebellum charm makes it a romantic getaway for couples, too.
For exploring together, there's the fabulous architecture, much of it spared from the hurricane: elaborate wrought iron, ethereal churches, sprawling plantations on the outskirts (including one, Houmas House, where "Hush, Hush Sweet Charlotte" was filmed).
Then there's the food, an essential component whenever lovers get together. Creole and Cajun cuisine, from rich cream sauces to spices that can shoot steam from your ears, dominate, but the French influences extend all the way to the café au lait and beignets. And is there anything more romantic than a boat ride along the Mighty Mississip?
So yes, New Orleans is a great party town for solos, but we love to go there as pairs. After all, even couples know how to party.
— Arnold Wayne Jones
---
BEST AIRLINE
American Airlines
Corporate headquarters: 4333 Amon Carter Blvd., Fort Worth, Texas.
817-963-1234, 800-321-2121
Mon.-Sat. 24 hrs.
aa.com or American Airlines Rainbow

BEST NATIONAL ONLINE TRAVEL SITE
Travelocity
Corporate headquarters: 3150 Sabre Drive, Southlake, Texas.
888-872-8356
Sun.-Sat. 24 hrs.
Travelocity.com
BEST LOCAL ONLINE TRAVEL SITE
Best Gay Cruises
P.O. Box 59994, Dallas.
972-241-2000
Mon.-Fri. 9 a.m.-5 p.m.
BestGayCruises.com

BEST BUDGET HOTEL CHAIN
La Quinta
Corporate headquarters: 909 Hidden Ridge, Suite 600, Irving, Texas.
800-642-4271
Sun.-Sat. 24 hrs.
LQ.com


BEST LUXURY HOTEL CHAIN
Hilton Hotels
Eight hotels in the Dallas-Fort Worth area.
800-774-1500
Sun.-Sat. 24 hrs.
Hilton.com


BEST DALLAS HOTEL
W Dallas-Victory
2440 Victory Park Lane, Dallas.
888-625-5144
Sun.-Sat. 24 hrs.
WHotels.com/Dallas

BEST AIRPORT SHUTTLE SERVICE
SuperShuttle
SuperShuttle local office: 3010 N. Airfield Drive, Suite 100, DFW Airport, Texas.
With service to Dallas-Fort Worth International Airport, Dallas Love Field and Fort Worth Meacham International Airport.
800-258-3826
Sun.-Sat. 24 hrs.
SuperShuttle.com
BEST WEEKEND GETAWAY
Rainbow Ranch
1662 Limestone County Road 800, Groesbeck, Texas.
888-875-7596
Sun.-Thu. 8 a.m.-8 p.m.,
Fri.-Sat. 8 a.m.-10 p.m.
RainbowRanch.net

BEST LOCAL TOURIST DESTINATION
Sixth Floor Museum at Dealey Plaza
411 Elm St., Suite 120.
214-747-6660
Tue.-Sun. 10 a.m.-6 p.m.,
Mon. noon-6 p.m.
JFK.org
BEST LOCAL TOURIST TRAP
West End Historical District
214-741-7180
DallasWestEnd.org
BEST VACATION SPOT TO GET LAID
Palm Springs, Calif.
Palm Springs tourism bureau:
Palm-Springs.org

BEST EXOTIC DESTINATION
Hawaii
Official tourism site: GoHawaii.com
'GET ME OUT OF HERE!' DESTINATION
Jamaica
Visitor Web site: ComeToJamaica.com

These articles appeared in the Dallas Voice print edition March 21, 2008