The Minneapolis school board passed a unanimous resolution Tuesday that strengthens the LGBT curriculum and anti-bullying efforts.
Advocate.com: Daily News
Image of James part of CREDO Action post.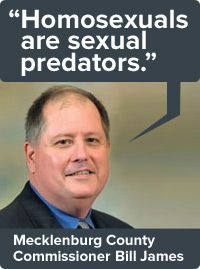 Matt Comer at QNotes live-Tweeted tonight's Mecklenburg Board of County Commissioners meeting (the Charlotte area) where an equality and tolerance resolution passed unanimously, and the night included debate — with overwhelming condemnation — over anti-gay commissioner Bill James's notorious recent "homosexuals are sexual predators" remarks.
From Matt's QNotes report:
The resolution, proposed by Cogdell and approved Tuesday night, read, in part: "…the Mecklenburg Board of County Commissioners affirms, proclaims and declares its public support for community values that embrace and promote equality, diversity, tolerance and inclusion; and stands united in firm opposition to inflammatory speech that may cause bullying, intimidation, harassment, persecution or discriminatory treatment of any individual because of their race, color, sex, religion or creed, national origin, ancestry, age, sexual orientation, veteran status or disability."

The unanimous vote marks one of the first times all Republicans on the Mecklenburg County board have voted in favor of a pro-equality statement. Several GOP members also made strong statements condemning James' remarks.

…GOP Commissioner Karen Bentley also voiced her support for the resolution and said James' comments were "beyond reproach" and "out of line with my Christian principles."
James, as usual, blew off the criticism (and probably enjoyed the attention). He was incredibly rude, not bothering to look up from his terminal to make eye contact with those addressing him.
During his debate on the resolution, James said homosexuality was "perversity, not diversity," and cited several laws and court cases he said showed homosexuality to be illegal. He also cited a 1988 study he says showed gay men more likely to molest children. The study, conducted by a Minneapolis-St. Paul medical center, contained less than 300 study participants and in no way connected homosexual men to molestation.
The Howard Brown Health Center of Chicago has surpassed its fund-raising target by more than 0,000.
Advocate.com: Daily News
With a few votes to spare, the Senate this morning passed the procedural hurdle — voting for cloture — on the standalone Don't Ask Don't Tell repeal bill. The full Senate will now vote, without risk of filibuster. From there, it's sent to the president's desk in time for a pre-Christmas signature. Keep in mind, kids: Signing the bill does not repeal the law. Military brass must "certify" the armed forces are ready for gay troops to serve openly, and there is no set timeline for them to do so. Repealing DADT, once Obama signs off on it, is then in the hands of Sec. Gates. So keep your sexuality to yourselves for the time being. But ya know what this means? According to Andrew Sullivan's timeline, Joe Solmonese gets to keep his job. And isn't that what everyone wanted Santa to give them this year? UPDATE: And it's off to the president. Around 3:30pm EST, the Senate wrapped it up with a 65-31 vote to pass the bill.
---
Permalink | 83 comments | Add to del.icio.us
Tagged: Barack Obama, DADT, Don't Ask Don't Tell, Harry Reid, Joe Lieberman, Joe Manchin, John McCain, Log Cabin Republicans, Military, Senate
Today the U.S. House of Representatives voted 250-175 on legislation to repeal "Don't Ask, Don't Tell." This historic action is the second time the House passed repeal legislation this year, the first coming in May with the National Defense Authorization Act, to which repeal legislation was attached.
Rep. Patrick Murphy and Majority Leader Steny Hoyer introduced the free-standing DADT repeal bill yesterday with identical language to the repeal amendment that passed in the House in May
"Today the U.S. House of Representatives said, for the second time, what military leaders, the majority of our troops and 80 percent of the American public have been saying all along – the only thing that matters on the battlefield is the ability to do the job," said HRC President Joe Solmonese.  "We are grateful to Majority Leader Hoyer and Rep. Murphy for championing repeal and for Speaker Pelosi's continuing leadership.  The Senate must now follow their lead."
Now all eyes shift to the Senate, where Senators Joe Lieberman (I-CT) and Susan Collins (R-ME) introduced the companion bill, S.4023, last week after the failed Senate vote to proceed to debate the National Defense Authorization Act, to which repeal legislation was attached.  The Senate bill currently has 48 bipartisan cosponsors.  The votes are there to repeal DADT, but the question is whether the Senate will make the time to pass this important piece of legislation before they go on vacation?
It is critical that you call your senators and tell them to support repeal this year. Call the Capitol Switchboard at (202) 224-3121 and ask them to connect you to your senator.
If repeal isn't passed before the Senate adjourns for the holidays, it will likely be years before there is another chance for repeal.

Human Rights Campaign | HRC Back Story
Today the Illinois Senate on passed a civil unions bill by a 32-24 vote. The vote comes just days after the House passed the same bill 61-52. The bill now goes to Illinois Governor Pat Quinn, who has  been a vocal supporter of the bill and is expected to sign the it into law
The bill, introduced by Rep. Greg Harris and passed by both the House and Senate, would permit both same-sex and opposite-sex couples to enter into civil unions and receive the same benefits, protections, and responsibilities under Illinois law that are granted to spouses.  The bill, however, does not provide for same-sex marriages.
In addition to Illinois, ten states plus Washington, D.C. offer state-level relationship recognition for gay and lesbian couples.  Connecticut, Iowa, Massachusetts, New Hampshire, Vermont and Washington D.C. provide committee LGBT couples the freedom to marry.  New York and Maryland recognize out-of-state same-sex marriages. Five other states—California, Nevada, New Jersey, Oregon, and Washington —provide same-sex couples with civil unions or domestic partnerships.
It is important to recognize that despite victories such as this,  same-sex couples do not receive federal rights and benefits in any state.  For an electronic map showing where marriage equality stands in the states, please visit: www.HRC.org/State_Laws

Human Rights Campaign | HRC Back Story
Earlier this evening by a vote of 62-51 and with supportive Governor Quinn on the floor, the Illinois House of Representatives passed a civil unions bill.  The bill would permit both same-sex and opposite-sex couples to enter into civil unions and receive the same benefits, protections, and responsibilities under Illinois law that are granted to spouses.
If the legislation passes the Senate and is enacted into law, couples who enter into a civil union will not receive any rights or benefits under federal law. Illinois does not permit same-sex couples to marry.
Civil Unions are not marriage, but they provide important benefits and are step in the right direction.
HRC congratulates Illinois' House of Representatives as well as Equality Illinois for their work in ensuring that all couples and all families receive basic rights and protections.

Human Rights Campaign | HRC Back Story
Today the New Jersey legislature overwhelmingly approved a new anti-bullying bill. Passage of the law gained momentum in the wake of the suicide of Rutgers student Tyler Clementi, who threw himself from the George Washington Bridge after his dorm mate live-streamed a gay sexual encounter over the internet. The bill passed 30-0 in the state Senate and 71-1 in the Assembly.
The bill (A3466) would require training for most public school employees on how to spot bullying and mandate that all districts form "school safety teams" to review complaints. Superintendents would have to report incidents of bullying to the state Board of Education, which would grade schools and districts on their efforts to combat it. Administrators who do not investigate reported incidents of bullying would be disciplined, while students who bully could be suspended or expelled. School employees would also be required to report all incidents they learn of, whether they took place in or outside of school.
The bill now goes to the desk of Gov. Chris Christie.
(Tipped by JMG reader Brian)
Attorney General Eric Holder says that even if California voters legalize marijuana via Proposition 19, the federal government will continue to prosecute pot cases there.
On Friday, US Attorney General Eric Holder announced that the Obama administration would "vigorously enforce" federal drug laws against people who sell, distribute or grow marijuana for recreational use. Holder sent a letter to nine former chiefs of the US Drug Enforcement Administration, saying in part: "Let me state clearly that the Department of Justice strongly opposes Proposition 19. If passed, this legislation will greatly complicate federal drug enforcement efforts to the detriment of our citizens." Los Angeles County Sheriff Lee Baca hosted a news conference Friday morning to draw attention to the letter. Prop. 19 would allow Californians 21 and older to grow up to 25 square feet of cannabis plants, and to possess up to an ounce of marijuana. It would also empower cities and counties to regulate marijuana cultivation and sales. Several municipalities are poised to do so if the law passes, with initiatives concerning taxation and regulation on the same ballot as Prop. 19.

The Tenthers are surely salivating at the prospect of this potential clash between state and federal laws. However many have pointed out that the feds simply don't have the manpower to launch any significant campaign against home-grown pot in California.